Finding an apartment in Japan can be stressful and confusing.
Let our international Tokyo Room Finder team find the perfect accommodation for you, and just concentrate on preparing your move in, and all the excitement that goes with it!
Common Difficulties for Renting an Apartment in Japan
Renting an apartment in Japan is quite challenging for foreigners.
Here are the usual requirements for renting an apartment in Japan:
Most agencies do not permit to apply from overseas.
You need to have a Japanese bank account.
You need to have a Japanese guarantor (a person or a company, that will guarantee the owner to take care of your rent in case you cannot pay it anymore).
You need to have an emergency contact in Japan (a person speaking Japanese and that can be easily reached in case you would disappear)
You need to plan high initial costs including Key Money (1-month rent offered to the owner)
You need to speak at least conversational Japanese to speak with the agent and/or landlord.
You have to fill out lease application documents in Japanese.
Many applications may be rejected just because you're a foreigner.
Why Use Tokyo Room Finder Services
Tokyo Room Finder is a free matching service dedicating to support any foreigner traveling or moving to Japan. We support people staying from only 1 month: tourists, Working Holiday Visa holders, professional expats, interns, students studying at Japanese universities and Japanese language schools.
You can apply from your home country and have your place set up before you even arrive.
You don't need a Japanese bank account to apply.
We offer a very wide range of payment methods including PayPal, credit card, and international bank wire with very low fee using www.transferwise.com.
You don't need a guarantor for most of our accommodations (in the very rare cases you would one, we arrange it for you)
A home town emergency contact that speaks English is enough (a family member, for example, is ok !)
You don't need to speak or read Japanese.
Our bilingual staff will walk you through the entire process, in English, French or Spanish.
From suggesting properties to filling out the application, and from the room viewing to signing the lease contract.
Let Tokyo Room Finder team service do the work of finding the perfect accommodation for you!
What Kind of accommodations Are Available?
We have over 5,000 rooms listed throughout Japan that are eligible for Tokyo Room Finder services. We can provide any type of accommodation, for any duration from 1-month stay, all budget covered, from very affordable share houses, private apartments, to high-standard apartments for single employees and executive's luxurious houses.
We also have developed special relationships with agents and property managers in Tokyo, Osaka, Okinawa and other cities around Japan. With this strong network, we're able to find the best accommodation to anyone.
This means that, even if the perfect place is not listed on our website, based on your search criteria, we can approach agents and property managers with your specific requirements and ask them to make available an apartment that is just right for you.
Foreigner Friendly
You may also have heard that some landlords and property managers are hesitant to rent apartments to foreigners in Japan.
All the accommodations we recommend have already been cleared by the landlord or property manager to be foreigner friendly. Your nationality will not be a factor in whether you are accepted or rejected for an apartment.
Here are a few examples of apartments that are currently available.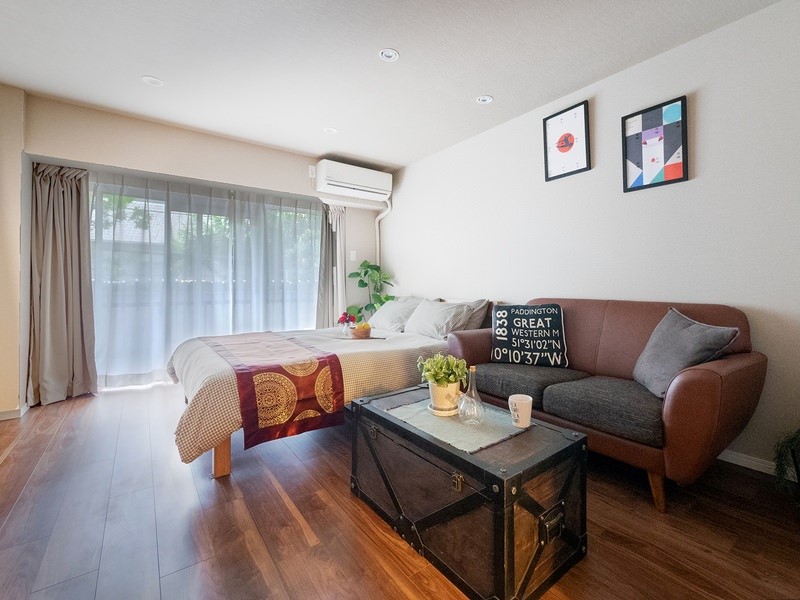 Who can apply?
We welcome applications from all English-speaking person, whether you are applying from overseas or are already in Japan. Also, feel free to contact us if you already have an apartment here, but are looking to move when you lease contract will expire.
No fees and no obligations when you inquire
Tokyo Room Finder Basic service is a free matching service. There is no fee for making an inquiry for accommodation through this service.
When you inquire, we'll get back to you with as many recommendations as we can, at no charge. If we recommend something that fits your needs, we'll connect you with the property owner or management company, and help you apply for the apartment.
We also offer further support with Tokyo Easy Service and Tokyo Premium Service, and we only charge once everything is arranged and you are ready to move in.  You are under no obligation to apply to any of the apartments we recommend. More details about our 3 services here.
Please inquire for more details!
Tell us about the kind of apartment you're looking for!
Fill the form to contact us!
Please note that this service is for any length of contract from 1 month.