Have you heard about Oyama?
Japan's capital city is bigger than you might think! Tokyo is not only Shibuya or Roppongi, but it has much more interesting places to offer! 🙂 Do you search for a quiet place to live in? Would you like to live close to Ikebukuro station? Do you like to eat out? Then you will probably love Oyama!

Oyama is a small station only three stop from Ikebukuro. The north of Tokyo is ideal for people who like to commute to work, but prefer to live in a quiet area. Coming to Tokyo the first time you might have not heard of Itabashi Ward yet.
Itabashi Ward is located in the north of Tokyo and it is connected with the center of the city by JR Saikyo Line, Toei Mita Line, the Metro Yurakucho Line and the Tobu Tojo Line. Either you commute to Saitama or to Ikebukuro – Itabashi ward is well connected!
At Oyama you can find many restaurants, bars and a big shopping street. Oyama Station is served by the Tobu Tojo Line. With a bicycle you can reach Ikebukuro easily in 10 minutes! The share house has no bicycle parking, but you can park it easily close to the station.
What else is so special about Oyama?
You can find great restaurants here! A Okonomiyaki shop (which is my favorite!), plenty of Ramen shops, the cheap Italian family restaurant Saizeriya and many more. Many Taiwanese people own small pubs here which are open until late and serve delicious Chinese and Japanese cuisine.
There are a lot of fish restaurants as well! However, if you are a meat lover, you can find a lot of Yakitori places and small pubs who serve Kushi-Katsu, Japanese deep-fried skewered meat and vegetables. At Oyama you can bump even at late night into any kind of restaurant and still find people to talk to!
At small bars you can always find a friendly shop owner ("Mama-san"), who will serve you drinks and snacks until late. Usually locals will also start talking to you, when you come all alone. Oyama has the spirit of drinking and eating together and locals will prove that to you.
Oyama is the ideal place if you enjoy Japanese cuisine and meeting people.
Eating out at Oyama
As I have already mentioned above – try the Okonomiyaki Shop "Kote Kote Club" (https://tabelog.com/tokyo/A1322/A132203/13119401/) . Besides being open until 3 am in the morning, they serve very cheap but delicious food, very cold beer and their seats feature hot plates to make your own Okonomiyaki or Monjia-Yaki. The atmosphere there is very cozy and the shop plays music from the 80ths, usually European or American songs. If you prefer to be at a relaxing place, I highly recommend you that restaurant.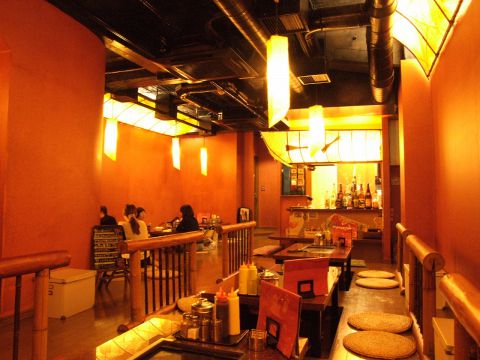 At the shopping street you can find drug stores, as well as supermarkets, a 100 Yen shop and even unique sweets stores! A 24 hour supermarket in front of the station will make your shopping more convenient. Go down the shopping street and you will easily reach the Itabashi City hall.
There are also Karaoke shops around, if you prefer Japanese entertainment! 😉
Oyama is perfect for dining and shopping. If you are tired of cooking, you can always find something to eat here.
Oyama is charming. Located in Itabashi Ward, it has the spirit of the "old Tokyo".  Itabashi means "plank bridge". It derives from the wooden span over the Shakujii River that dates from the Heian period. Such a bridge was remarkable at that time.
Itabashi is home to four universities. Tokyo Kasei University, Daito Bunka University, Teikyo University and the medical college of Nihon University. For students Itabashi is an ideal area to live and study!
You will find an ideal share house only 2 minutes from Oyama station.
I met the owner of the La Montagne share house last week, he was so kind to show me around.
The share house is located on the 3rd floor, with a great rooftop. All rooms were renewed in December, the design of every room is unique and cozy.
Every room has a lock and is fully private. There is a lot of closet space, an A/C for hot summer days and a fridge for every tenant.
Each room features a TV as well.
Fully private rooms which feature lovely details!
I loved the details in every room! 🙂 There were small cupboards with flowers, wall stickers and matching sheets. You can bring your own furniture or start your life in Japan as a backpacker! Those rooms will cherish your individual lifestyle!
The wallpaper in every room was different and the whole share house features 5 rooms. Male and female are both welcome to stay. There is one toilet and one bathroom. The kitchen is big enough to cook a great meal together. There is a rice cooker and pans and pots. There is a microwave oven, too! A fridge can be shared by all the tenants.
The owner is fluent in Japanese and Taiwanese and will help you to feel comfortable and at home!
With only 2 minutes walk and 5 minutes to Ikebukuro station this place is ideal for people who would like to live close to the center!
There is a big rooftop at the building as well. In summer time you can sit outside and enjoy the sun over Tokyo! You can see the famous Sunshine city building from there!
Click here to find more information about available rooms! You can message us for inquiries!
A reminder to let you know that if you are looking for an accommodation in Japan, our portal JapanRoomFinder.com has  plenty of apartments and rooms in share houses available all over Japan. Send us an enquiry if you like one of them.