Do you desperately hope to live near Harajuku or Omotesando shopping paradise? Do you want to keep you rent reasonable? Do you enjoy having cozy diners with just a few flatmates? 
I have the solution for you, this week I went to visit La Casa Gaienmae. I tell you everything about it in this article.
The concept of the house "Feeling at home!"
La Casa means The House in Spanish. Sounds good right? By naming her self-managed flat La Casa, the property manager wanted to convey the atmosphere that she established. Entering the flat I was immediately touched by the warm family-like atmosphere of the place.
Coming back from a 1-year stay in Spain, Miyuki Kanda, fell in love with this very common way of living there: flat sharing. In Spain sharing your flat does not only mean saving money, it also and mainly means sharing your everyday life with your fate mates, with the same kindness that you would do it with your family. Actually, the Spanish social way of living confirms what studies keep on proving: a good social life and friendship is the number 1 happiness and long life factor.
What you will get at the house
At la Casa Gaienmae, it seems that the perfect balance between privacy and social life has been found.
A 3 DK type (3 private bedrooms, 1 dining-kitchen, 1 bathroom ensuite, 1 separate toilet).
The apartment occupies a comfortable area of 40m2. A family size like well suited area for both quietness and quality socialization between the 3 tenants.
Yet for a smooth life sharing, organization and keeping things clean is required…and the property manager has arranged everything accordingly:
– Each tenant has his own individual box in the bathroom for placing his belongings,
– Cleaning is scheduled twice a week with Saito-san, a Japanese man who speaks good English and is always happy to have a friendly chat with the tenants. The tenants secretly call him "Papa Saito" (Daddy Saito).
In the family, I would like the mum… The property manager lives just next door, and is always ready to help. Need an extra pocket Wifi? Need an advice, or help with Japanese paperwork? She will be your Japanese mommy.
Lovely rooms with comfy furniture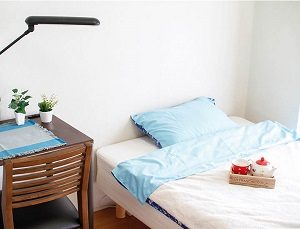 With different sizes and different budgets, yet all the rooms are well-arranged and optimized with comfy style.
Each room is respectively 7.30, 10.53 and 7m2 and has his own spacious walk-in closet. I found the floor plans very effective, no space is lost at all and the furniture has been very wisely arranged!
It includes a comfortable bed, a desk, a chair and a mirror. A/C, windows, lights, cute carpets, cozy matching linen, small cupboards with flowers. I loved the atmosphere in every room!
Room B, the biggest one can accommodate a couple and have direct access to the balcony. Every room has a lock and is fully private.
Shared areas with everything you need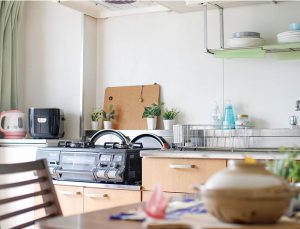 The Dining Kitchen is big enough for cooking and the flatmates reported that they often have dinner all together.
It includes a smart extensible table for a quick or a friendly dinner. All the cooking tableware you need is here including a rice cooker, Japanese dressings and even English tea.
I specifically loved the fancy Italian coffee maker, and you will even find cute ceramic opening the closet.
The tenants are sharing a very large fridge, and each of them has his own food closet.
The dining kitchen also features a TV.
Trendy convenient neighborhoods
Located between Harajuku and Omotesando, what a dream! Both stations are only 15 min walking. If you are a bit lazy, the closest station Jingumae is only 7 min walking distance.
Just down the flat you can enjoy the charming little streets with many stylish organic restaurants, French restaurants, and also lots of Japanese Restaurants.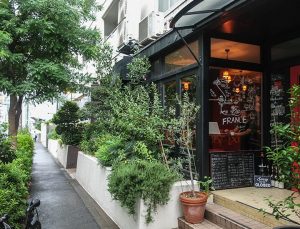 Feeling like doing some shopping? Takeshita Street is only 10 min walking from the flat, while the famous Cat Street and the luxurious shops of Omotesando Hills are just a 12 min walk.
The area also has plenty of sports facilities (golf, tennis, stadiums and a gym) and is very green with 3 parks surrounding it: Yoyogi Park, Shinjuku Gyoen Park, and Meiji Jingu Gaien Nikoniko Park.
What about the grocery Shops? Again all the options are available:
– 7/11 is right down the building,
– Bio C Bon is 4 min walking for healthy organic groceries,
– My Basket is 4 min walking distance if you need a bigger affordable supermarket.
My conclusion
When you know that finding a furnished place in this trendy area with a decent rent is first very rare, but also very expensive – for your info the average rent for a furnished place here is at least 130,000 JPY/ month, you realize even more how interesting it is to live at la Casa Gaienmae. One of the other benefits of sharing your flat and having an honest property manager!
For details about availabilities and rent click here.
All the details of the flat, room sizes, pictures, features, and rent have been verified by myself. You can book it safely!
A word from the tenants
After chatting with the current tenants, it seems that the feel at home original plan worked!
Sasaki-san, a Japanese woman of 30 years old has established home for now 5 years in the flat.
Sarah, 26 years old from Denmark said "It is a really great place to stay, if you want to experience some of the essence of Tokyo. There are plenty of opportunities within shopping, restaurants, etc. I have been really happy living in the apartment. My room is the smallest in the apartment, but I actually think it is quite cozy. I also like the little balcony, and the fact that someone is cleaning the common spaces of the flat two times a week. I could easily get used to this! The house manager has been really helpful. If I have questions, inquiries, etc. she usually responds within the same day."
By the way, I had the confirmation that many men have also enjoy living here!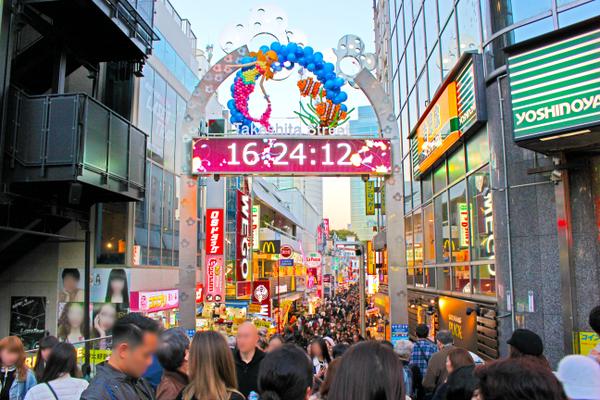 ---
Written by Cyrielle Ugnon-Coussioz