Tokyo is renowned for its spectacular light shows and here we acknowledge the top ten best locations to visit when walking the streets throughout the Christmas holidays!
1. Caretta Shiodome Illumination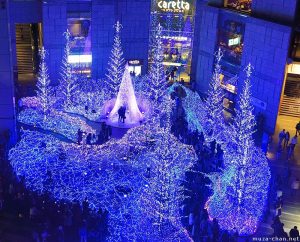 Caretta Shiodome (カレッタ汐留) is a complex building with numbers of shops, cafes, restaurants and cultural facilities. It's very easy to access from Shimbashi, Ginza and Tsukiji area.
Every year, Caretta Shiodome attracts visitors by the gorgeous winter illumination event, and it's one of the top illumination spots in Tokyo during winter. Last year, the theme of the illumination event at Caretta Shiodome was "Beauty and the Beast" by Disney. The spectacular illumination featured over 250,000 yellow and blue LED lights and the songs from the movie, and attracted over 500,000 people during the season.
2. Roppongi Hills Christmas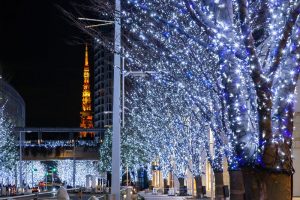 Each year, the 400m of Keyakizaka behind Roppongi Hills becomes one of the most popular couples' strolling spots with brilliant blue LEDs decorating the trees and Tokyo Tower providing the perfect backdrop. The theme of Live Veil promises a shimmering display and you can visit the Christmas trees of Roku-Roku plaza and West Walk too.
While the Keyakizaka illuminations will begin on November 5th, West Walk, Roku-Roku Plaza and the Mohri Garden all begin on November 11th with everything finishing on December 25th.
3. Midtown Christmas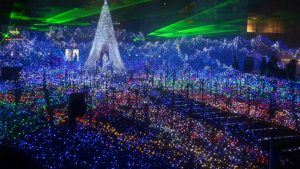 Tokyo Midtown is a large complex building which consists of numbers of facilities such as shops, restaurants, cafes, museums, hotel, office, residences, garden and etc. It's located in Roppongi area, and not far from another similar complex building, Roppongi Hills.
The winter illumination event at Tokyo Midtown: Midtown Christmas is held every winter, and it's one of the most popular winter events in Tokyo during season. Midtown Christmas is held from early November to 25 December, and features a Christmas Market, Christmas Trees and beautiful illuminations in and around the building.
4. Omotesando Hills Christmas
This year's theme is "Aurora in the City." Utilizing the big stairwell, the event features the "Curtain of Lights" consisting of 6,000 icicles on the ceiling. Furthermore, the Aurora is projected on the "Curtain of Lights" every 20 minutes; together with the Christmas tree in the center, this invites visitors into a mystical world. Christmas illuminations to shake under the theme of "aurora appearing in city", and to glisten. From Wednesday, November 7, 2018 to Tuesday, December 25
From 11:00 to 23:00 ※Only on November 7 for the first day, we turn on after lighting type.
5. Marunouchi/Ginza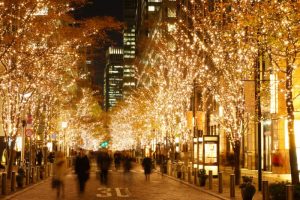 Marunouchi Illumination ( 丸の内イルミネーション) is celebrating its 17th year this winter with approx 1 million LED lights of the classic champagne gold colour. The illumination decorate over 200 trees which stretch along the 1.2 km long shopping street of Marunouchi. The event will start on early November and continues till mid February in 2019! Marunouchi Illumination will kick off on 8 November, which is the same date as the opening day of the new landmark building, Nijubashi Square. Moreover, there are also two illumination events nearby at Yurakucho area and Otemachi Nakadori Street, and the whole area around Tokyo Station will be so Christmassy atmosphere!
6. Autumn Evening Illumination at Rikugien Gardens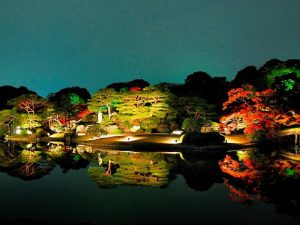 Built by a feudal lord during the Edo period, Rikugien Gardens is one of the most famous gardens from the time still extant. Designed to reflect famous scenes from waka poems, this Tsukiyama-Sensui style stroll garden has also been designated as a national scenic beauty spot since 1953.
The gardens are known as one of the best spots for autumn foliage viewing. The annual illumination event during the season invites many people who enjoy the beautiful collaboration between the flames of autumn leaves and the illumination throughout this beautiful example of an Edo era garden.
Some parts of the gardens may be closed after 4.30pm for security reasons.  During this event, the garden stays open until 9pm with last admittance at 8:30pm.
7. Tokyo Dome City Winter Illumination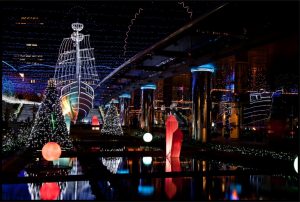 One of the top illumination events in Tokyo in terms of scale, and boasting hundreds of thousands of LEDs strung all around the complex, Tokyo Dome City's light-up has an 'Edo Elegance Japanese Beauty' theme this winter inspired by traditional Japanese crafts. You can also look forward to Edo Kiriko transformed into a kaleidoscope, glowing origami cranes and other quirky contraptions, while the restaurants and cafés around the facility offer special candy-themed menus.
8. Ebisu Garden Place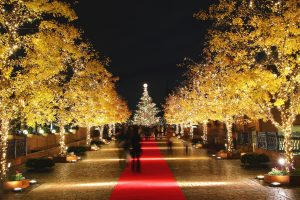 Yebisu Garden Place Winter Illumination 2018 features the classic winter illumination with over 100,000 LED lights decorating the whole veue in romantic champagne gold colour. Also there will be an authentic European style Christmas Market with food and drinks, and a 10m tall Christmas Tree. (3 November to 25 December 2018)
9. Tokyo Skytree Dream Christmas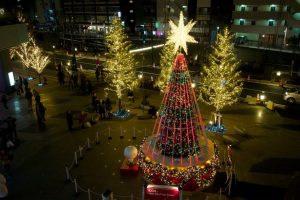 TOKYO SKYTREE—the fir-inspired tower is set to transform into a Christmas tree with two limited-edition illumination themes: champagne gold and glowing candle. The town at its foot will be lit by some 520,000 candle-colored bulbs and a "garden of light" with flower beds featuring star and heart shapes around a 6.34-meter-tall floral Christmas tree. A projection mapping show tops off the display starting on Friday, December 1.