Living with allergies in Japan is definitely not an easy task, especially with the language barrier and the country not being so allergy-friendly. Tokyo Room Finder understands all of your troubles! This week we have Erika who is going to share all of her tips on how to have a yummy life with food allergies in Japan!
Caution: this article addresses non-life-threatening allergies and intolerances, and it is not for those dealing with life-threatening allergies like celiac disease. Always use common sense, and consult with your doctor if you have any concerns!
One of the best things about living in another country is enjoying the local food. I came to Japan excited to eat. For the first year, I enjoyed sushi at the conveyer belt sushi shops, home-cooked tempura made by my host mother, yaki-soba from the vendors at festivals, and gyūdon and fast-food places like Matsuya.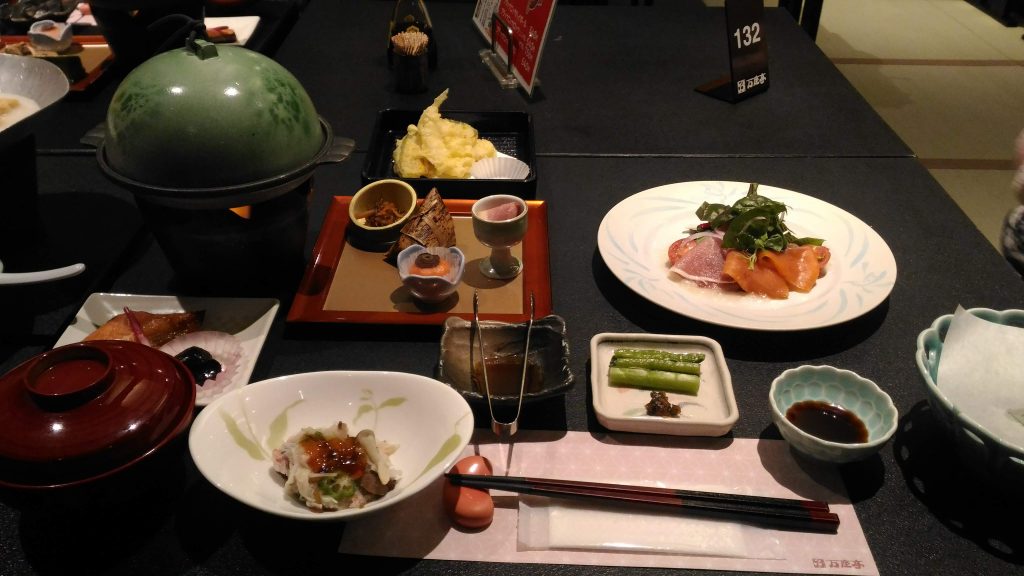 However, after persistent tummy troubles, I took an allergy test. The results covered two pages and included gluten, dairy, soy, egg, mushrooms, seaweed, and Japanese radish. If you are living in Japan, you probably already know that soy is in almost everything. Not only are soy sauce and miso the bases for most Japanese dishes but also soy plays the lead role in many delicious side dishes like sticky natto whipped up to a froth over rice, salted edamame in the pod, or chilled tofu drizzled with soy sauce and served with wasabi.
Is it possible to enjoy a yummy life with allergies in Japan?

Yes! Although it takes some work, it is most definitely possible.
Know your Kanji
The first step in living with allergies in Japan is to know your kanji. Being able to identify allergens on an ingredients list in kanji will allow you to steer clear of foods that might cause you problems. Here is a shortlist that I found helpful as I learned to scrutinize food labels before buying: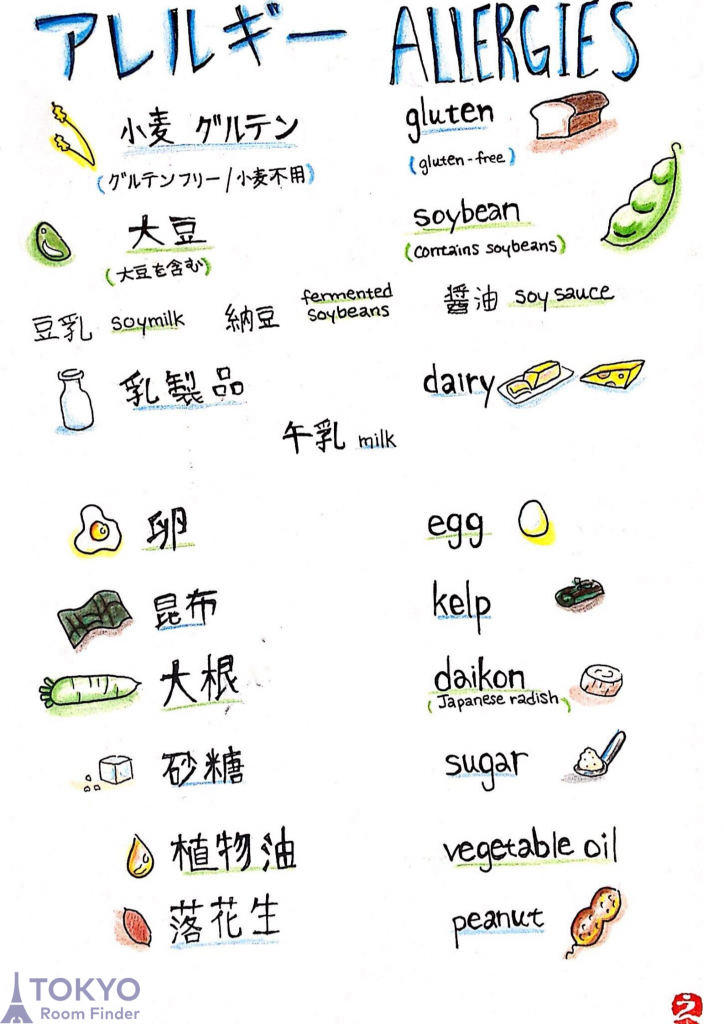 Knowing these kanji will also help you to avoid problems when eating out at restaurants. Most places in Tokyo have allergen menus on hand. Simply ask, "Arerugi no menyuu arimasuka?" or "Do you have an allergy menu?" Because these menus tend to be so detailed they are hard to decipher, I like to go ahead and make my choice based on food photos and descriptions and then use the menu as a double-checker.
Eating out Allergy-free
At this point, you might wonder, is it really possible to eat out if you have allergies? As I found, it is a little bit of a hassle, but yes!
YAKI-NIKU
If you are dying for some good yaki-niku, it's possible, as long as you take some precautions.
I found that yaki-niku is actually a fairly easy choice for allergy-free social dinners, because for one, most people like meat, and for two, at most of these places you can grill the meat yourself.
In order to avoid soy sauce and unhealthy vegetable oils, I ordered my meat taré nashi (no sauce) and grilled it with lard.
Plain salt and lemon juice worked well for flavoring. On the side, I had a medium helping of rice and a basket of fresh vegetables, all of which I cooked on my own section of the grill away from other sauces.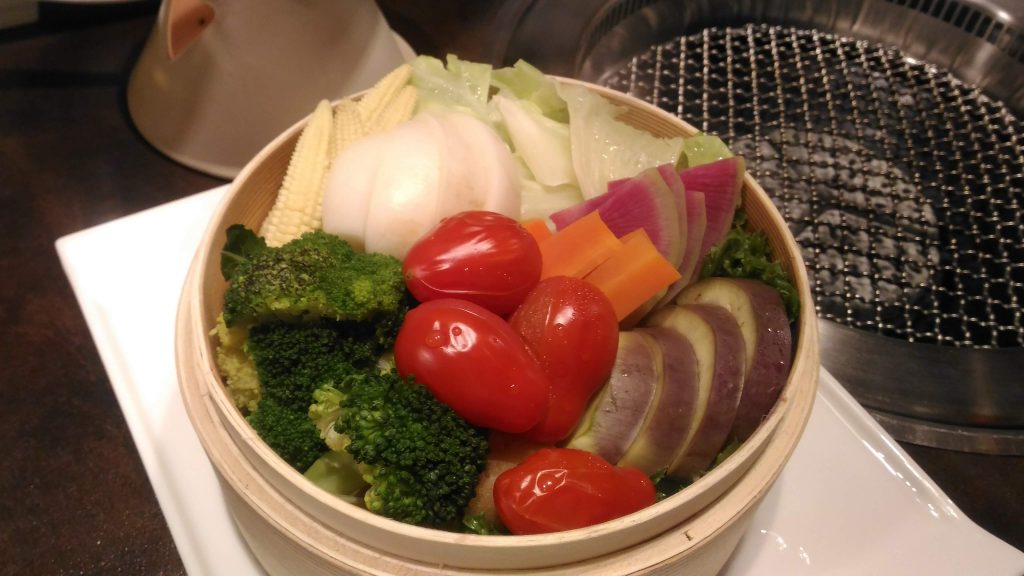 Gluten-free
If gluten is your main source of woe, there are quite several gluten-free cafes and restaurants in Tokyo. Check out this Facebook group for a wealth of constantly updated information: Gluten-Free Expats Japan!
One tip for eating out safely at any restaurant is TO JUST ASK.
Sometimes restaurants stick rigidly to their menus, but sometimes they are very accommodating and will adjust your dish to suit your needs. One restaurant offered me hakumai, white rice, instead of the usual sumeshi, or vinegar-flavored rice (vinegar sometimes contains gluten). It was a dinner set that came with Japanese pickles and miso soup, but I turned down the miso (made from soybeans), and they adjusted the price accordingly.
At another restaurant, I was served a bowl of fresh fruit in place of the usually baked dessert, at no charge. It pays off to just ask!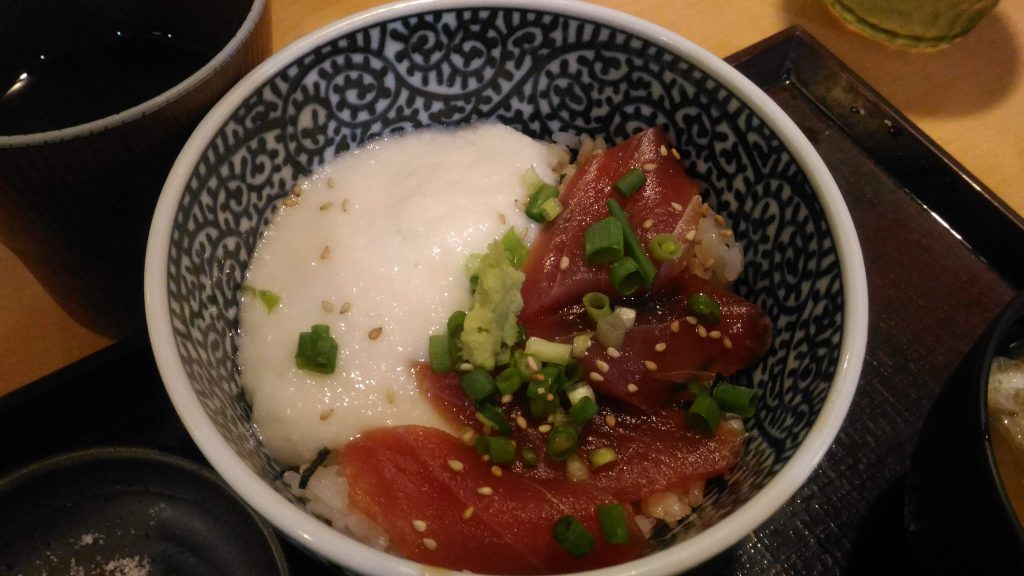 Snacking Allergy-free
Is it possible to grab a snack from the combini if you have allergies in Japan? Yes!
Family Mart & CO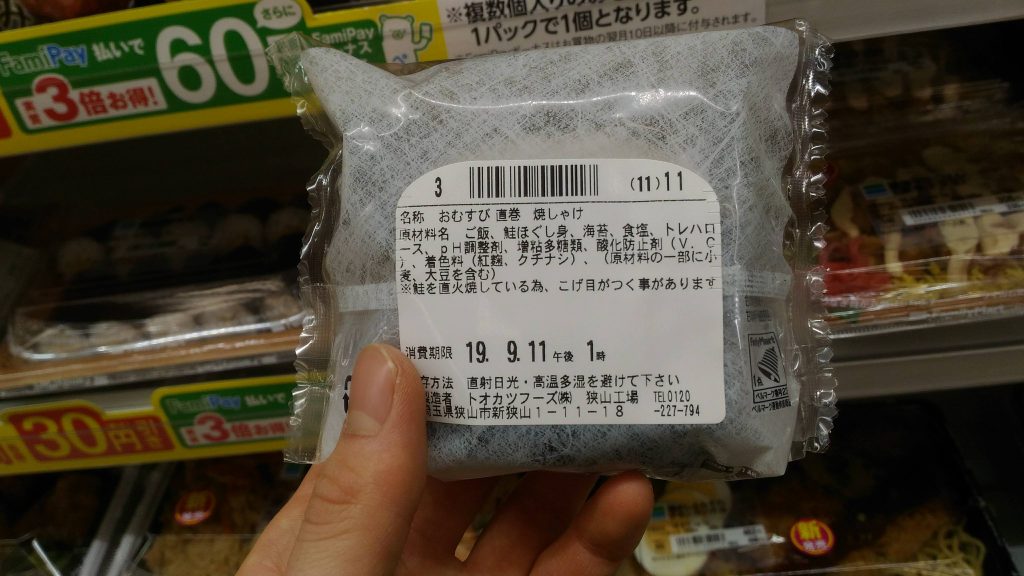 When I'm out sightseeing or running errands, sometimes I find my stomach growling. Unlike the salaryman with no allergies, I can't grab Fami Chicken (Family Mart's fried chicken) or even a simple rice ball, which might contain soy or egg.
In Family Mart, try to find the all carry ready-to-eat packs of 有機甘栗 amaguri, or organic chestnuts. It also gives you the best deal for your money, compared to other convenient stores. Although amazingly they are totally additive-free, these chestnuts are naturally sweet. creamy and quite filling as a snack.
At most convenient stores you can also purchase boiled eggs, dried fruit, nuts, and snack packs of plain dried fish and squid, but check to make sure there is no sugar added.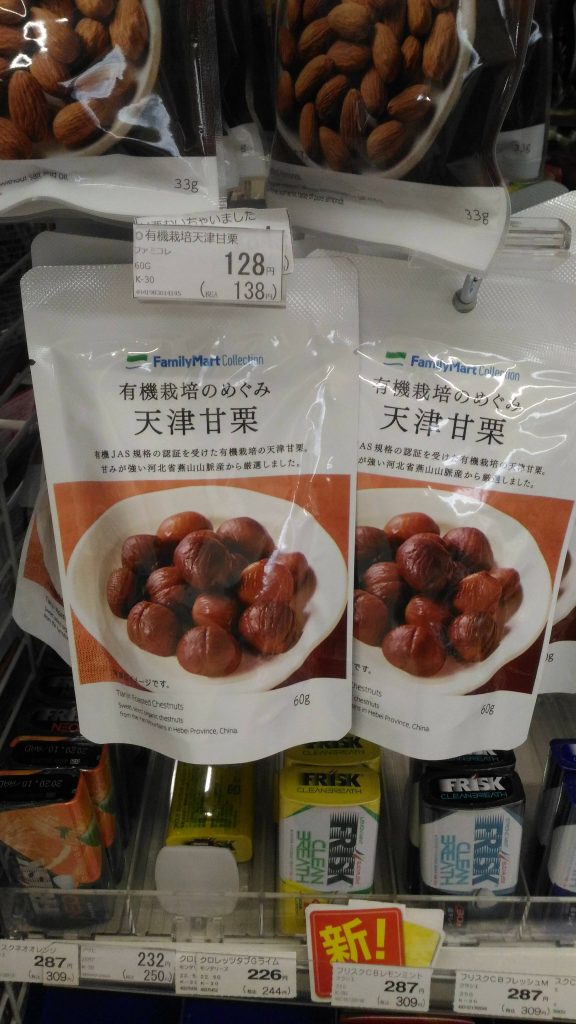 Natural Lawson
Natural Lawson is a treasure trove for people with allergies, especially if you are gluten-free. Recognizable by its red and white color scheme, this special Lawson convenience store carries two kinds of hoshi imo, or dried sweet potato (sweet!), as well as no-additives popcorn, and a really wide range of gluten-free snacks.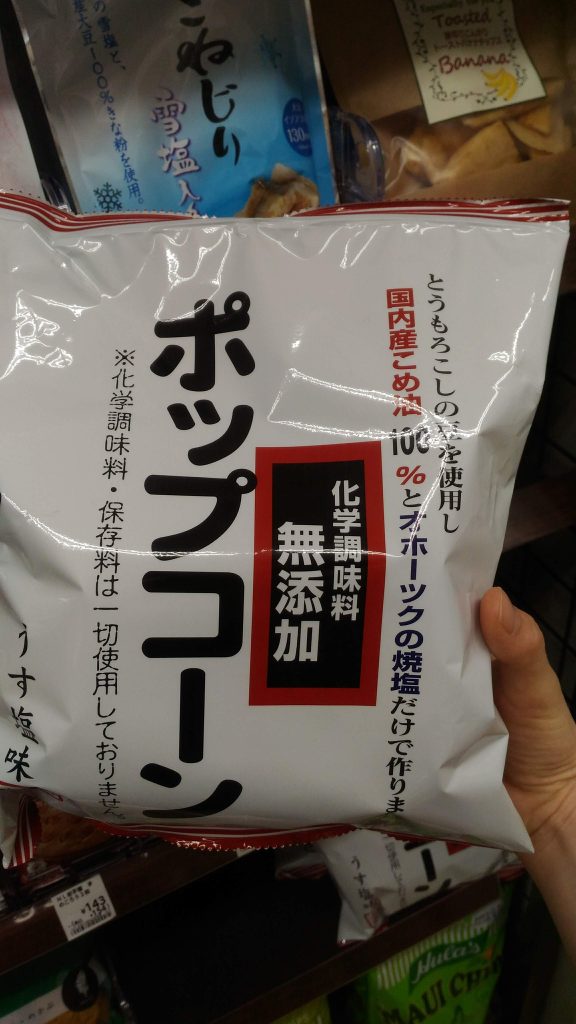 Maruetsu
If you're near a Maruetsu Grocery Store and need something a little more filling than dried fish or popcorn, follow your nose to the stone-baked sweet potato stand. Yaki-imo is my absolute favorite treat. It's creamy, soft, and sweet and at Maruetsu it's available all year round for 199.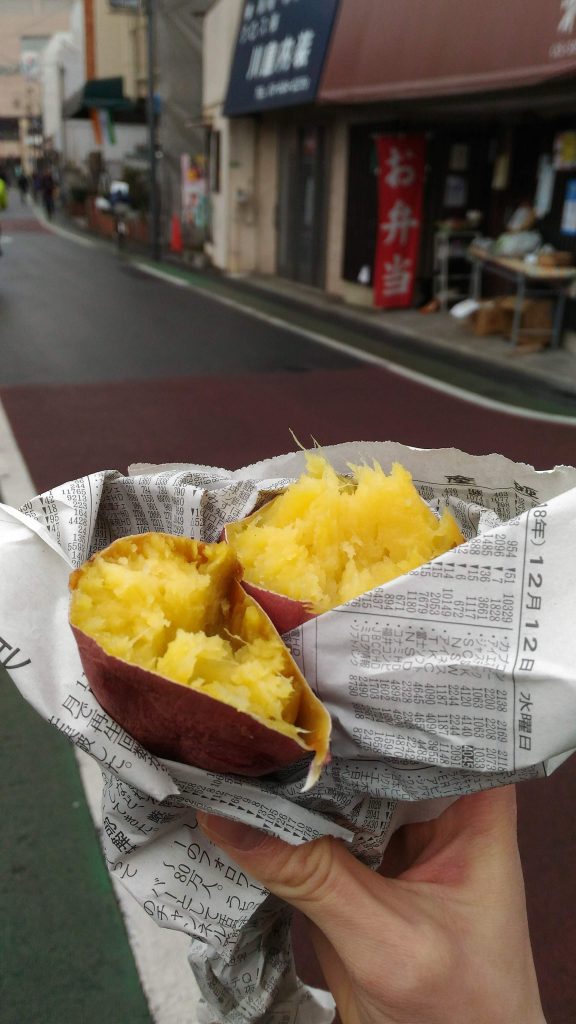 This is just a brief look at living with allergies in Japan. Grocery shopping and cooking homemade meals is a whole other story and will take another post, but for now, I hope this information is helpful. As you can see, with a little research, a little planning, and a little creativity, even someone with food allergies and intolerances can enjoy the yummy life in Japan!
Thank you for reading this week's blog!
If you want to be our blogger and share your Japan life, send us an email to [email protected]
If you are having trouble finding a place in Tokyo, please feel free to contact us and have a look at our properties at tokyoroomfinder.com. We will connect you with your desired house at no cost!