Living abroad comes with a lot of challenges. No matter where you are from or what you do when you get there, things are bound to end up being different than what you imagined. It has now been five years since I came to live in Japan in the spring of 2013, and being from the countryside of Sweden Tokyo has presented me with quite a lot of challenges to say the least.
Don't get me wrong, I love Tokyo and all it has to offer and I almost consider it to be my hometown by this point, but the lack of nature and the crowded streets has sometimes felt like a hurdle too big for this small town girl to cross. People usually say that when it comes to living abroad, the rose-tinted glasses usually come off at the one or two-year mark. For me, the breaking point came right around my third year, and this was after struggling with falling in and out with Japan for about a year prior to that.
Searching for nature in Tokyo's concrete jungle
I had started feeling trapped and claustrophobic, going outside felt like a struggle. I was anxious and irrationally angry when forced to go into crowded places and I was genuinely considering dropping out of University and going back home to Sweden. However, I still felt a deep affection for Japan and had such great memories of the Tokyo that I fell in love with when I first arrived, so when the two year contract of my apartment was up I decided I needed to at least give myself one last chance to fall back in love with Japan.
I started looking for a solution to my issues and I realized that first, Living alone in a tiny, dark, apartment in a concrete jungle was just too isolating me and made me miserable, and that second, I needed to be close to nature. I did not have enough money at the time to pay all the fees that comes with moving into a new apartment in Japan, so I started to look for shared houses and shared apartments with a good commute to my school.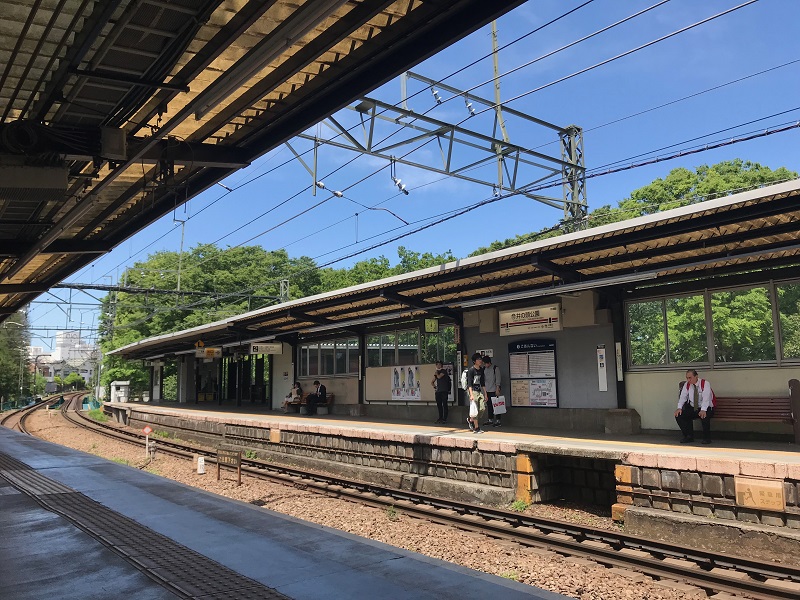 Love at first sight with Kichijoji
Tokyo has so much to offer, but since living is a bit different than touristing, taking a step back from the main metropolitan area was really the best choice for me, and I am happy that I made that decision instead of moving closer to my school, which was the other option I had in mind.
After a lot of comparing train routes and checking out any city with a large green area, I decided on Kichijoji. It might sound a bit cliché, but it was basically love at first sight (or more like first walk) for me. Kichijoji had everything I was looking for. A relaxed atmosphere with a huge park within walking distance, kindness and openness, and of course lots and lots of great-looking cafés and restaurants in close proximity to the station. I had been to Kichijoji a couple of years before that and I remember loving it even then, but I never thought I would actually end up living here. It is mostly known to be quite fashionable and a great spot for dates or to just hang out with friends.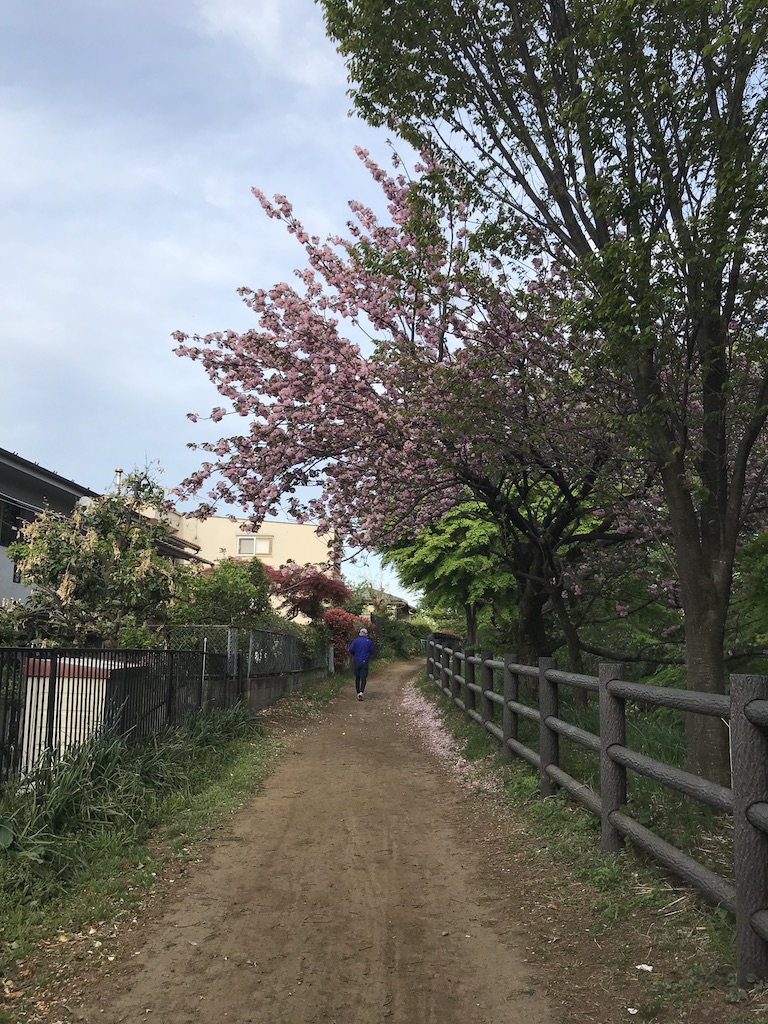 Fiding peace in Kichijoji and its nature
So, I had made up my mind about living in Kichijoji and now I only needed to find some place to actually live. I ended up choosing a share house in a wonderful area called Inokashira. If you are familiar with Tokyo at all, you might have heard of Inokashira park. Inokashira is the area south of the park, located in Mitaka city. Kichijoji is however the closest big station and "city". I know, its confusing, but bare with me. From where I ended up living in Inokashira, Kichijoji is about a 15 to 20 minute walk, and even though it initially was the colourful and relaxed atmosphere surrounding Kichijoji station that attracted me to the area Inokashira had something else that I needed; peace.
The sharehouse I ended up picking was a a bit further away from the station than I had originally planned, but the area more than made up for the longer walk. Inokashira is just filled with nature.
No matter where you turn there are small green areas and parks, people have beautiful gardens full with flowers and in spring the plum and cherry trees hang like pink clouds over the streets. There are two rivers lined with parks and walking paths that are perfect for running or just for an afternoon stroll, and it has over time become one of my absolute favourite places.
One river goes along the tracks of the Keio Inokashira Line down past Kugayama,, and one comes down from the Tamagawa river, offering a beautiful walking path lined with trees, flowers and residential houses. It is a very quiet and calm area, and for most of the way is not paved so it really gives you that comfortable "walking in a forest" sort of feeling that is hard to come by when living in a big city. Inikashira also has a lot of communal plots and vegetable patches, contributing to a really nice countryside vibe. Sometimes there are small stalls selling locally grown vegetables, and more often than not a lovely old lady or man to have a small chat with. Even though Inokashira is a calm and quiet with a countryside-vibe, Kichijoji is close enough that I never end up feeling isolated of cut of from city life. There seems to be something for everyone; food, drinks, shopping, entertainment, and I often jokingly tell people that If my school was here I wouldn't really have a reason to leave Kichijoji.
Weekend entertainments
On the weekends Kichijoji tends to be quite crowded, seeing as it is one of the more popular spots in Tokyo to enjoy a weekend away with friends or family, but it never really feels like that much of an issue because of the relaxed atmosphere. It can be a bit much at times, but generally that feeling goes away after leaving the immediate vicinity of the station. During the day the cafés and the park is the center of attention, but come night the real star of Kichijoji is the night time entertainment. There are plenty of great bars and izakayas to choose from, and one of the more popular spots for both locals and visitors is the Harmonica Alley, a tiny little maze of bars and restaurants that open up at night. A good comparison for Harmonica Alley might be Shinjuku Golden Gai, or the yakitori heaven that lies underneath the Yurakucho railway road towards Ginza. It is a great place to get some delicious food or to get a drink or two with the locals, and It is one of my absolute favorite places to go on a Friday night after a long day to just relax, meet some new people and talk.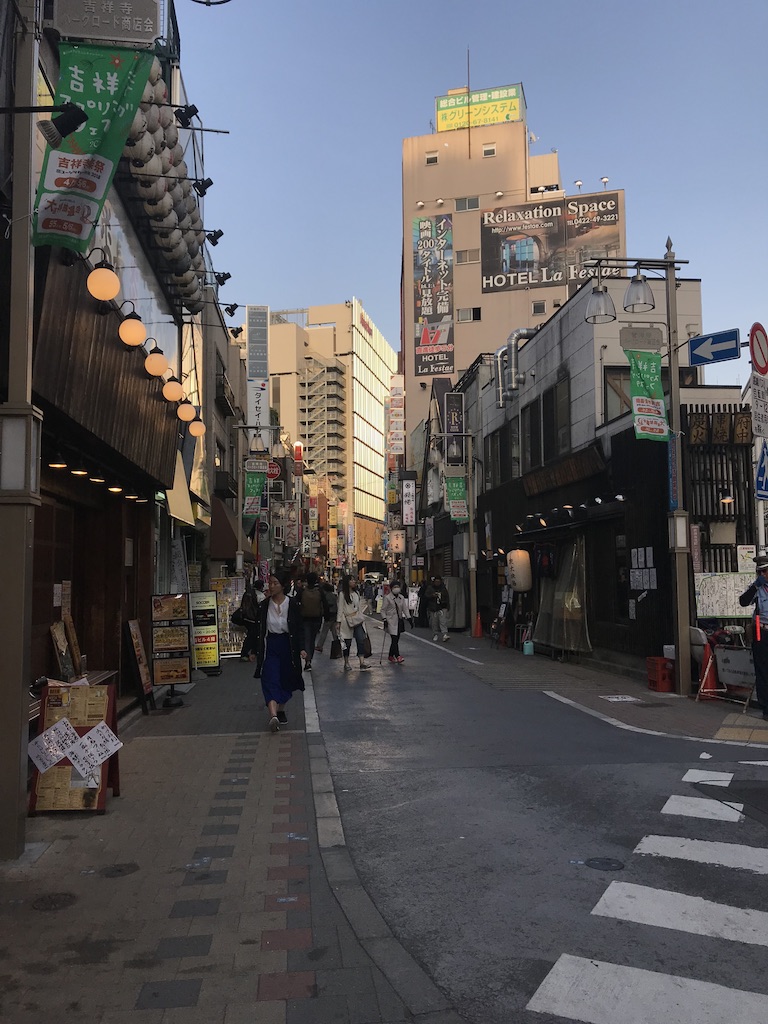 Kichihjoji and Inokashira have so far been one of the most friendly places I have ever lived in Tokyo, and I have never felt like I was not welcome or unwanted anywhere. The people who live there are really proud of their hometown and it really translates in the way they treat anyone that comes to visit, and you can really feel it in the atmosphere of the city. All in all it adds up to a pretty nice place to live and really offers the best of both worlds when it comes to relaxation and entertainment. The only thing I am missing here is basically a bath house or an Onsen close to my house, but other than that I must say that I am really truly happy that I moved to Inokashira and that I was able to fall back in love with the Japan that I knew was always there, even though I was too stressed out to see it there for a while.