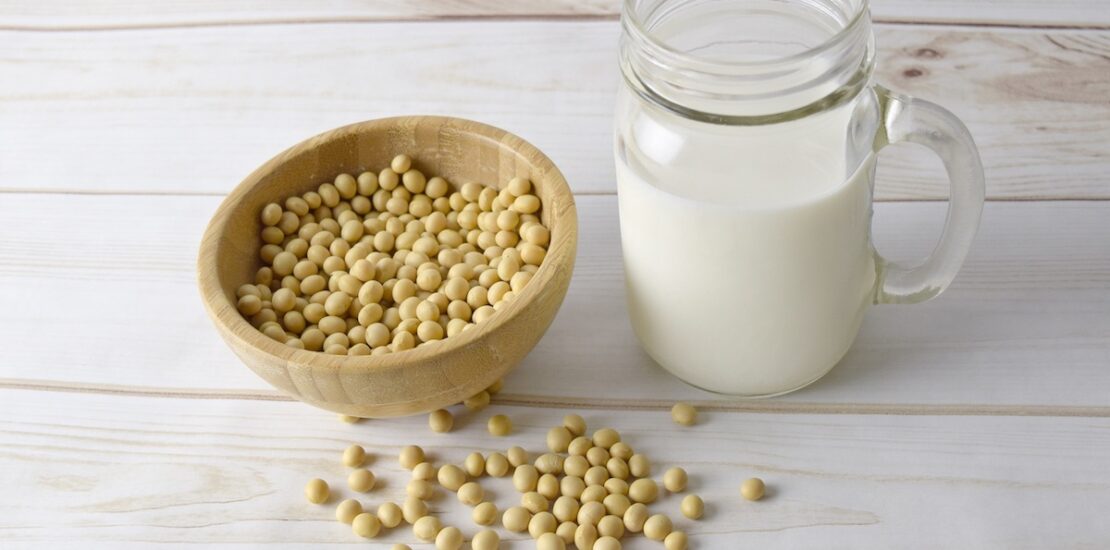 Drinking Up the Milk Alternatives in Japan
Living in Japan? Lactose intolerant? Vegan? Worry not, as Japanese supermarkets carry more milk alternatives than you may think.
Japan has never been a very vegan-friendly country. The very first time I had travelled to Japan was approximately 4 years ago, and I had been vegan then. I found it incredibly difficult to eat out, and even konbini options were extremely limited (I had a kelp onigiri at least 5x a week). Fortunately, one thing that I never had to worry about was milk alternatives. My greatest discovery during my few months' journey in Japan was not the incredible sushi or ramen (because I couldn't eat them), nor was it the beautiful scenery – it was actually the flavoured soy milks.
Growing up, my palate never did quite get used to regular cow's milk, probably because my mom didn't like it either so we never had a bag of milk sitting around in our fridge. Instead, we drank a popular soy milk brand based in Hong Kong. I'd bring a soy milk box to school for lunch when my peers would bring a juice box. There was chocolate flavour, malt flavour, coconut flavour… I thought it was the king of kings in the soy milk world… until I tried the soy milk in Japan.
When I returned to Canada after my little journey, the only thing I missed was the coffee flavoured soy milk, and it was the thing I looked forward to the most when I decided to return to Japan to look for work. I remember making a quick dash for the nearest supermarket when I had finally gotten settled into my temporary living arrangement just to grab myself a little box. It was as delicious as I had remembered it being 3 years beforehand.
Vegan foods and drinks have been going through a recent boom, especially here in Tokyo. There's a vegan izakaya located in the basement floor of the new Parco in Shibuya, a vegan konbini in Asakusa, and Ippudo just recently launched their first vegan ramen bowl. On top of that, many coffee shops are also now offering milk alternatives to the standard dairy version, and I've noticed many dairy alternatives being offered in the supermarket as well.
Perhaps it was my inability to read Japanese at the time, but I don't remember there being as many options as there were 3 years back. So recently, I decided to visit my local supermarket and bought a few different options to compare.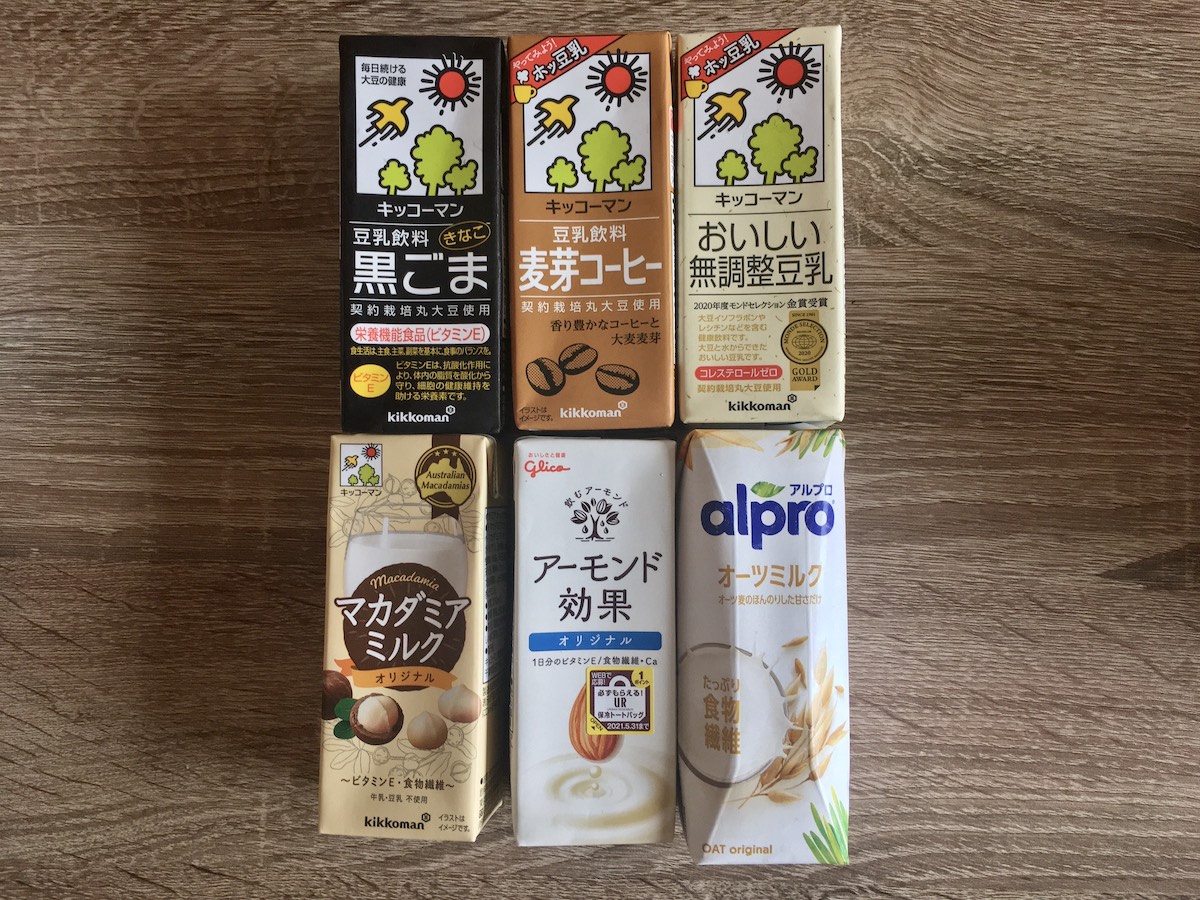 Soy milk (Kikkoman)
First, I have to mention Kikkoman. The name is instantly recognizable, and you've probably already conjured up an image of a little soy sauce glass bottle sitting on sushi restaurant counters. Unsurprisingly (or actually somewhat surprisingly), they also manufacture soy milk here in Japan (I think they've got the entire soy market covered). They have an endless line up of soy milk flavours ranging from classic original, chocolate, matcha, and black tea to stranger ones such as pudding, orange, amazake, and soda (this one was not.. good..). They even have seasonal flavours, for example, sweet potato during the fall, or sakura during the spring. I seriously get excited every time I visit a supermarket in a new area and discover a flavour I haven't tried before. Despite myself knowing that it probably won't be as delicious as the little drawing on the box suggests them to be, I still end up buying them anyway, and sampling them all is extremely fun. I bought 3 flavours this time – oishii, coffee, and black sesame, but I'm also partial to the matcha and black tea flavour. Unfortunately I haven't been able to enjoy the fruity flavours yet, but I'd like to keep stubbornly trying.
Oishii soy milk ("tasty" soy milk)
This oishii version is unprocessed, and apparently also won a gold medal award for its quality. The box also suggested warming it up, which I tried while adding a little honey. The results were delicious, and I do admit preferring the warm version to the cold. The aromatic soy flavours came through well, and the silky mouthfeel leaves you feeling satisfied. A perfect drink before bed, it truly is oishii!
Coffee soy milk
The one that got me hooked in the first place. This coffee flavoured soy milk is seriously addictive, and I like to enjoy it on its own or as my milk option for bran cereal. Perfectly balanced sweetness to coffee-ness with a light mouthfeel, it's no wonder there's also a 1000ml option due to its popularity. I'm actually super sensitive to caffeine despite loving the taste of coffee, so this is an amazing substitute for whenever I crave that coffee flavour.
Black sesame soy milk
I love black sesame ice cream so I decided to try this black sesame flavoured soy milk for the first time. The best aspect of this flavour is that it isn't as sweet as most others in this brand. It also has some kinako added to it, which I can taste in its finish. Overall, it's got a good earthiness and even has a little pleasant grittiness to it due to the sesame.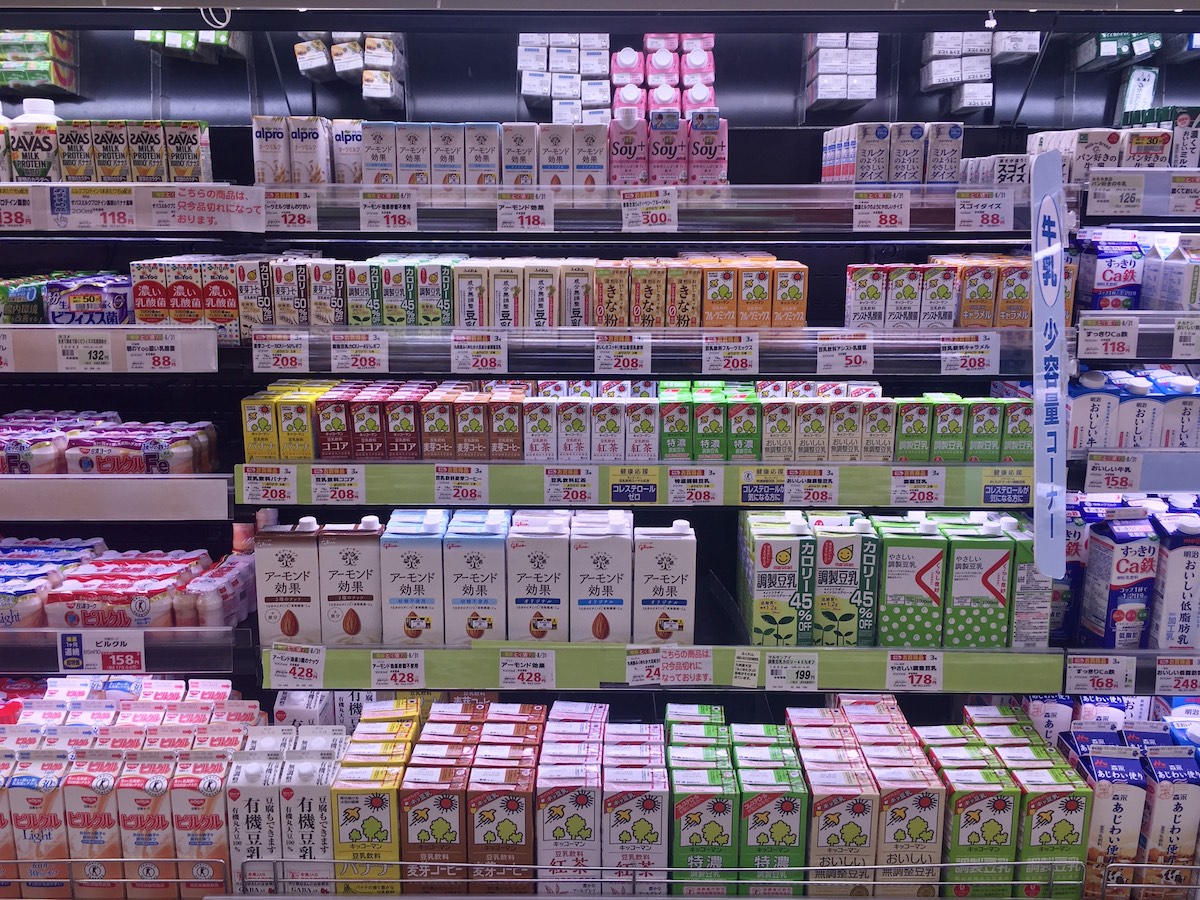 Soymilk (unfiltered)
I have to also mention another soy milk brand made from the company Otsuka Foods. What stands out here is that they don't filter out the soy pulp, leaving the milk with a richer taste (and more fiber, if you're in need of that). If you love the creamier texture of dairy, this is an excellent substitute. I particularly love the strawberry flavour they offer. I've had another type of non-dairy strawberry milk in Japan, but too much apple juice was added in, making it more like a fruit-punch than a strawberry milk. This one truly reminded me of the strawberry milk that I had often as a kid.
Almond Milk
This one is from Glico. I opted for the original flavour instead of the non-sugar alternative and whaddaya know, it's super sweet – but not in a bad way! There's also a very strong almond flavour, which is something not usually found in almond milks I had in Canada. The nuttiness is pleasant, and the sweetness brings it out even more. A good milk to have by itself, or with some granola or cereal, but I'm not sure it'll work in coffee. For that, I'll suggest…
Oat Milk
This brand is called Alpro, and it is freaking delicious. Despite it not being made from a Japanese company (it's European), it's so good that I have to recommend it. Perfectly balanced in every way, it's neither too sweet, nor too thick (these being the usual minuses for me in plain milk alternatives). It's extremely mild in a gentle way and finishes very clean with a subtle honeyness. I think this one would work amazingly well in coffee, teas, or flavoured cereal. I've never been an oatmilk fan as I usually found them too watery but this one was not the case, and I highly recommend it!
Macadamia Nut Milk
The final one is milk made from macadamia nuts and is actually also from Kikkoman! To be honest, this is my first time trying macadamia nut milk so I don't have a western counterpart to compare it to. After taking a sip, I'm immediately reminded of the strong nut taste from the Glico's almond milk. However, it's milder and less sweet. I found it a little underwhelming and felt like it had more of a stale nut taste. I do think it could work just fine as a milk alternative for somebody who could be allergic to almonds, but is craving that nutty taste! I think enjoying it with some cereal can hide the "stale" taste.
There are many more milk alternative brands to discover in Japan, and I believe the vegan trend is here to stay as well. For those that may be craving the more familiar brands that you can find back in the west, I've seen National Azabu in Tokyo carrying Almond Breeze, Rice Dream, and a few other non-Japanese brands. But for those that can't make the trek to Hiiro every time they run out of milk, I assure you the local Japanese supermarket alternatives are just as good, if not, better.
Related Articles