Last week, I realized a dream: drinking a good cup of café latte… surrounding by adorable piglets looking for hugs! Was the experience worth it? Here is a review where I'm sharing with you the positive and negative aspects of my experience, and my recommendation about the Mipig café in Tokyo!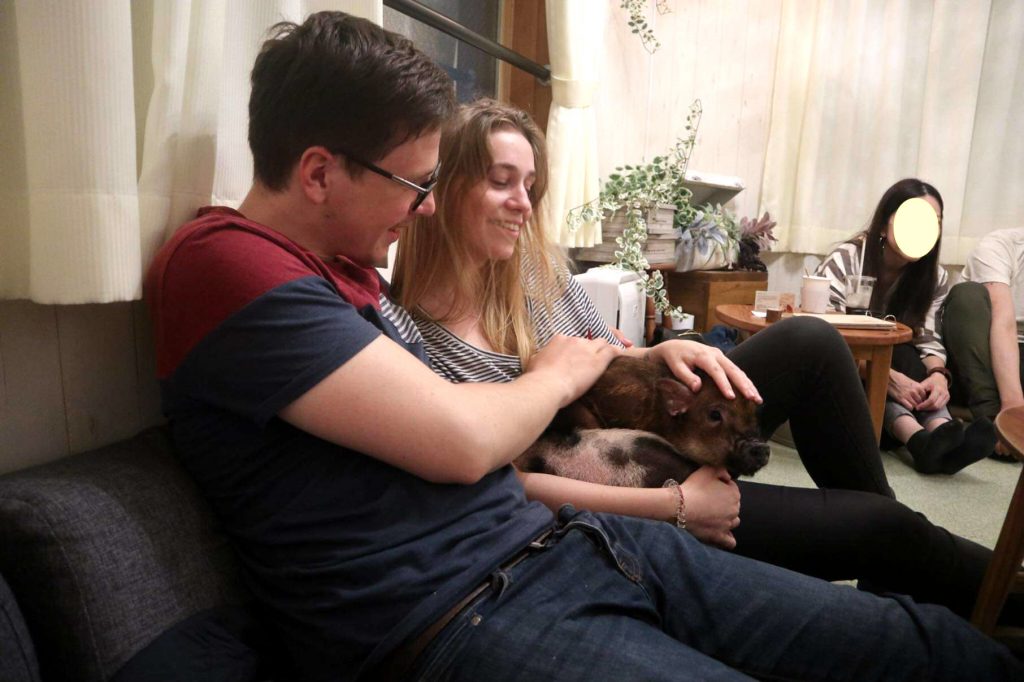 What is Mipig Café?
Mipig café proposes you while having a drink, to experience the company of teacup pigs as pets for 30 minutes or more. The café recently opened in March 2019, thanks to a successful crowdfunding campaign which raised more than twice the ¥2 million expected! The innovative concept indeed seduced a lot of Japanese, which certainly explains why you will have to book your time visit at least two weeks in advance. This could be a first negative point, but I have to say, I was surely even more excited to meet piglets after having waited days for it.
My concerns before going
As a fervent animal lover, I had a lot of expectations about this café, but also a lot of worries about piglet well-being. I once went to a cat café and I was so heart-broken to see cats so annoyed by all those human beings who were disturbing them in their sleep. More so, I read a lot of articles rising up against dreadful living conditions in some animal cafes in Tokyo, especially concerning owls that aren't supposed to live well in such narrow places. My curiosity finally took over my concerns after the reading of the few reviews, all positive, I found online.
My experience
Once I entered the shop with my two friends, we had to sanitize our hands before going upstairs, where pigs are. I don't remember receiving any instructions about how to behave with pigs.
Then, we climbed the stairs and… entered in the beautiful piglet world!!
The little pigs were full of life, super dynamic and curious. At least, we were sure they had not been sedated to be calmer! With ten persons in the room, piglets looked like to never know which way to turn and were trying a lot of different knees to find the best human pillow. It was piglets who called the shots!
For that matter, some persons seemed more interesting to them: one of my friends constantly had three pigs on him, while none of them cared about me for the first 30 minutes! We noticed that they loved to put their heads on armpits. I suppose they like the human natural smell so don't hesitate to go to the café after a long visit day, you will have a true success!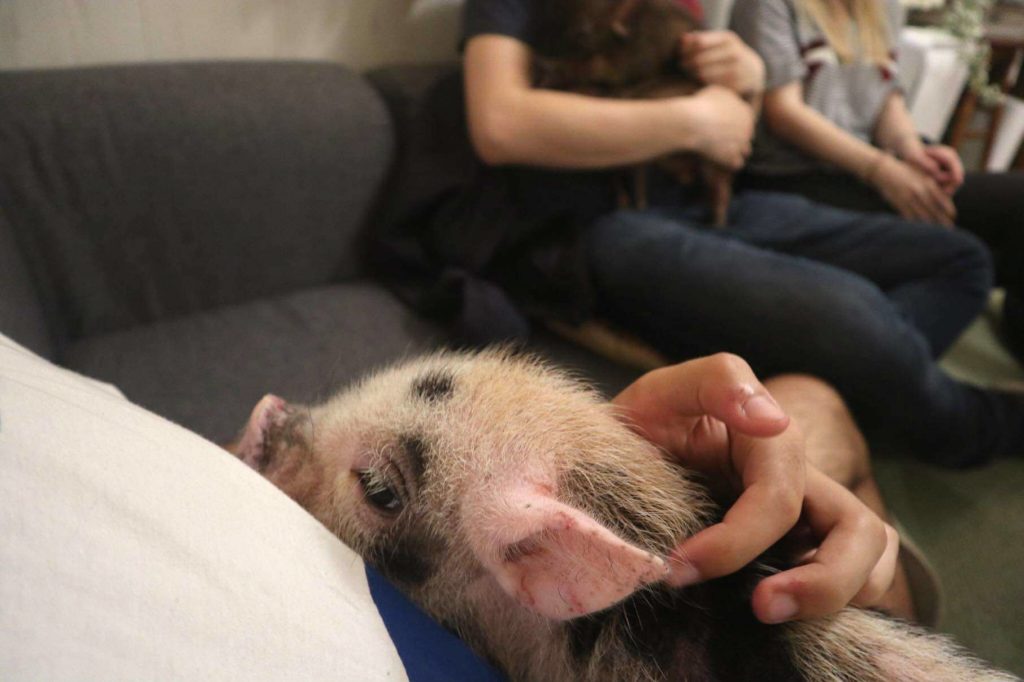 What about animal well-being?
On the Q&A part of their website, here is what you can find about this topic:
How are you managing?
Under the guidance of the management veterinarian, we perform hygiene control and epidemic measures of the store. In addition, while keeping regular checkups at the store by the veterinarian, the breeding staff checks the health condition every day.
Does pig have a break?
We give a break according to the compatibility with each pig, physical strength and health condition. The staff always check the physical condition of the pig: if there is anything abnormal, he will take a break in a separate room.
During my visit, I saw employees regularly check into the room to see if everything was okay. Piglets seemed to have shifts, and some were added, removed or replaced during the time we spent there. In addition to their energy, it confirmed my first thought, animals looked well-treated.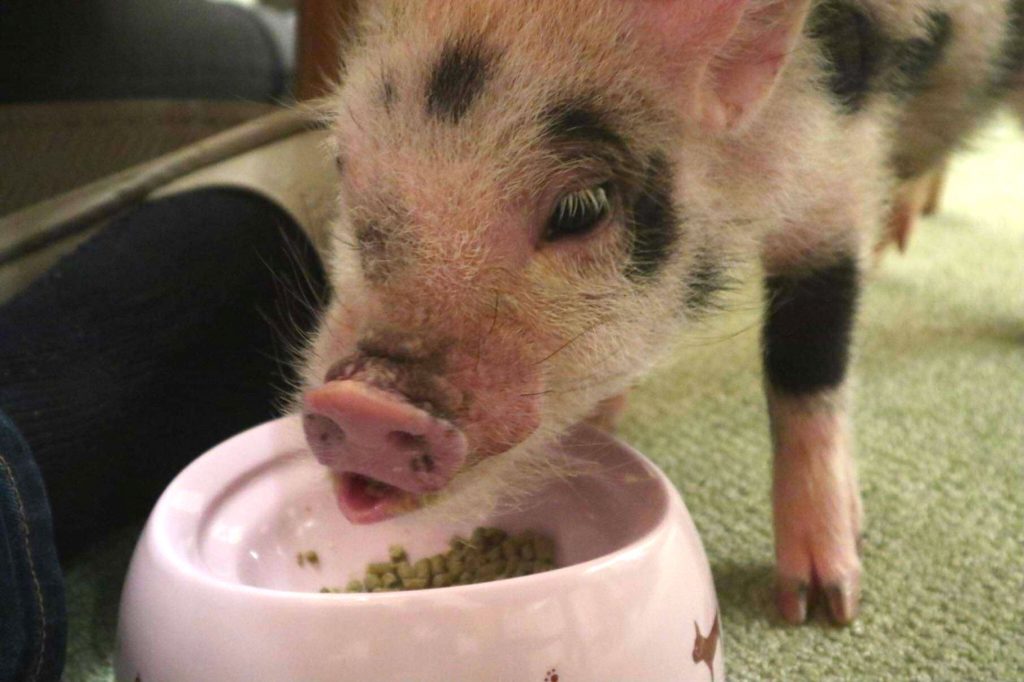 A cloud on the horizon
I did have one big regret about this experience though. I found it pretty expensive. For 30 minutes, you will be charged ¥800. One drink is required per person, started from ¥600 (they are not exceptional by the way).
As a naive person, I didn't imagine every new 30 minutes would be charged and I had booked the place for TWO HOURS. For 3 persons with one drink each, our bill was almost at ¥10,000.
In conclusion… Is it worth the journey (and the money)?
The bill except, I was entirely satisfied with the experience. Piglets looked very happy and healthy, it was a real pleasure for me to pass time with those adorable furbags. In conclusion, if you're a piglet fan like me or are curious about watching baby pigs running everywhere, you can let you be tempted by the Mipig café!
In short, here is what you should remember if you plan to go there:
– Be sure to book it weeks before
– I advise you to not book more than 1h
– If you go there at 7:30 pm, you can participate in the pig feeding
– Don't wear strong perfume, pigs have a very sensitive sense of smell
As an essential reminder, I recommend nothing but to look for information about the animal café you want to visit. Not all cafes are equals and some provide terrible living conditions to animals, just used as money-makers. Even if laws and controls exist to avoid these cruel practices, a big gap remains between theory and reality. So if you want to enjoy some time with your favorite furry animal, try to find cruelty-free alternatives like shelters, rather than giving your money to questionable businesses.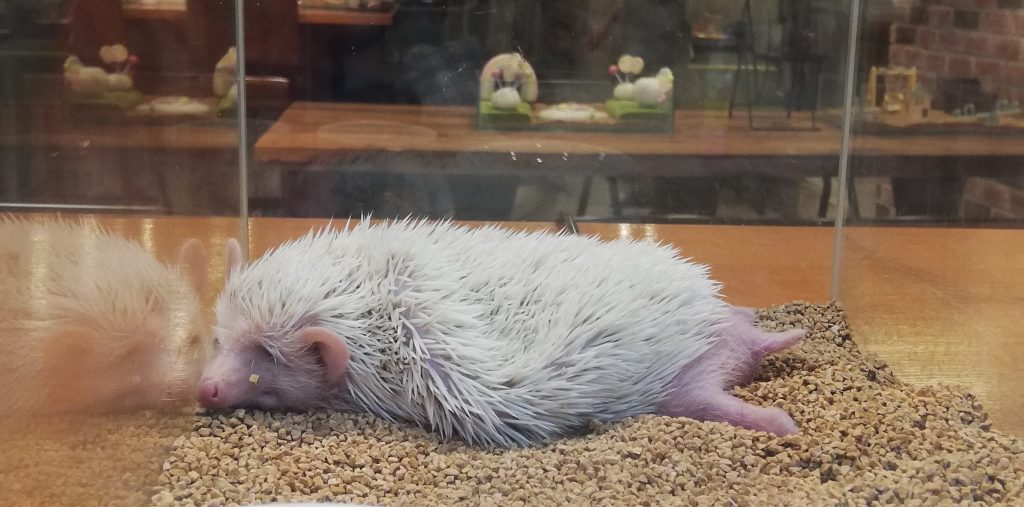 Written by Dorine Dinam, follow her on her blog https://dorinelexploratrice.travel.blog/