Introduction
Are you considering living in Sumida?
The riverside Sumida neighborhood is dominated by the surrounded tall buildings that shadow the glorious ward. The complex also houses the upscale Tokyo Solamachi mall, as well as restaurants and an aquarium.
Old-world ways and modern amusements scrunch together in this northeastern Tokyo area—sumo traditions hold strong and mom-and-pop shops still persist as high-rise apartments begin to make their mark in Sumida District. Many wonder how it didn't happen sooner—the area's subtle art scene and ethereal gardens grant Sumida District an unwavering charm.
Sumida River
The Sumida River, passing green spaces like Sumida Park, is well-known for its cherry blossoms.
Higashi-Shirahige Park
Higashi-Shirahige Park, home to a baseball field and a shinto shrine. traditional bathhouses and wooden homes steam 
Tokyo Skytree
Higashi-Shirahige Park creaks beneath the shadow of Japan's tallest tower, Tokyo Skytree.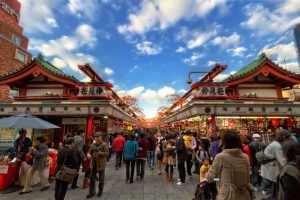 Living in Sumida
Transportation
Sumida is considered to be part of the Greater Tokyo, thus it includes many public transportation lines and network.
There are three lines to the Tokyo Toei; Asakusa, Shinjuku, and Oedo. Additionally, there is at least one line running from the Tokyo Metro, Keisei, JR East, and Tobu Railway. There are 12 stations, including the popular tourist destination, Tokyo Skytree station.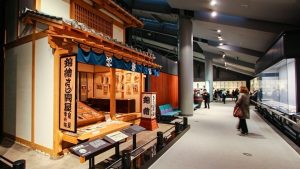 Points of Interest
Asakusa




Asakusa Culture Tourist Information Center

Edo-Tokyo Museum

Hozomon

Kyu Yasuda Garden

Mukojima Hyakkaen

Ryogoku

Ryogoku Kokugikan

Senso-ji Temple

Ryogoku Kokugikan

Sumida Aquarium

Sumida Hokusai Museum

Sumida Park

Tokyo Skytree

Tokyo Solamachi

Tobu Museum

Yokoamicho Park
Links