Introduction
Living in Suginami, a quietly nestled ward on the western outskirts of Shinjuku might just be ちょうどいい (choudoii – perfect) for you. We will tell you why!
In Suginami, you can discover the humble day-to-day life that lies beyond the bright neon and noise of one of the world's largest cities.
The Ward hosts a fantastic range of unique events throughout the year, bringing locals from all over the city to take part in the celebrations. Aside from the legendary Tokyo Koenji Awa-Odori festival in summer, events in each of the neighborhoods fill up the Suginami calendar from autumn to spring. Offering a genuine opportunity to discover Tokyo at its most authentic.
Koenji is definitely the perfect getaway from the bustle of Tokyo.  Koenji is famous for its second-hand clothing stores and music stores.
Though it's practically impossible to wrap your head around Tokyo in just one or five, or even ten, visits, Suginami is a wonderful place to begin with.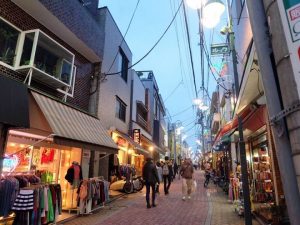 Living in Suginami
Since Suginami is a fairly quiet residential ward, you can expect a fairly decent price of housing and accommodation. Indeed, living in Suginami is perfect for those who works in the center of Tokyo but wants to have a nice deep rest in somewhere quieter.
All necessities such as supermarkets, convenient stores, train stations are accessible around the neighborhood of Suginami.
If you think Suginami suits you, let's take the next step of finding the right apartment in Suginami!
Transportation
The ward is served by four railway companies and five railway lines. Four of which are owned by JR East with the Chuo main line,  Keio, Seibu Railway;  and Tokyo Metro Marunouchi line. There are two lines from the Keio; Keio line and Keio Inokashira line. The JR East Chuo main line also serves for stations in Suginami, Koenji, Asagaya, Ogikubo, Nishi-Ogikubo. The major station in Suginami is Ogikubo Station.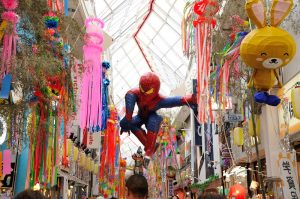 Points of Interest
A-san No Niwa

Asagaya Anime Street

Igusa Hachimangu Folklore Collection

Koenji

Nishi-Ogikubo

Ogikubo

Omiya Hachiman

Suginami Animation Museum

Suginami Animation Museum

Suginami Historical Museum

Tokyo Koenji Awa-Odori festival

Wadabori Park

Zenpukuji Park

Asagaya Shinmeigu Shrine

Asagaya Tanabata Festival
Blog
Local Japan: Kichijoji, an oasis in the outskirt of Tokyo
Links