Introduction
Considering living in Shinagawa?
Shinagawa was the first post town, as travelers from across the country would reach this town first. Today, the ward is home to more than 6,000 hotels. You can find some of these hotels as well as businesses and shopping mall in the bustling area of Shinagawa Station and east of Shinagawa District.
Shinatatsu Ramen Street & Shinatatsu Donburi 
With dining available inside and outside the station, this place is not short of any necessities. You can find streets dedicated to certain traditional dishes such as Shinatatsu Ramen Street and Shinatatsu Donburi.
Megurogawa Minna no Illumi
If you traveling to Tokyo in the winter, Megurogawa Minna no Illumi is a must see in Shinagawa. An environment friendly illumination event, the trees along the Meguro River illuminate from the led lights, giving cherry blossom effect.
Animal Shows in Shinagawa
There are many animal shows to see such as the Shinagawa Aquarium and horse racing at Oi Racetracks.
Living in Shinagawa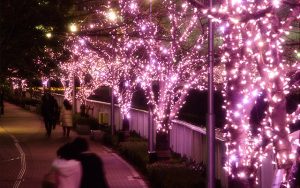 Living in Shinagawa allows you to have access to main points of Tokyo as well as being close to Yokohama and Kamakura and only few hours away from southern Japan. It is arguably one of the most convenient places to live.
Gotenyama and Shimazuyama are considered high class residential areas. A few minutes away from the station are condominium complexes. Many residents live in the west of the district as it provides more leisurely and modest housings. Since the district borders the bay, you can see a body of water alongside the harbor or running through the city.
Transportation
Shinagawa Station is one of the largest station in Tokyo. As one of the main point of transportation, there are undoubtedly dining and shopping available in the station. The station connects the JR Yamanote line and the Tokaido Shinkansen (most popular – as it runs from Tokyo – Nagoya – Kyoto – Osaka). There are train connections to Haneda Airport and Narita Airport. There are many railway lines running through the ward such as the, Keikyu Line, Tokyu Lines, and Tokyo Metro.
Points of Interest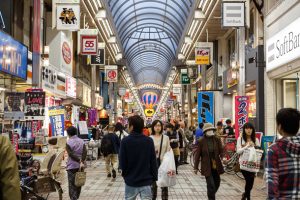 Hara Museum

Shinagawa Aquarium

Kitashinagawa Shopping Street

Megurogawa Minna no Illumi

Shinagawa Shrine

Musashi Koyama Shopping Street Palm

Rinshinomori Park

Shinagawa Kumin Park

Shinagawa Station
Links