Introduction
Is Living in Shibuya your first option when considering moving to Tokyo?Why not? After all, it is the best place for shopping, eating, drinking and also partying in Tokyo's .
The name "Shibuya (渋谷区 ) literally means "Astringent Valley" consisting of large department stores and smaller specialized shops mixed in with Izakayas, bars, cutting-edge fashion boutiques, world-class nightclubs, unbeatable record shops, funky bars and optional dining ranging from fancy washoku eateries to  incredibly cheap diners – if you want it, you'll probably find it here.
Being one of the most vibrant areas, Shibuya has one of  the busiest railway stations in Japan. This is also one of the biggest fashion centers of Japan, Shibuya is full of  young people who love to express there fashionable identities through how they present themselves on the lit up dense streets and generally visited by young Japanese who go there mainly for retail and entertainment purposes.
Living in Shibuya
This is a incredible location to live, as Shibuya station has so many lines making it very accessible. However it's also densely populated and can get very hectic and busy, the crowd cannot be ignored when you are in Shibuya. People are everywhere, providing business opportunities in many ways. If you are comfortable in the bustle and hustle of a city, Shibuya is a haven you will fall in love with at first glance.
If you are looking for a more relaxed area but easy access to public transport and commercial areas, look into the neighborhood of Ebisu. This neighborhood is popular with expats in that it provides a comfortable and relaxed living space but also is conveniently located to desirable amenities.    
Transportation
Shibuya houses the two busiest railway stations in the world, Shinjuku Station (southern half) and Shibuya Station.
Shibuya Station (Ginza Line, Hanzomon Line, Yamanote Line, Saikyo Line, Toyoko line, Den-en-toshi Line, Inokashira Line)
Main Points of interest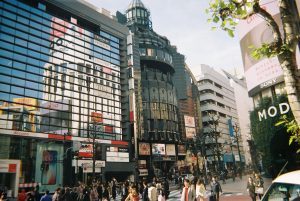 Botanical Garden Fureai

Clubs and Bars

Golden Gai

Hachiko

Love hotel hill

Spain Street

Shibuya Crossing
Blog
https://www.japanroomfinder.com/en/blog/my-own-japan-life-gyaru-and-working-shibuya-109/
Links