Introduction
Living in Ota-ku means occasional view of taking-off airplanes!
If you are flying into Haneda Airport, Ota is the first ward you enter here in Tokyo.
Fun fact, it is also the largest district in Tokyo.
Jonanjima Seaside Park
Walk or a ride a bike near the Jonanjima Seaside Park whenever you want to see beautiful sunsets or sunrises.
Get Spiritual in Ota
Shrines and temples are endlessly found throughout Japan and so, it's no surprise if you find Ikegami Hommon-ji Temple and Rokugo Shrine in Ota.
Omori
If you're looking for shopping districts, visit the upscale neighborhood Omori.
Tamagawadai Park
In the spring, you can visit Tamagawadai Park to see cherry blossoms trees.
Bourbon Road, Kamata
If you want an authentic experience living in Japan, walk down Bourbon Road in Kamata area and you find izakayas and pubs. The Kamata area is well known for serving delicious gyozas.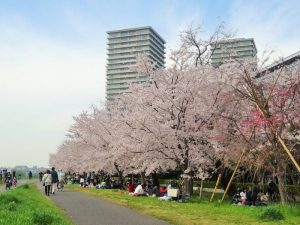 Living in Ota
This area of Tokyo is considered the suburb. They are residential areas geared towards families and have numerous of well-established living facilities such as schools, libraries, grocery stores, etc. You can find mainly low-rise apartments in Ota.
If you want to be near a commercial district, consider living near the Kamata area as you will have easy access to shopping areas and dining options.
It doesn't specifically appeal to the younger crowd but rent prices are much lower compared to other busier areas of Tokyo.
Transportation
Transportation modes include airplane, trains, cars, and buses. Whether you're flying in or out of Haneda Airport, Ota is home to the international airport. Main railway lines include but not limited to; JR Keihin-Tōhoku Line, Tokyu Toyoko, Tokyu Ikegami, Tokyu Tamagawa, Tokyo Monorail, and more. The Tokyo Metro does not serve Ota.
Points of Interest
Anamori Inari Shrine

Bourbon Road

Kamata Area

Haneda

Ikegami Hommon-ji Temple

Jonanjima SeasidePark

Kamata

Omori

Ota Market

Rokugo Shrine

Senzoku-ike Park

Tamagawadai Park
Links