Introduction
The ward is generally a great place to live in. Just because living in Nakano means that all your needs and requirements will be met in one place.
Located west of Shinjuku, Nakano is a densely populated area, full of cheap retails, shopping, accommodations, and restaurants. Just like any place in Tokyo, you can find a small shrine and vintage shops any corner you turn in Nakano.
Check our VLOG to discover the ward in video!
Nakano Broadway
With over 350 shops and endless merchandise and souvenirs, Nakano Broadway is a destination for every shopper. It is often comparable to Akihabara.
Araiyakushi Park
Additionally, during hanami season, it is one of the great places to see cherry blossoms in Tokyo, especially at Araiyakushi Park.
Nakano Central Park
Nakano Central Park is a great place to relax as well. You can relaxed here and surround yourself with university students from the nearby Nakano campus of Meiji University
Ramen
Food-wise, Nakano is home to over 50 ramen restaurants and so, finding delicious ramen will be no problem.
Living in Nakano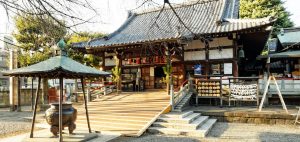 Nakano is considered as one of Shinjuku's nicest neighborhood. Though not the the most affordable, living in Nakano allows easy to access to popular areas of Tokyo such as Shinjuku and Shibuya.
Like any neighborhoods in Tokyo, you will be able to find many local restaurants and a variety of dishes and meals, especially since the ward is closer to popular central spots in the city.
The locals are generally families, businessmen, and university students, easily integrating yourself in a Japanese neighborhood.
Once you live in Nakano, most likely you won't want to move out.
Transportation
Nakano ward is served by six railway lines: JR East Chūō (Rapid) and Chuo-Sobu lines, Seibu Shinjuku Line, Tokyo Metro Tozai and Marunouchi Line, and the Toei Oedo Line. One of the biggest station in Nakano is Nakano Station.
Points of Interest
Araiyakushi Temple

Nakano Renga Zaka street

Egota Park

Jouganji Temple

Momijiyama Park

Nakano Broadway

Nakano Central Park

Nakano-ku History and Folklore Museum

Nakano Rengazaka Street

Nakano Shiki no Mori Park

Nakano Street

Nakano Sun Mall Shopping Street

Nakano Sunplaza

Nakano Zero, Momijiyama Culture Center

Tetsugakudo Koen

Yakushi Ai Road Shopping Street

Zenkoji Temple
Blog
Local Japan: We now in live in Japan! How amazing is that! 
Local Japan: A Call to Nakano
Links