Introduction
Similar to the meaning of its name, Kita, meaning "north", is located northern Tokyo. The ward has four rivers running through it. Kyu-Fukukawa Gardens and Asukayama Park are among the most popular gardens in the ward since it includes some points of interest nearby.
Kyu-Fukukawa Gardens
The Kyu-Fukukawa Gardens includes an old western style mansion with a rose garden and a Japanese Garden. Visiting this mansion and garden will transport you to the 20th century of Japan, influenced by the Europeans.
Asukayama Park
The Asukayama Park is great to bring families and children. Because not only does it have a great water area to play around, but also museums such as the Shibusawa Museum and Paper Museum. It's also the perfect place to admire the cherry blossoms during hanami season.
Hokutopia Tower
Forget Tokyo Sky Tree, visit the observatory at Hokutopia Tower to get a beautiful city view of Tokyo! At night, you can drink and eat at izakaya pubs down the street of Akabane Ichibangai. You can find many bars, izakayas, and restaurants in Akabane Ichibangai if you are feeling hungry.
Living in Kita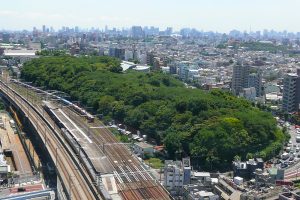 Not many people are familiar with Kita, but this ward has it all when it comes to living and lifestyle. It has accessible transportations to the major stations in Tokyo with the JR East Yamanote Line.
The ward is mostly residential but you can interesting spots to visit to experience Japanese culture. Popular areas include Oji, Jujo, and Akabane to experience a more downtown Tokyo lifestyle.
Additionally, housing is less expensive in Kita since the ward is not central to Tokyo.
Transportation
The ward serves seven railway lines; four of which is owned by the JR East company. The popular line JR Yamanote Line is only served at Tabata Station. Other lines include Tohoku Main, Saikyo, and Keihin-Tohoku Line. Additionally, there are the Tokyo Metro Namboku Line and Saitama Rapid Railway Line. The Tokyo Sakura Tram is the oldest running streetcar and is served as six stations in Kita.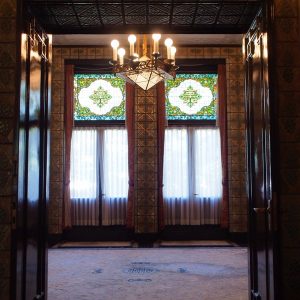 Points of Interest
Akabane Ichibangai

Asukayama Park

Hoku Topia

Kita-ku Central Library

Kyu-Furukawa Gardens

Nanushinotaki Park

Ōji-Inari Shrine

Otonashi Shinsui Park

Paper Museum

Shibusawa Museum
Links