Introduction
Thinking of living in Katsushika?
Katsushika is located far west of Tokyo, bordering Chiba prefecture. Like any ward, it is also not short of greenery scenery and parks.
Mizumoto Park
The Mizumoto Park is the largest park in Tokyo. The park is an attraction spot during hanami season.
Shibamata Temple
Nearby temples are Narihira-san Tōsen-ji and Shibamata Taishakuten. In 2009, the Shibamata Taishakuten was selected as one of the 100 Landscapes of Japan of Heisen period.
Dango Dumplings
Around the temple is the popular Shibamata district. You can find souvenir shops and delicious dango dumplings.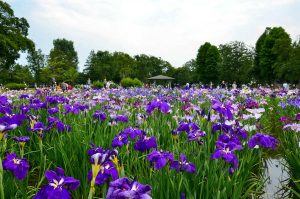 Living in Katsushika
Katsushika is one of the most affordable place to reside in Tokyo. With affordable rent prices comes with low living costs. Far from the city center, Katsushika is a very residential area with retro chic neighborhood. A popular neighborhood is Tateishi with retro shopping streets and backstreet workshops. If you live near Shibamata or Kanamachi Stations, you're near the Edo River and close to Mizumoto Park.
Transportation
You can reach Katsushika using three railway companies' lines; the JR East, Keisei, and Hokuso. The JR East lines include the Joban Line and the Chuo Main Line. Keisei has three railway lines running through Katsushika; Keisei Main, Oshiage, and Kanamachi Lines. These lines not as crowded as the Yamanote Line and when they are, it is not uncomfortably packed.
Points of Interest
Hikifunegawa Water Park

Katsushika City Museum

Horikiri Shobu Garden

Kameari

Katsushika City Museum

Katsushika Shibamata Torasan Memorial Hall

Mizumoto Park

Katsushika Iris Festival

Ohanajaya Park

Shibamata Taishakuten (Taishakuten Daikyoji Temple)

Suikeien

Tateishi Nakamise Shotengai

Taishakuten-Sando

Tokyo Natural Onsen: Kodai no Yu

Yamamoto-tei
Links