Introduction
Edogawa is located on the outskirts of Tokyo, bordering Chiba Prefecture. Although it is not filled with many commercial districts, its quiet and relaxed neighborhood is what attracts residents to Edogawa. Living in Edogawa might be a bit inconvenient. However, the good news is that according to the realestate.co.jp's 2018 statistics, it is the second most populated ward with foreigners, after Shinjuku.
Kasai Rinkai Park and the Gyosen Park
Though it seemingly is just a residential district, Edogawa still has many attractions that garners tourists and residents daily. The residential area is filled with parks such as the Kasai Rinkai Park and the Gyosen Park. The Kasai Rinkai Park is the second largest park in Tokyo. Not only can you walk and enjoy the nature, but you can also ride the Diamond and Flower Ferris Wheel and visit the sea bird sanctuary. The park is especially crowded in the spring for hanami season. Near the park is Kasai Seaside Park, allowing you to explore an aquarium and Seaside Edogawa hotel.
Edogawa Stadium
If you're interested in football and track-and-field events, you can go to Edogawa Stadium to see games and year-round events. The football club that mainly uses the field is Tokyo Musashino City. Although it is not as impressive as Tokyo Skytree, you can still get a beautiful view of the Edogawa district from the seven-floors Funabori Tower.
Tokyo Disney Sea
Other notable attractions around are Tokyo Disney Sea and Tokyo Disneyland.
Food
Food-wise, the district does not lack in this department either as it is home to many great restaurants such as the one of the best places for a Mexican restaurant, named El Torito. In the summer, you can find festivals in the district such as the Edogawa Goldfish Festival and Edogawa River Fireworks, both family friendly events. You can find all your needs in this district!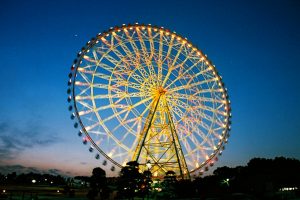 Living in Edogawa
Top neighborhoods to live in include Funabori and Nishi-Kasai. These neighborhoods are surrounded by the major stations in the district.  
Transportation
The ward is served by five lines; JR Chuo-Sobu line, JR Keiyo line, Keisei Main line, Toei Shinjuku line, and the Tokyo Metro Tozai line. Major stations in Edogawa Ward include: Koiwa, Funabori, Nishi Kasai, Kasai. Kasai Station has one of the largest bicycle parking lot, serving more than 9,000 bicycles.
Points of Interest
Diamond and Flower Ferris Wheel

Subway Museum

Edogawa Boat Race Course

Edogawa Goldfish Festival

Edogawa Natural Zoo

Edogawa River Fireworks

Edogawa Sportsland

Edogawa Stadium

Funabori Tower

Gyosen Park

Kasai Rinkai Park

Ojima Komatsugawa Park

Shunkaen Bonsai Museum

Subway Museum

Tokyo Sea Life Park
Blog
Local Japan: Welcome to Edogawa-ku
Links