Introduction
Being the home of the Imperial Palace, National Museum of Modern Art, Yasukini Shrine, and many more, Chiyoda is often called as the political center of the country.  It's name carries a meaning of "field of a thousand generations". The Imperial Palace can be found at the heart of the district as well as the Science Museum and the National Theatre of Japan. Many of its popular district includes Kanda, Akihabara, and Jinbocho.
Akihabara is a district in central Tokyo that is famous for its many electronics shops.
Tokyo's financial district and big banks are located in Marunouchi district, lying near Tokyo station.
With over 3,000 trains running per day, Tokyo Station is one of the biggest stations, comprising of an extensive public transportation network and underground network of commercial buildings, shopping centres, and restaurants.
In springtime, Chidorigafuchi is the perfect place to go to view beautiful cherry blossoms.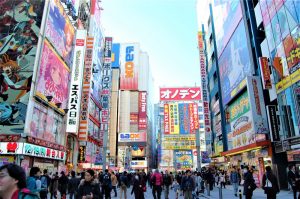 Living in Chiyoda
Chiyoda is located at the heart of the city. Because of its proximity to political, economical, and financial districts, this is one of the top ward to live in. There's a large spectrum of transportation modes including subways, railways, bus lines, and long-distance services such as the Shinkansen bullet train.
Transportation
Since its home to the massive Tokyo station, transportation includes a multitude of subways, railways and long-distance services such as the Shinkansen bullet train. Railway stations surround the area while the underground subway, Tokyo Metro, can be found within walking distance throughout the district.
Main points of interest
Akihabara

Chidorigafuchi

Edo Castle

Hibiya Park

Imperial Palace                                     

Tokyo Station by night             

Kanda Shrine

Kanda Otemachi Night Market

National Diet Building

Nippon Budokan

Science Museum

Tokyo International Forum

Tokyo Station                               

Tokyo Takarazuka Theater

Yasukini Shrine
Blog
Local Japan: Kasumigeki, a Town we call "Love" | Japan Room Finder – https://www.japanroomfinder.com/en/blog/local-japan-kasumigaseki-town-we-call-love/
Links