Introduction
Bunkyo means "culture capital". Just like any place in Japan, you can find shrines and temples around the corner. Specifically in Bunkyo, the attention is drawn to Nezu Shrine. Inside the shrine, you can find a row of torii, a smaller version famous Fushimi Inari Torii in Kyoto. It is said to be the place where a famous author named Natsume Soseki found his inspiration.
When fall comes, Koishikawa Korakuen Garden is a popular place to visit for autumn leaves. At the center of the garden is a large pond, surrounded by bridges and stones. Similarly, Hotel Chinzanso Tokyo Garden and Rikugien Garden are nothing short of great sceneries to stroll and enjoy nature.
If you're a baseball fan, you'll most likely to see some games in Tokyo Dome, Japan's first domed stadium. While you're there, don't forget to ride attractions at the Tokyo Dome amusement park and relax at the spa LaQua. Tokyo Dome City is an entertainment facility where you won't find boredom.
At the district of Hongo lies one of the most prestigious universities in Japan, University of Tokyo, along with many schools and other universities. In April, the streets of Yanaka Cemetery are completely covered with cherry blossoms, and for that reason, the streets is often called the cherry blossom avenue.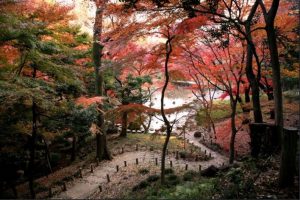 Living in Bunkyo
Bunkyo is more of a residential area than a commercial area. Throughout the district, you'll find typical old Japanese houses and buildings with unique shops and restaurants around. Being a comfortable, friendly atmosphere, Bunkyo is a great place to settle in. Popular districts to live in includes Hongo, Koishikawa, and Mejirodai.
Transportation
The main train companies running through Bunkyo are Toei and Tokyo Metro. Toei lines include Mita and Oedo. The lines from Tokyo Metro are Chiyoda, Marunouchi, Yurakucho, and Namboku. The JR lines does not run through Bunkyo.
Points of Interest
The Baseball Hall of Fame and Museum

Tokyo Dome

Hotel Chinzanso Tokyo Garden

Koishikawa Korakuen Garden

LaQua Theme Park

Nezu Shrine

Rikugien Garden

Tokyo Dome City

University of Tokyo

Yanaka Cemetery

Yushima Tenmangu
Links