Behind the apparent cleanliness of its streets, Tokyo reveals many "hidden wastes". If you approach the rivers, you will find tons of waste. Poisoned gifts thrown directly by the population or discarded from the sea, showing the important work that remains to be done. An association, Tokyo River Friends, has been participating in the cleanup for more than two years.
Since 2017, James Gibbs, manager of Tokyo River Friends, invites people almost every weekend to clean up the riversides in Tokyo.
The typhoon did not only cause big fear and damage to the island and its population. The natural phenomenon also released tons and tons of waste from the sea to the land. A return to the sender. To clean up, the city of Tokyo can count on the action of the organization Tokyo River Friends. For the last two years, this organization has been active many times on the riversides, to collect wastes.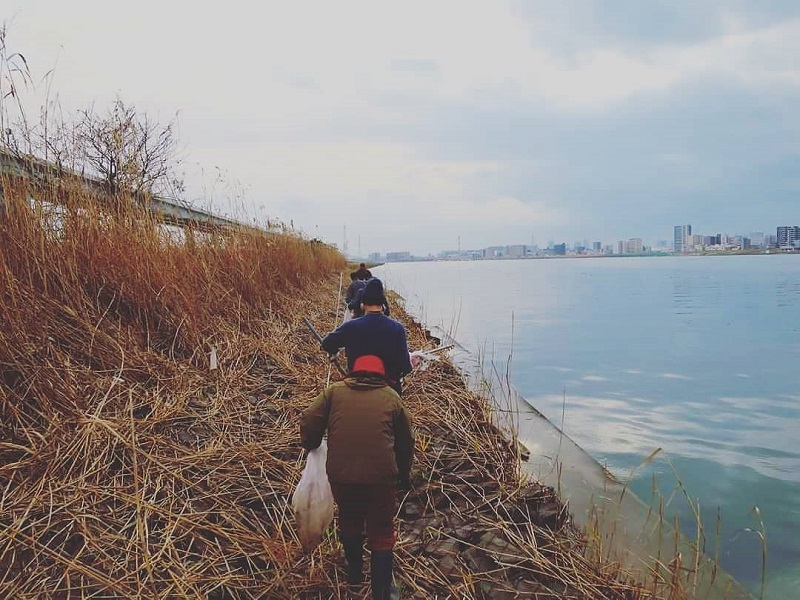 Toilets or television found on the riverside
James Gibbs invites residents as well as travelers to participate in operations. At the beginning of December 2019, on the Arakawa River, near the Yahiro train station, a few meters from the training session of the young baseball players team, eleven people came to brave the wind for an afternoon to clean up an area of trashes. A tiny place cleaned, which already represents tons of waste.
For nearly three hours, in a very good energy, 6 Japanese (with one teenager), 1 French, 1 Italian, 1 Iranian, 1 Malaysian and 1 American bent their knees and lifted their elbows to pick up trashes in conditions not still obvious. Volunteers wearing boots are encouraged to step into the water. Many wastes surround reeds, making their collecting sometimes unclear. Also among the trashes, televisions or toilets. "People don't want to pay to get rid of it. So they stop their car just before the bridge and dump their garbage in the river or on the riverside" explains one of the Japanese participants. This type of waste is also explained by the presence of shelters made by homeless people in Tokyo.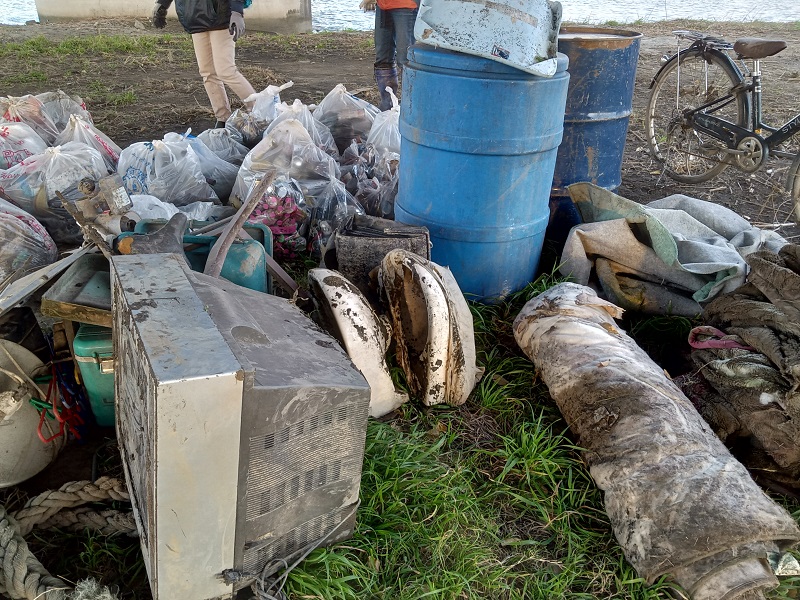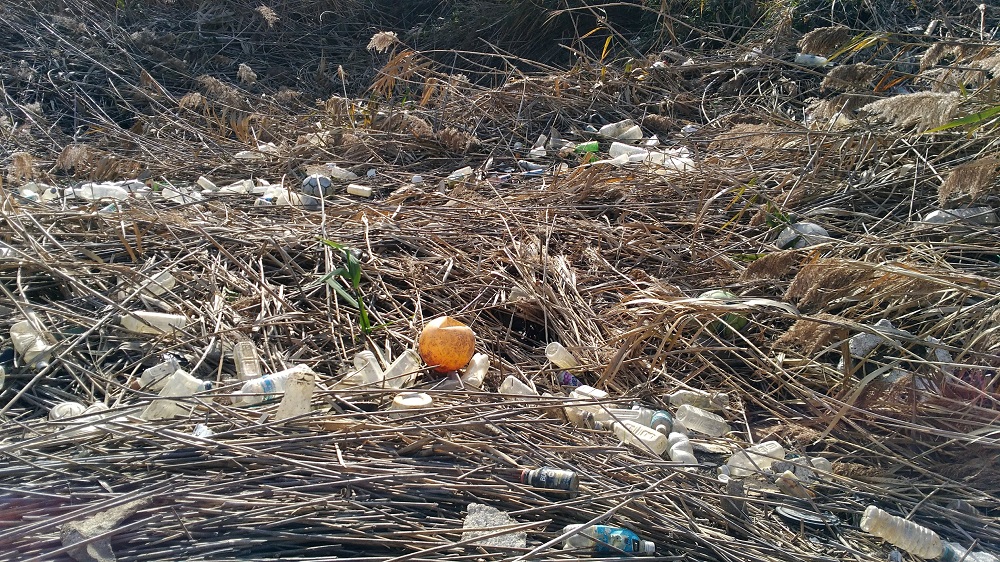 More than 2,000 bags of trashes collected in one year
Among the other wastes, a lot of plastic bags are found. The wastes are collected and sorted in different color bags. Finally, 59 bags of burnable trash, 30 bags of PET bottles, 7 bags of cans, 4 bags of pressurized cans, 5 bags of glass bottles, and the equivalent of 20 bags of the large unbagged items were collected for a total result of 125 bags. «Today's course was a little challenging but with so many reeds, but we really did a good job in cleaning up several areas right at the waterline. I would like to thank everyone who came out today for the great effort that made the event a real success. In almost 60 events, this was our third-highest total» congratulates James Gibbs. The bags are then sent to the waste management stations.
"This put us over the 2019 target for 2,000 bags with 2,063 bags collected this year and one more event to go before year-end" adds James Gibbs. Despite this, the manager wants to do more. He is looking to improve communication with the residents around the rivers. He also has the ambition – after a first-year with 1,000 collected bags, a second, with more than 2,000 – to reach this year, nearly 3,000 collected bags.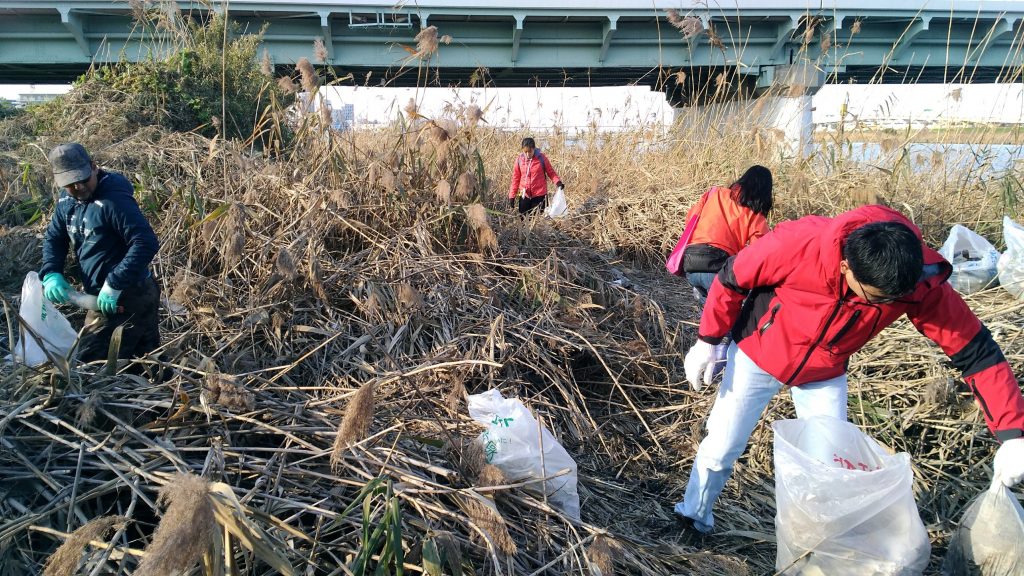 Tokyo River Friends rewarded by Arakawa Clean Aid
James Gibbs gives almost each weekend an appointment to the volunteers for a new mission. The cleaning places change. On the Arakawa or Edogawa River, at Funabori or Barakinakayama, with windy or sunny weather, the volunteers are there. Many participants come back several times. People are invited to share a mission and then a drink, a meal or an evening. A friendship relation starts.
The organization was rewarded for its commitment. «We will receive two awards from Arakawa Clean Aid on February 27th. One is for collecting the most trash on the Arakawa in 2019 among the 100 or so groups they support. We will also receive an award for the most number of clean up events held in 2019, which I believe was 19. To put those results into perspective, I believe the annual bag collection for Arakawa Clean Aid is about 7,000-8,000 bags per year from those 100+ groups. So, the Tokyo River Friends share was approaching or about 20% of the total » says James Gibbs.
Tokyo River Friends was founded in early 2017 by members of Jambo International in order to focus on regular monthly clean-ups of Tokyo area rivers, which was an expansion of several clean up events per year that Jambo had been doing for two decades as part of its broader environmental activities.
A clean City: a Japanese culture 
The Arakawa River Clean-aid Forum is a Specified Nonprofit Corporation. It is run by "participating organizations" that gather participants and organize volunteer cleanup activities in respective cleanup sessions, mainly during Arakawa River Clean-aid Months in Autumn. These activities take place in a total of 150 different areas, from upstream Chichibu City to East Beach (Higashi Nagisa) of Tokyo Bay, and involve more than 10 thousand participants each year. The Arakawa Clean-aid Forum, an NPO, strives to expand the network of people who are aware of the importance of protecting the environment of the river, as well as the environment of the earth, through a wide range of activities.
More in the land, other organizations also help to collect trashes. Green Bird is an example of an official organization. And sometimes, things happen naturally. Some neighborhoods have their own habits: if you live in Japan, you're bound to be asked to join the regularly scheduled community clean-ups in your neighborhood. The gatherings are early, nearly 7 am so that people can participate before going to work. Neighbors wear gloves, carry shovels, scythes, rakes, and clippers and collectively clear the street drains, cut back the trees, weeds, and grass and generally tidy up the surrounding area, including small parks and public toilets. Living in a clean place is part of Japanese culture. This way, people are also proud of their neighborhood. And it creates friendship relations between residents.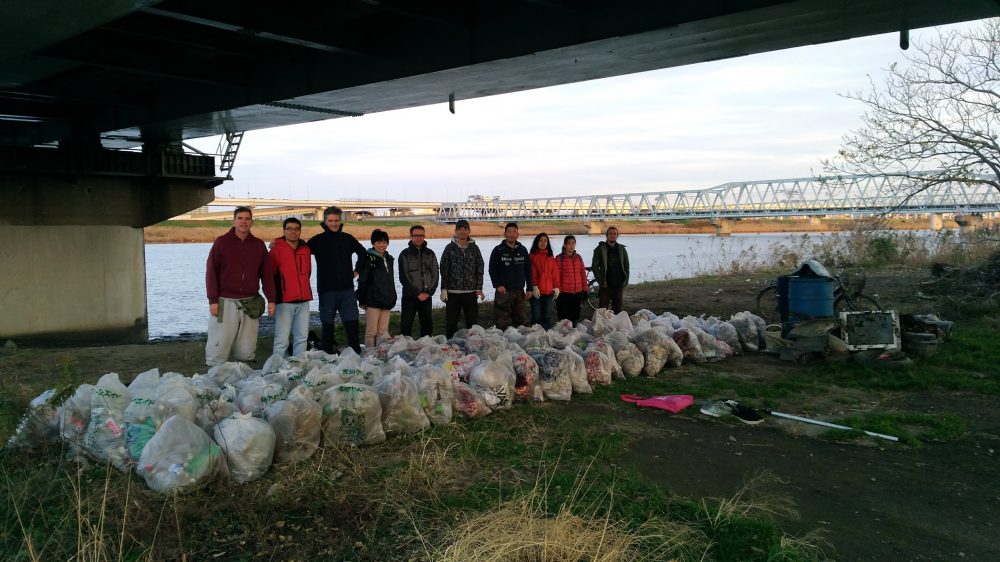 Want to be active too? Check Tokyo River Friend official website.
To learn more about sustainable topics in Japan, have a look at Pierre's article about Mottainai, the Japanese expression against waste and for global awareness.
Author: Pierre Westelynck