Are you sending a letter to a friend? What about a package? Sending letters or packages in Japan can be stressful if you don't know the right words. Going to your local post office 郵便局 does not have to be daunting. With some basic knowledge of the services offered and common terms for sending mail items, you will be just fine.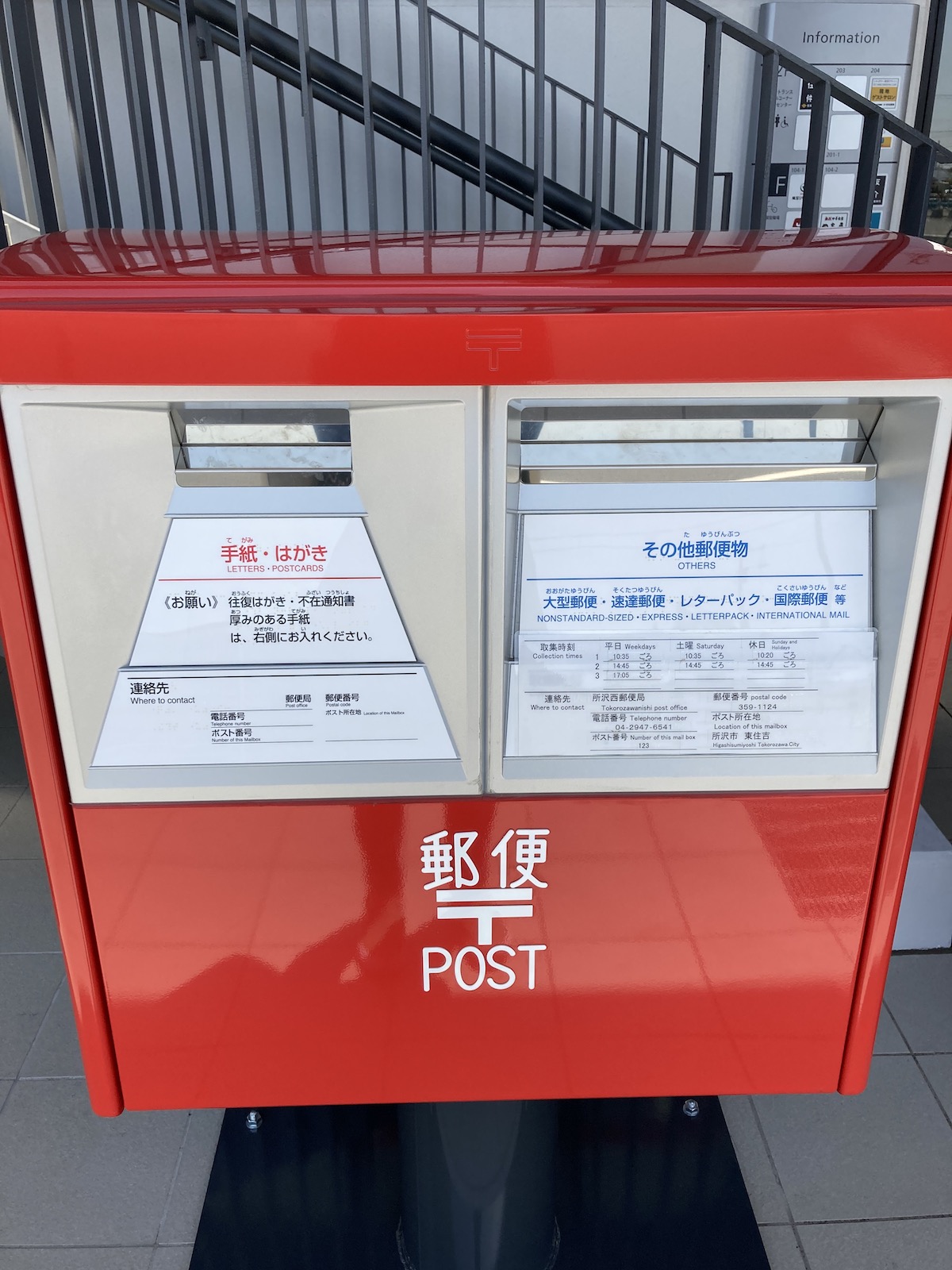 Basic Japanese terms to know at the Japanese post office:
Letter 手紙
Stamp 切手
Postcard はがき
Package 荷物
Registered mail 書留

Add ¥410 to the basic postage for special insured service to make sure your item is delivered safely. Includes compensation of damage.
For registered mail, there are two main categories:

Ordinary registered mail 一般書留 Insured up to ¥100,000.
Currency registered mail 現金書留 Insured up to ¥10,000. This service is useful when you need to send money to receive a document such as an English translation of your driver's license or other legal documents.

Express mail 速達

Rates vary based on the type of mail item. If you want it delivered the same day, you can request 新特急郵便. Remember that you'll need to get the item to your local post office by 12pm in order to have it delivered the same day.
Are you sending a package? Filling out the forms for sending a package can be difficult without knowing the terminology.
When sending a package, you will need to know these terms:
Sender ご依頼主
Receiver お届け先
Day you want it to arrive 配達希望日
Time you want it to arrive 配達希望時間帯

You will usually pick between morning 午前中 or specific times. If you have no preference, you can select 希望しない

Items inside 品名(内容品)

You will list what items you are sending in the package.

Indicate on the form if there are:

Breakables こわれもの ; Perishable food なまもの ; Jars ビン類; Don't turn upside-down 逆さま厳禁; Don't put on bottom of truck 下積み厳禁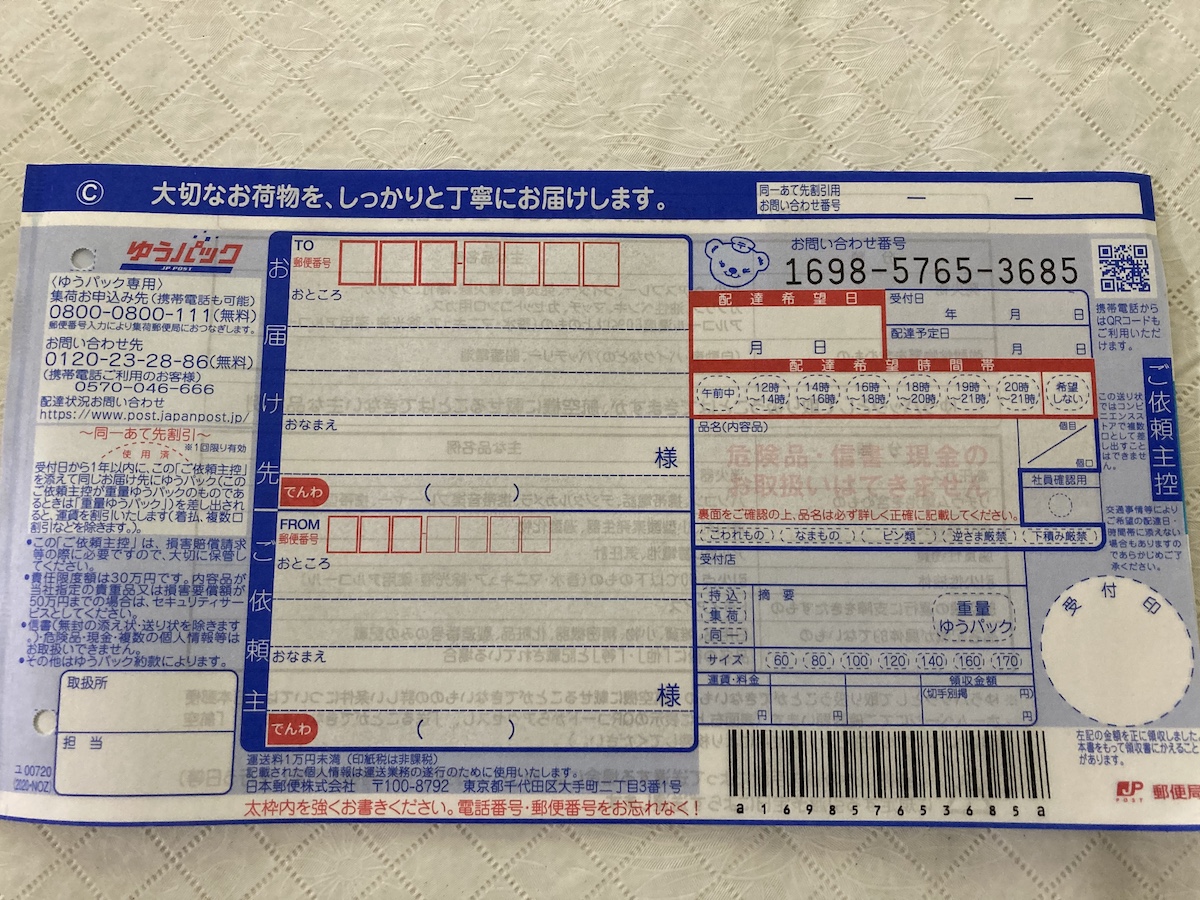 Basic package options in Japan:
Letter Pack レターパック
This is a flat-rate envelope for sending documents, papers, CDs/DVDs, clothing, samples, etc. The 3 main size options are:
Letter Pack Plus: ¥520 to anywhere in Japan; A4; up to 4kg; no thickness limit, as long as fits in envelope
Letter Pack Light: ¥370; A4; thickness up to 3cm; up to 4kg
Smart Letter; ¥180; A5; under 1kg; thickness up to 2cm
Yuu-pack ゆうパック
This is the basic package shipping using the Japanese post office. All dimensions must be under 170cm and the weight under 25kg. The shipping rates vary based on location and dimensions of the package. You can send ゆうパックfrom your local convenience store. Another reason to add to your list of reasons that the Japanese convenience stores are so convenient.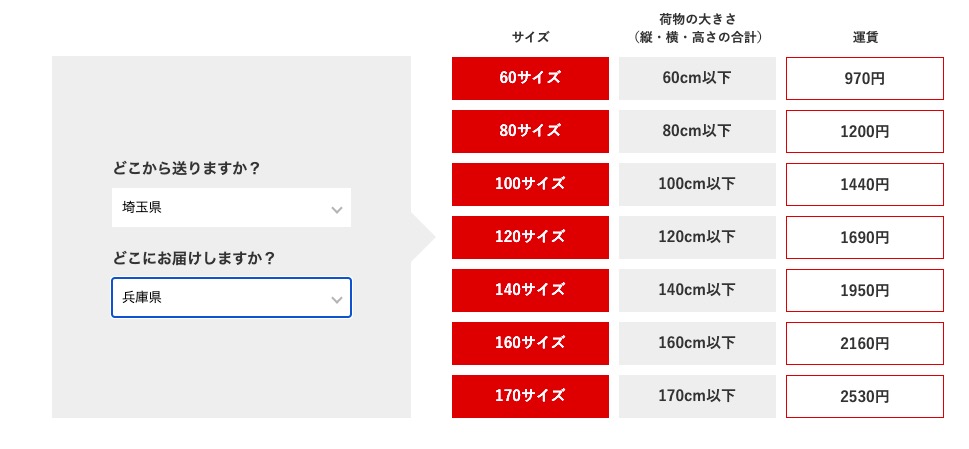 Yuu-packet ゆうパケット
ゆうパケットis very convenient and affordable for sending small packages. Anything under 1kg and with dimensions under 60cm goes. There's even an app you can download to make it even easier!
The 3 main sizes are:
up to 1cm thickness= ¥250
up to 2cm thickness= ¥310
up to 3cm thickness= ¥360
Click Post クリックポスト
This shipping service is perfect if you are an online seller. All you need is your Amazon or Yahoo! Japan account and you can send items (under 1kg) for a flat-rate of ¥198. Simply pay with your credit card online, then print your label at home.
In addition to the post office, other companies to consider for sending packages include Takkyubin "Kuroneko Yamato" 宅急便クロネコヤマト and "Sagawa Kyuu-bin" 佐川急便. These services are recommended for larger packages, sending refrigerated items and sending baggage to the airport before your flight.
Basic Japanese terms to know when sending a package home:
航空便 Airmail
船便 Sea mail
SAL便 Combination of sea and air mail; great for sending packages abroad for cheap (pre-COVID)
Shipping rates and services offered differ by country, so please check at your local post office for exact rates. When you go to the post office, let them know you want to send it abroad. For example, こちらをカナダに送りたいです。(I want to send this to Canada.)
The Japan Post website has an English section to help you understand different types of mail. Also, generally post office workers are very kind and helpful. So take a trip to your local post office and have a go with some of the new terms from above!
As of January 2021, you can no longer fill out paper forms to send packages internationally. Go to this website to create an account and fill out the customs information. I have found that the Smartphone website is a bit easier to use than the computer version.
Information for this article was obtained from the Japan Post website, and rates are current as of April 2021. Also please note that some overseas services have been suspended due to the COVID-19 pandemic.