With the seasonal foliage at its finest, the month sees the arrival of the beautiful autumn leaves. Bask in the rich-jeweled tones of the season at Rikugien Gardens—at night the grounds are illuminated—or delight in the vibrant yellows of the city's numerous ginko trees.
The month also signaling a headstart to LED illumination or light up shows, admire the literal brilliance of the displays, the perfect backdrop to the city.
Tokyo's many chrysanthemum festivals are no less arresting. Signifying longevity and rejuvenation, the blooms bear associations with Japan's Imperial Family.
Also not-to-be-missed are the Tori-no-ichi festivals held on set (rooster) days in November. Pick up an ornate kumade rake to wish good luck and business prosperity.
With the city's parks exploding with color. The skies are typically a glorious blue, and the maple trees turn scarlet. It's cooler and drier, with average high temperatures around 17°C and much less precipitation.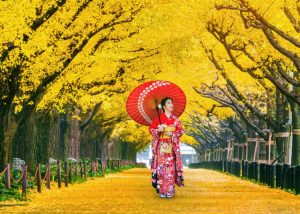 Here are some more up coming events for you to make the most out of your experience throughout Tokyo in November:
1st Nov–15th Nov, 2018 9:00am – 4:00pm
Jindai Botanical Gardens Chrysanthemum Show
26th Oct–18th Nov, 2018 9:30am – 5:00pm
Mid Nov, 2018
Caretta Shiodome Winter Illumination 2018
Mid Nov, 2018–Mid Feb, 2019
ABC Tokyo Ballet Performs 'Giselle'
18th Nov–24th Nov, 2018 6:00pm
November is the perfect time to sink back into those warming dishes and enjoy the comfort of hearty flavors. Here in Japan, comfort food doesn't have to mean unhealthy, so rather than the mountains of carbs we may be used to, you can enjoy seasonal fish, chestnuts and fruits, all offering those sweet fall flavors! So here are some of the up coming food events to get very excited about this November:
Kurimoto Furusato Sweet Potato Festival
Mid Nov, 2018
26th Oct–5th Nov, 2018 10:00am – 9:00pm
Mid Nov, 2018
17th Nov–18th Nov, 2018 10:00am – 8:00pm
Late Nov, 2018
Tokyo has numbers of great spots for autumn leaves viewing including some ginkgo avenues called "Icho Namiki". Ginkgo trees turn into golden colour gloriously during autumn, and even after leaves are falling down, the view of golden carpet is another spectacular thing. Let's take a look at 5 most recommended spots to visit in Tokyo for beautiful ginkgo leaves viewing this autumn! To view article CLICK HERE!