Everyone expects that moving to Japan is very tough, but you probably didn't realize you would have to re-learn how to make a basic day-to-day task: purchasing food at a grocery store. Buying Food in Japan can be a burden!
The first time I went to a supermarket in Tokyo, I actually spend 20 minutes figuring out which one was the salty soy sauce. I also didn't know how to eat nato, a popular fermented soybean dish prized by people Japanese people for being "so healthy". To be honest, I ended up warming it up into my microwave… and killing my apartment with a very strong feet smell.
Today, I found the remedy to avoid you that struggle. I attended a Food Orientation Tour given by Katheryn, a lifestyle transition coach who founded Thrive Tokyo. She explained everything you need to know, for dining out and buying food in Japan peacefully. I am glad to share with you a review of this workshop and essential tips about food.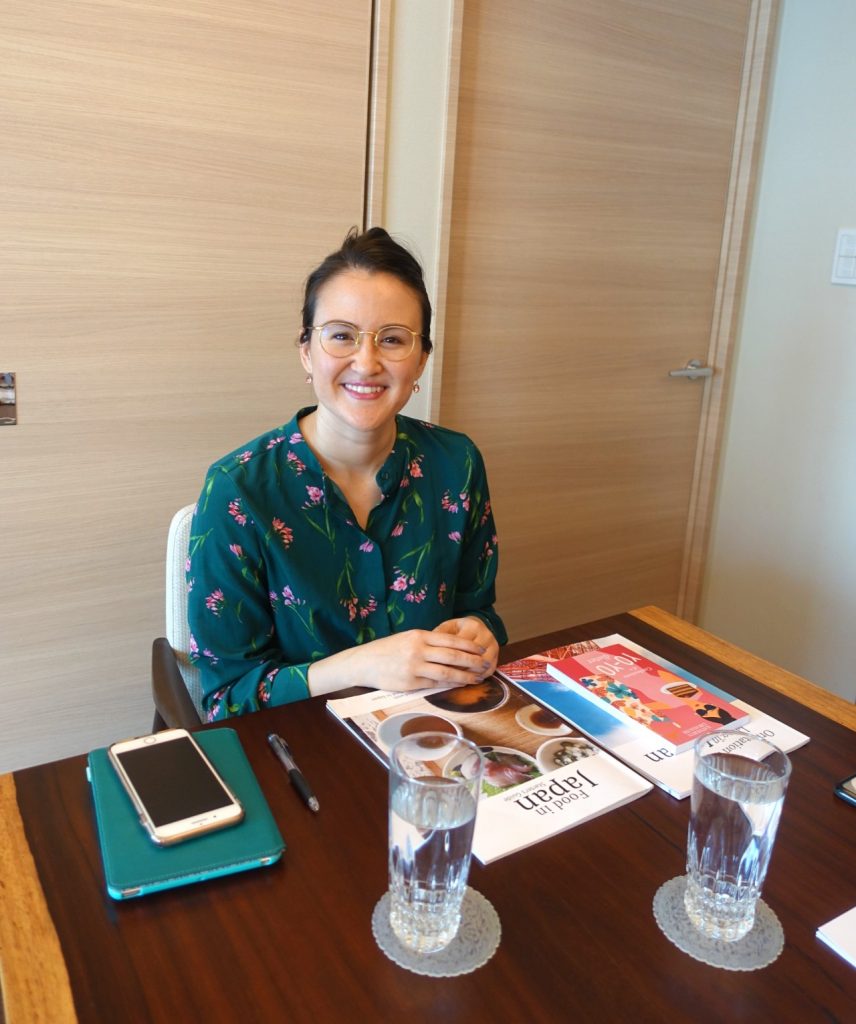 An intimate and personalized food workshop
Katheryn welcomed me at her lovely apartment in Omotesando, with a small group composed of freshly settled foreigners. She intentionally keeps the sessions within 4 persons, to create a friendly and intimate atmosphere. After a warm welcome including a drink, she makes sure to know the reason why the participants are attending the session, and adjust the content of the workshop accordingly. It felt almost like private coaching while benefiting from other participants' interactions.
The workshop lasts 2 hours, the first part is a discussion to learn all the basics about food in Japan. The second part is a walking tour in a grocery store, to use that knowledge in practice and identify labels.
Where to buy food in Japan?
In Japan, depending on what you need to buy, you have to choose the right place. Katheryn knows exactly where you can find any ingredient, even the rarest one.
While Japanese grocery stores such as Maruman or Olympic are perfect for main ingredients, most of them only sell pork meat and you have very little chance to find specific western products. If you are craving for good cheese or peanut butter, you will only find it at international supermarkets (My Basket, Peacock, etc.).
Need elaborated prepared food for dinner at home? The basements gourmet sections of department stores like Isetan will be your heaven. They also provide healthier, hence tastier Bentos than the ones you will find at Japanese supermarkets (mainly rice and fried food). Forgot a piece of ginger? Convenience stores provide standard quality food but will definitely be your joker for a quick adjustment (most convenience stores have the corner of a fresh vegetable).
Finally, if you value organic and natural food, Katheryn can introduce you to all the names and locations of the places to know in Tokyo. For seasonal healthier vegetables, Farmer Markets are the place to find a wider variety. And for the rarest products, she knows many useful online retailers such as iHerb.com.

Understanding better the way Japanese people cook, how they eat, and how to do it at home
Katheryn introduced a brilliant memo technic that the Japanese use when cooking. "Sa Shi Su Se So" represents the five basic seasonings used in Japanese cuisine. These five seasonings are sugar (Sato), salt (shio), vinegar (su), soy sauce (shoyu), and miso (the second syllable gives us "So"). These correspond to the "s" row ("Sa Shi Su Se So") of the Japanese phonetic alphabet, and also to the order of using these seasonings. An ingenious way to remember it!
Knowing this key concept, you will receive a Food Guide Book that includes Japanese cooking recipes easy to do at home. You are now ready to cook your first miso soup as well as Japanese Ponzu Pork!
Dining out seems a very easy thing to do, but in Japan, depending on the occasion, choosing a restaurant can be tricky. For example, most sushi places only have counter seats making it lovely for an intimate dinner, but not for a group.
When dining out in a group, prefer an Izakaya, which are tapas (small plate) style venues with large tables well suited. And for a charming traditional atmosphere, search for "Horigotasu" izakaya restaurant, a traditional seating style where you sit on the floor but have a recess underneath the table where you can dangle your legs.
Last but not least, when dining at a high-class restaurant, don't wear heavy perfume, it could alter the food aromas and that is considered rude.
Getting healthier food with labels: local food, no chemicals, organic food
As a wellness coach, Katheryn knows that to feel confident about making better food choices, you first need to be able to know what you buy and therefore, to read food labels.
A first very easy shortcut for identifying at a glance local food versus imported one: the name of the product will be written in Japanese Kanji if it's local. If you see a package written in katakana, that means it has been imported. During the orientation tour, Katheryn provides a very useful flyer with a list in Japanese and English of most of the ingredients you need to have in your kitchen. Bring it with you next time you go to the supermarket, that will surely help you identifying anything you are looking for.
To find organic food, search for the kanji 有機(Yuuki: this is the Japanese word for organic) or オーガニック, and for natural food with no chemicals you will see the kanji 無添加.
Finally, an interesting way to identify easily Whole Milk versus Content Adjusted Milk, just by checking the package: there is a dent on the top of the package. This dent is made for the partially-sighted persons to tell that it is whole milk and not another milk type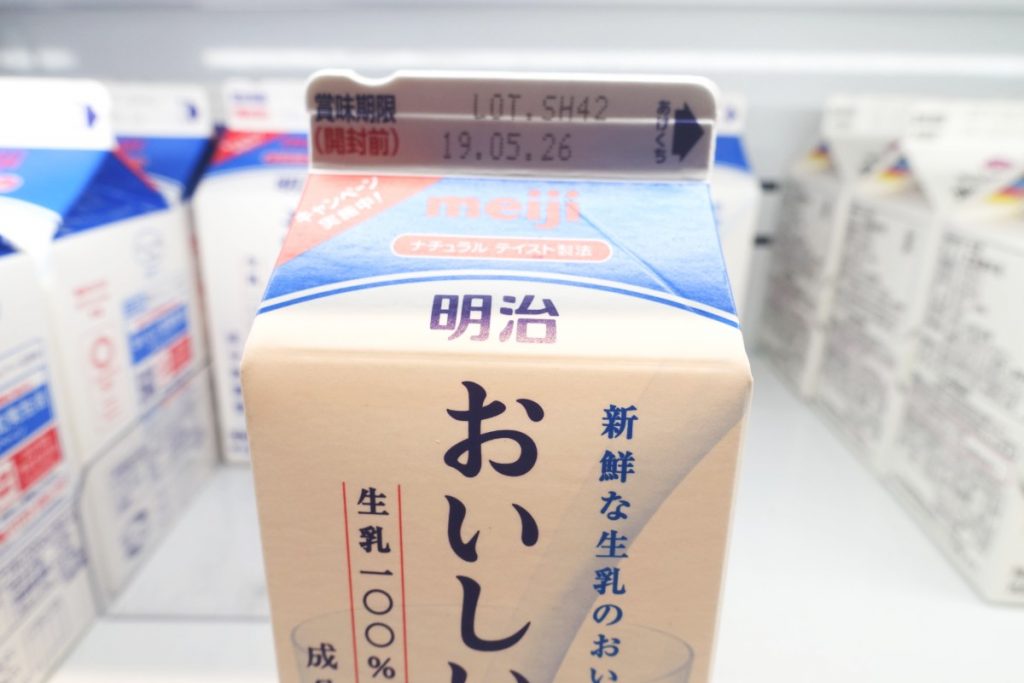 Whether you just arrived in Japan and know nothing about dining out and buying food, or have already mastered the basics but want to expand your knowledge about Japanese food, this 4,500 JPY Orientation Tour is worth attending.
Note that for the freshly arrived foreigners, Thrive Tokyo also does an entire Survival Program that covers all the day-to-day tasks from transportation systems, money, to dealing with the post office. She also does private sessions (vegetarians, that's definitely for you!).
Stay tuned, we will review another session next month! Not just in Tokyo, hopefully, this article will also help you with buying food in Japan all around!
All the info on Katheryn website https://thrivetokyo.com/
Thank you for reading this week's blog!
If you want to be our blogger and share your Japan life, send us an email to [email protected]
If you are having trouble finding a place in Tokyo, please feel free to contact us and have a look at our properties at tokyoroomfinder.com. We will connect you with your desired house at no cost!
.