[Lecteurs francophones, faites dérouler l'article!]
Are Japanese people fundamentally respectful, or total hypocrites? How can we explain their super eccentric side? Is it easy to create a relationship with them? Why do they always wear a surgical mask at any time of year? In this article, I answered 5 big questions about Japanese people that we have probably all wondered whether you are passionate about Japan or not. Some explanations will, I'm sure, surprise you as well as teach you a lot about this so unique population.
Why are the Japanese so polite and respectful?
In order to better grasp this question, I first need to explain the tatemae and the honne, two key concepts regarding Japanese behavior. The tatemae (建 前, lit. "made before", "facade") refers to the unique, consensual conduct or opinion that everyone will adopt in society, while the honne (本 音, "true sound") refers to what you really think in your heart, the "real voice" of the individual. In short, it's the difference between being and appearing. In Japan, it's the well-being of the group that takes favor over the individual self. This makes it essential for the Japanese to look contented in all circumstances, even if they do not express their opinion.
This is even more present in the professional environment. The extreme politeness of a salesman that could at first seem to express kindness, is only a professional obligation that they cannot avoid. Mathieu, the French guide in Tokyo who I did an interview with that you can find here, shared with me a surprising anecdote to say the least. When his Japanese wife worked in commercial shops, she and her colleagues had to practice every morning smiling exercises. The quality of these exercises was then evaluated by the manager. Smiling is a good sales and marketing tool that the Japanese have practiced extensively! Aside from commercial reasons, this "mask" is constantly worn by Japanese people in society at the heart of all exchanges within the public sphere. More so, this explained why it would be extremely wrong to frontally show a different opinion or a negative emotion.
The Japanese, hypocrites?
If the Japanese do not say what they think, we can say that they are hypocrites, right? Well, no, affirming such a thing would be making a hasty conclusion. From a Western point of view, it's true that concealing our own opinion is generally perceived as a form of hypocrisy. On the contrary, we value heated debates and original thoughts that stand out from the crowd. However, as explained above, it's the general well-being of the group that matters the most in Japan. The harmony and the common orientation of the discussion are privileged by the Japanese, and that involves an evaluation of the positive, while omitting controversial aspects. Their objective is to not offend or embarrass anyone, so it is a real proof of respect to always be in agreement with the interlocutor even if it comes down to reject certain self-assertion.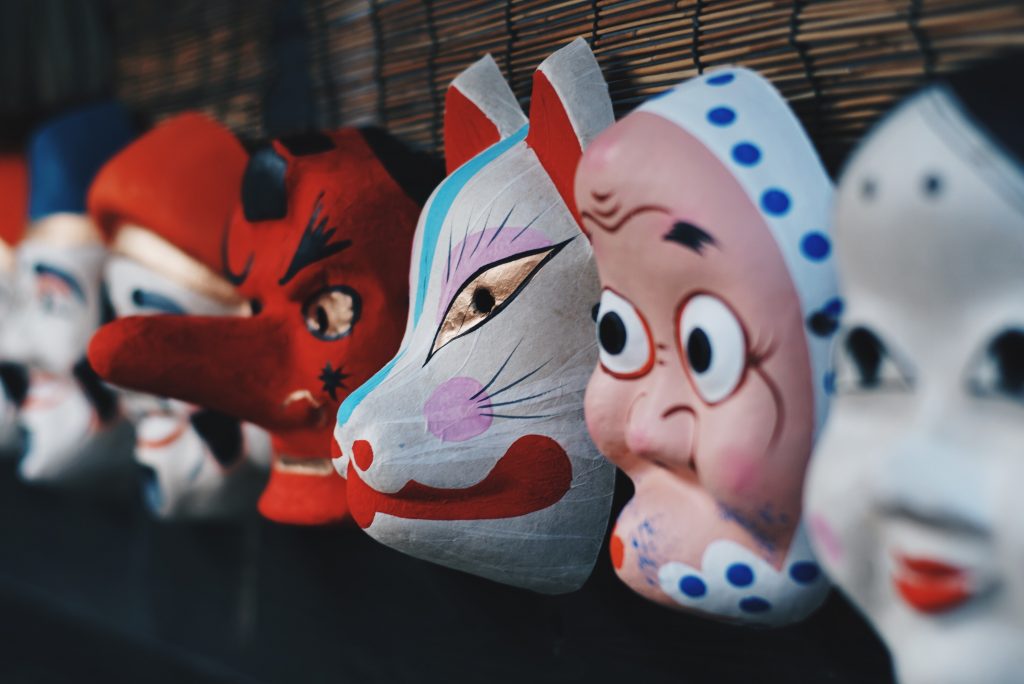 How to explain the crazy, eccentric side of the Japanese?
As foreigners, our interactions with Japanese people are often brief or superficial. We focus on observing their behavior and often quickly come to the conclusion that they are very reserved and introverted people. However, this viewpoint would be judging the Japanese too quickly. I myself was taken back while strolling through the streets of Harajuku for the first time at night. I could see that the Japanese were very noisy and full of life, sometimes with looks out of the ordinary, accosting at the slightest opportunity to speak with strangers at the bars. They looked nothing like the people I had met earlier in the day. If the Japanese were truly all reserved, how does one explain these unlikely scenes? The smooth and perfect image of the Japanese and their eccentricity characteristic seem to be two very dissociated notions, but it is in fact quite the opposite. A massive amount of pressure is put on the Japanese to become successful working individuals, while also exceeding in public life contexts. Their relaxation comes during evenings and weekends that are used as catharsis, allowing them to put their good manners aside and drop the tatemae mask.
This also explains the touch of madness that young people can incorporate into their appearance through accessories such as clothes, hair and makeup. In the professional world, the dress code is very standardized and regulated. In big Japanese companies for example, women only have the choice of four shades of black color for their hair. More so, their makeup must follow a very precise aesthetic image that excludes the usage of perceived manicure colors. Whenever young Japanese people enter a university and are no longer required to wear school uniforms, they take advantage of these few years of freedom to test all the things they would not have the opportunity to do previously. Unfortunately, the societal pressures suffered by the Japanese are not without consequences. To avoid their daily stress, many of them develop an unhealthy way of life by eating very high calorie meals or engaging in substance abuse.
Is it easy to become friends with a Japanese?
…Yes and no. On one hand, it's very easy to make friends for a night in Japan. It's not surprising for Japanese people to go out for a drink alone and meet strangers with whom they will share a meal, a few drinks and later finish the night with karaoke. On the other hand, creating a sincere and deep relation is much more complex. This is due to the mask of tatemae which makes the superficiality of the exchanges difficult to pass through, which is even more evident with a foreigner.
Why do the Japanese wear a surgical mask?
Many of us think that Asian people wear a mask just when they are sick in order to not contaminate others in public spaces. This answer, although not wrong, is far from complete truth because the wearing of the mask is explained by a multitude of other factors.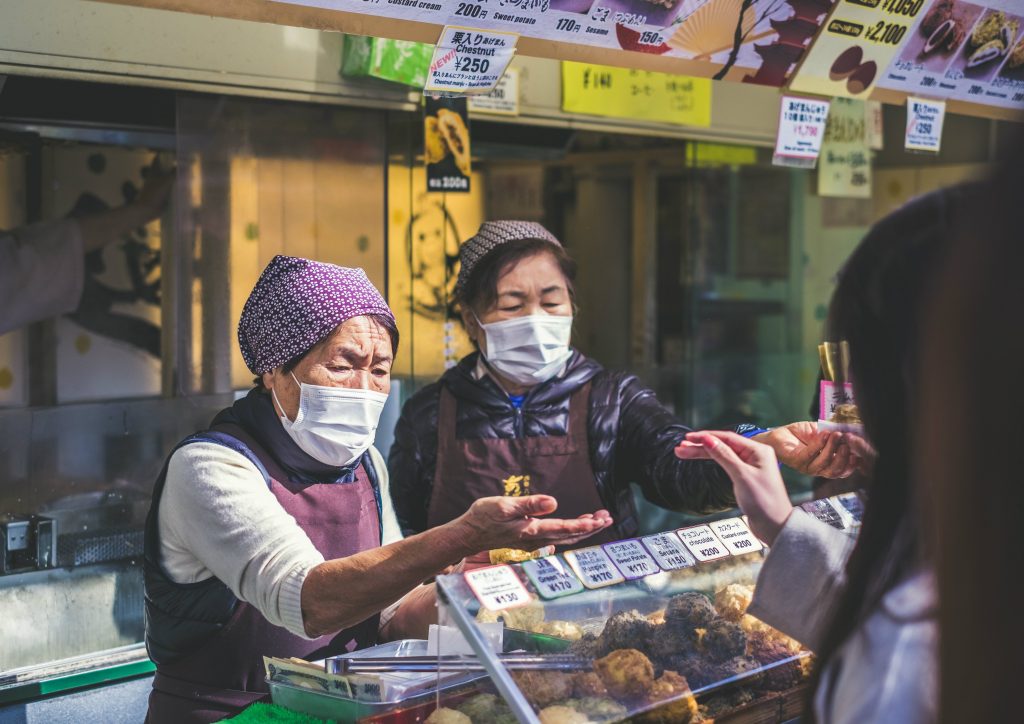 In the winter, the mask can be used to protect the Japanese from viruses and thus avoid exposure to diseases. In spring, many choose to wear it because of pollen related allergies. We must also remember that blowing your nose in public is frowned upon in Japan. Thus, a mask that covers the nose is more practical so that no one sees what is happening under it! The mask is also used to hide the face when you have an unsightly spot for example. Surprisingly for women, they are used when they do not wear makeup. Indeed, makeup is a very strong social norm for Japanese women and it is even mandatory in most professional circles. When they haven't had the time or the desire to wear lipstick and foundation, they adopt the mask. This has the advantage according to some to bring out their eyes by creating an illusion of low finer face! Let's end this non-exhaustive list with a slightly more dubious use: wearing a mask is also an effective way of not being recognized when someone goes cheating on his or her partner …
************************************************************************

5 questions expliquées pour faire tomber vos clichés sur les japonais
Les japonais sont-ils vraiment respectueux, ou bien totalement hypocrites ? Pourquoi sont-ils si excentriques ? Est-ce facile de créer une relation avec eux ? Pourquoi portent-ils tous un masque chirurgical, même en été ? Dans cet article, je viens répondre à cinq interrogations sur le peuple japonais que l'on s'est  sûrement tous déjà posé une fois, passionné par le Japon ou non. Certaines explications vont, à coup sûr, vous surprendre mais aussi vous apprendre beaucoup de choses sur le fonctionnement de cette population bien à part.
Pourquoi les japonais sont-ils si polis et respectueux ?
Afin de pour pouvoir mieux appréhender cette question, il me faut avant toute chose expliquer ce que sont le tatemae et le honne, deux concepts clés dans l'explication du comportement japonais. Le tatemae (建前, lit. " fabriqué devant ", " façade  ") se réfère à l'opinion et à la conduite unique et consensuelle que l'on va adopter en société, tandis que le honne (本音, "vrai son") fait référence à ce que l'on pense vraiment en son for intérieur, à la « véritable voix » de l'individu. En somme, il s'agit de la différentiation entre l'être et le paraître. Au Japon, c'est le bien-être du groupe qui prime sur celui des individus et il est donc essentiel pour les japonais de faire bonne figure en toute circonstance, quitte à ne pas exprimer son avis.
C'est d'autant plus marqué dans le milieu professionnel : l'extrême politesse d'un vendeur que l'on pourrait au premier abord apparenter à une marque de gentillesse n'est bien qu'une obligation professionnelle à laquelle il ne peut pas échapper. Mathieu, le guide français à Tokyo avec qui j'ai réalisé une interview que vous pouvez retrouver ici, m'avait raconté une anecdote pour le moins surprenante : lorsque sa femme japonaise travaillait dans des commerces, elle devait pratiquer chaque matin avec ses collègues des exercices de sourire dont la qualité était évaluée par le manager. Et oui, le sourire est un bon outil marketing dans la vente et les japonais l'ont bien compris ! Mais au-delà de raisons commerciales, ce « masque » que porte constamment les japonais en société est au cœur de l'ensemble des échanges de la sphère publique, si bien qu'il serait extrêmement malvenu d'afficher devant quiconque un avis divergent ou une émotion négative.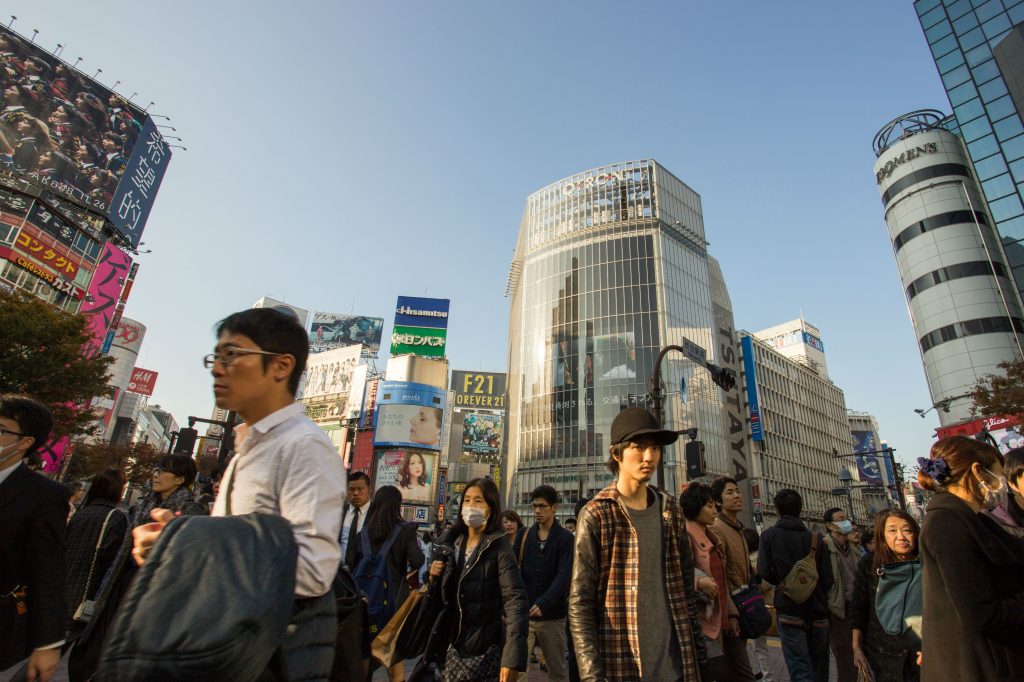 Les japonais, des hypocrites ?
Mais alors, si les japonais ne disent pas ce qu'ils pensent, c'est donc qu'ils sont hypocrites ? Et bien non, ce serait émettre un jugement bien trop hâtif que d'affirmer cela. D'un point occidental, il est vrai, cacher son opinion est généralement perçue comme une forme d'hypocrisie, et nous valorisons au contraire les prises de parole allant à contre-courant et alimentant des débats. Or, comme expliqué plus haut, c'est avant tout le bien-être général du groupe qui importe au Japon. L'harmonie et l'orientation commune de la discussion est privilégiée par les japonais, et cela passe par une valorisation du positif et par l'omission des aspects controversés dans les sujets abordés. Le but étant de ne froisser ou gêner personne, c'est donc une vraie preuve de respect que de toujours être en accord avec l'interlocuteur en face, quitte à rejeter une certaine affirmation de soi ou à n'aborder les sujets qu'en surface.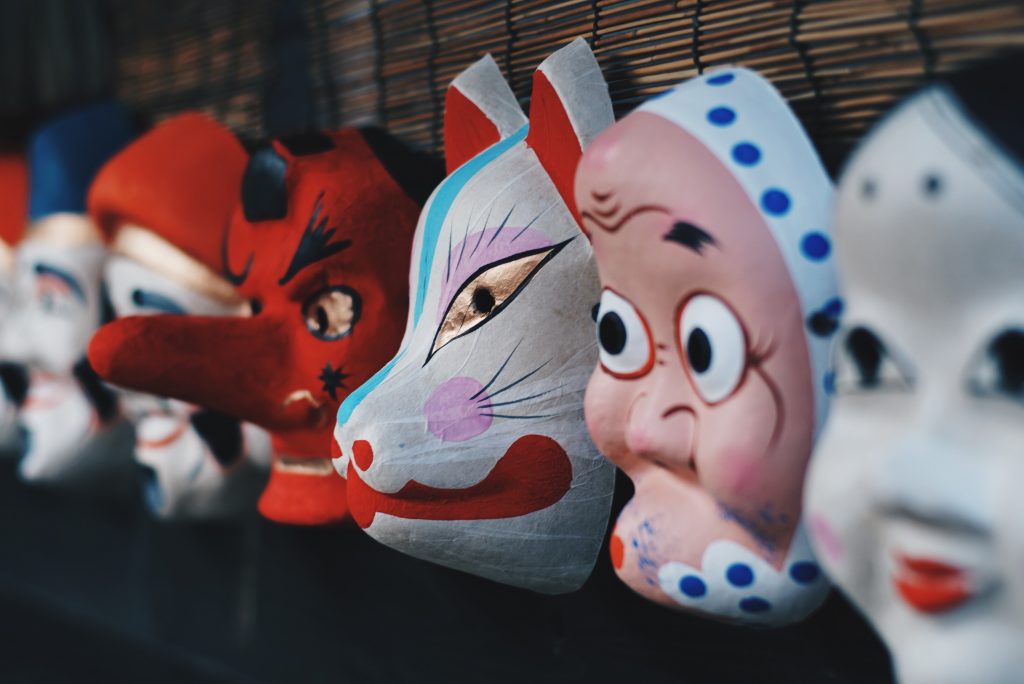 Comment expliquer le côté excentrique des japonais ?
En tant qu'étrangers, nos échanges avec les japonais sont souvent brefs ou superficiels, et en observant quelque peu leur comportement on peut facilement en venir à la conclusion que ce sont des personnes très réservées et introverties. Mais ce serait là encore, juger trop rapidement. J'ai moi-même été prise au dépourvue en me baladant pour la première fois dans les rues d'Harajuku le soir : j'ai pu y voir des japonais très bruyants et plein de vie, parfois au look totalement hors-norme, accostant à la moindre occasion des inconnus pour entamer des discussions et partir ensemble dans des bars. Ils ne ressemblaient en rien aux personnes que j'avais croisé plus tôt dans la journée. S'ils sont tous si réservés habituellement, comment expliquer ces scènes improbables ? L'image lisse et parfaite des japonais et leur excentricité si caractéristique semblent être deux notions très dissociées, mais c'est en fait tout l'inverse. Une grande pression est imposée aux japonais dans le cadre du travail et de la vie en société, pression qu'ils ont besoin de relâcher un moment ou à un autre. C'est ce qu'ils font au cours des soirées et weekends qui sont utilisés comme des catharsis, leur permettant de laisser tous leurs codes de bienséance de côté en faisant tomber le masque du tatemae.
Cela explique également la touche de folie que les jeunes peuvent incorporer dans leurs looks par leurs habits, leurs cheveux ou leur maquillage. Dans le monde professionnel, les tenues vestimentaires sont très normées et réglementées. Dans les grandes entreprises japonaises par exemple, les femmes n'ont le choix qu'entre quatre dégradés de couleur noire pour la teinte de leurs cheveux, leur maquillage doit suivre une esthétique très précise et certaines couleurs de manucure sont proscrites. Alors quand les jeunes japonaises entrent à l'université et n'ont plus l'obligation de porter l'uniforme scolaire, elles profitent de ces quelques années de liberté vestimentaire pour tester toutes les choses qu'elles n'auront plus l'occasion de faire par la suite.
Malheureusement, les pressions sociétales subies par les japonais ne sont pas sans conséquence : pour contrer ce stress accumulé quotidiennement, beaucoup d'entre eux suivent un mode de vie néfaste pour leur santé en mangeant très gras et sucré et en abusant de l'alcool et des cigarettes.
Est-il facile de devenir ami avec un japonais ?
…Oui, et non. Il est très facile de se faire des amis d'un soir au Japon : il n'est pas étonnant pour un japonais de sortir boire un verre seul et de rencontrer sur place des inconnus avec lesquels il va partager un repas et quelques verres pour ensuite aller pousser la chansonnette dans un karaoké. En revanche, lier une relation sincère et profonde est bien plus complexe, à cause, vous l'aurez deviné, du masque du tatemae qui rend la superficialité des échanges difficile à dépasser, d'autant plus lorsque l'on est étranger.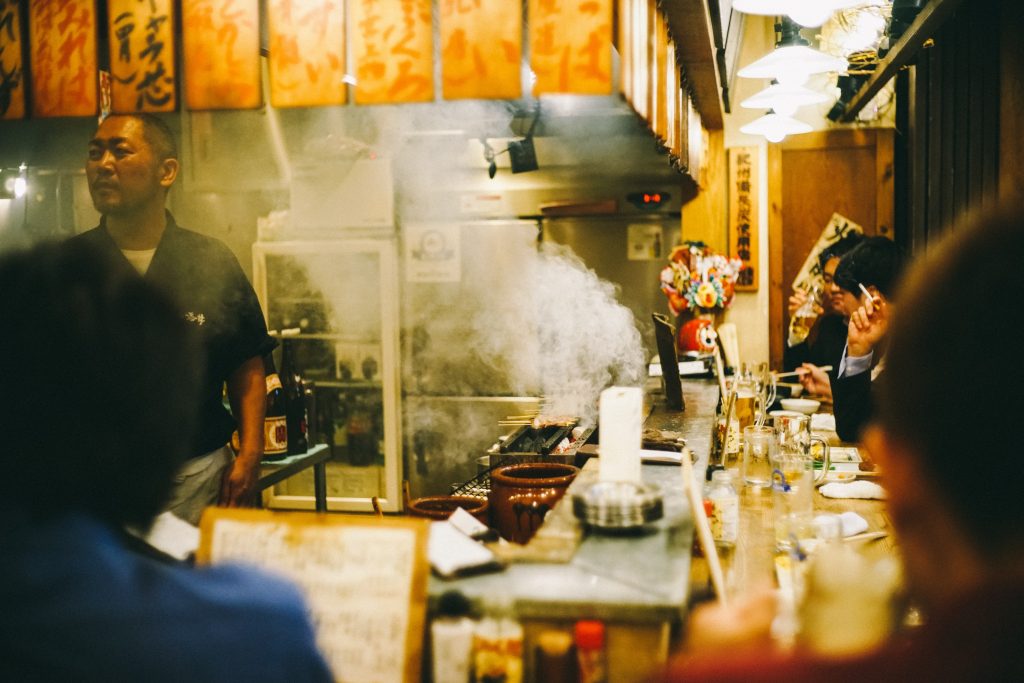 Pourquoi les japonais portent-ils un masque chirurgical ?
Beaucoup d'entre nous imaginent que les asiatiques portent un masque simplement lorsqu'ils sont malades afin de ne pas contaminer les autres dans les espaces publics. La réponse n'est pas fausse, mais elle est loin d'être complète car le port du masque s'explique par une multitude d'autres raisons.
En hiver, cela peut déjà être pour se protéger eux-mêmes des virus et ainsi éviter de s'exposer aux maladies. Au printemps, beaucoup en porte en raisons d'allergies au pollen. Il faut aussi penser que se moucher en public est plutôt mal vu au Japon : un masque qui couvre le nez est donc plutôt pratique en cas de rhume pour que personne ne voit ce qu'il se passe en dessous !
Le masque est aussi beaucoup utilisé pour se cacher le visage : lorsque l'on a un bouton disgracieux par exemple, ou plus étonnamment pour les femmes, lorsqu'elles ne portent pas de maquillage. En effet, le maquillage est une norme sociale très forte pour les japonaises, et il est même obligatoire dans la plupart des milieux professionnels. Lorsqu'elles n'ont pas eu le temps ou l'envie de porter rouge à lèvres et fond de teint, elles adoptent donc le masque, qui a de plus l'avantage selon certaines de faire ressortir leurs yeux en créant une illusion de bas de visage plus fin ! Terminons cette liste non exhaustive par une utilisation un peu plus douteuse : porter un masque est aussi une façon efficace de ne pas se faire reconnaître lorsque l'on part tromper son ou sa partenaire…
Une grande partie du contenu de cet article m'a été inspirée par Mathieu au cours de son interview concernant son parcours de vie, je le remercie de nouveau pour la confiance et le temps accordés.
Written by Dorine Dinam, follow her on her blog https://dorinelexploratrice.travel.blog/