At nightfall, Tokyo lights up with all its metropolitan  flare, and evening brings a feast for the eyes. The JR rail goes over the glowing streets of Ginza, and loops over the Shinjuku strip at Kabuki-cho.  In the early evening hours, Tokyo is cool, young, and bright.
You can glide over the streets, or you can indulge in the invigorating night life of Shibuya dancing and Shinjuku drinking. Between the cool character and the hot neon, there's a world in Tokyo's nightlife.
Illumination can be found in places beyond the main drag of night time neighborhoods, too. If you take a walk, you'll find untold Tokyo lights beyond. I've found a few beyond my own anime imagination.
Tokyo Lights at Night Outside the Strobes (and Totally Disrobed) 
To reach the dance venues of Shibuya, one must climb Dougenzaka. The streets become a little disorienting after  Shibuya crossing, but one thing is clear when you reach Dougenzaka.
This hills buildings are clustered around intimately small paths, their entrances are hidden behind walled enclosures, and those walking by only seem to do so in pairs. Their eyes are bright – for they reflect the titillating scintillations of love hotel signage.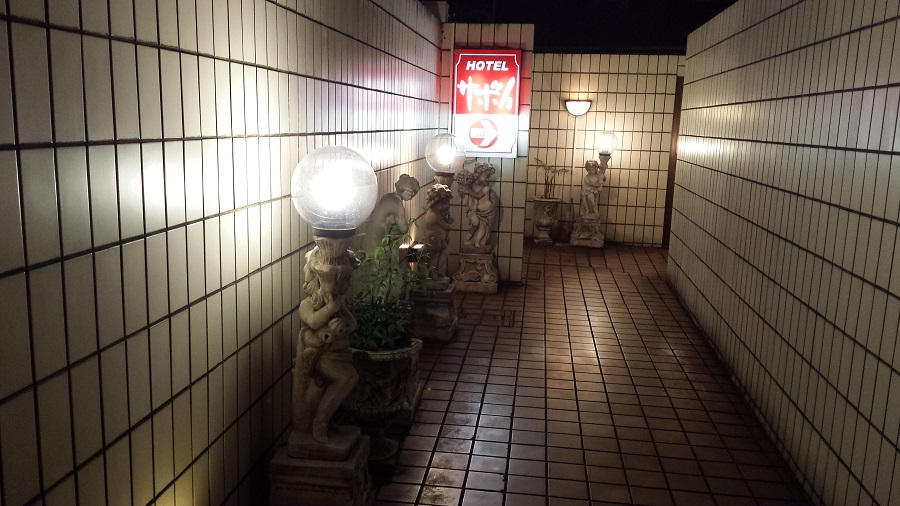 Dougenzaka is Shibuya's slippery slope of love hotels.
Love hotels have provided a discreet rendezvous for Japanese for at least 50 years. You can visit discreetly, but the buildings themselves are hardly discreet. Done up as an Italian villa, a French chateau, or something entirely extraterrestrial, they are built as colorfully as old time movie sets or something out of Lupin the Third: The Castle of Cagliostro.
Newer love hotels are less garish, but one thing unites them all. The buildings, clustered around alleyway ambles, beam glaring light of every color onto every which angle.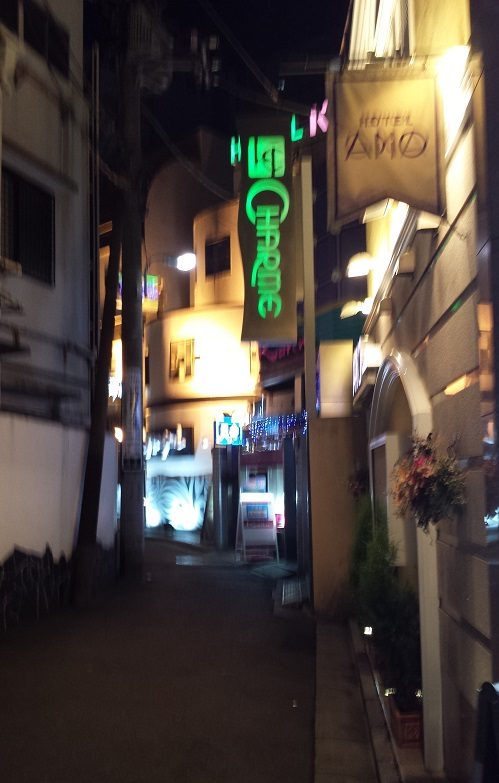 This love hotel aesthetic colors whole neighborhoods. As an official love hotel district – the designation exists -Dougenzaka offers some of many of these Tokyo lights at night. Kabuki-cho, off of Shinjuku's quintessential retro neon City Hunter lights, is another. Among other clusters in Ueno and Ikebukuro, the most retro charm lies in Uguisudani.
Shibuya has its crossing, Ikebukuro has shopping and anime, Shinjuku Kabuki-cho and Ueno a park. Coming off the train in Uguisudani just after Ueno, there's a distinctive color to the city lights.
Here, neon greens and reds create a scene as celebratory as a Christmas display. Christmas in Japan – a couple's holiday – is indeed best celebrated in Uguisudani. This district outside of the neighborhood's eponymous station is a retrosexual retreat dressed in tinsel. It's a time capsule of the 1970s and early 80s golden age of love hotels, and its night view maintains a polaroid appeal.
Shoutengai gives some Tokyo lights at night,  iikaga deshou ka?
Wandering away from Tokyo's popular stations doesn't require getting lost in lusty labyrinths. There's truly little worry to these wanders through seedy Outlaw Star side streets, even at night. Still, less lurid lights can be found in the 商店街 shoutengai shopping districts.
While Tokyo has an established modern look in the excesses of its tourist destinations and shopping outlets, shoutengai are less modern and more overlooked. They are as easy to find as making a train transfer off the main JR line, though.
Even getting off a few stops past Ikebukuro, you'll find the  巣鴨地蔵通り商店街 Sugamo jizou doori shoutengai outside of Sugamo station. Red underwear is popular here – just a train ride away from the Kabuki-cho red light district.
The nature of this red underwear is less naughty than a negligee, and during the day, you'll find a number of usually older folks buying food and goods from a mom-and-pop variety of stores. Wall-to-wall and building-to-building, these shoutengai stretch over neighborhoods with frequent sidewalk cover and some rustic street work. Night accentuates the aesthetic.
As neighborhood centers, shoutengai are crisscrossed by alleyways. I accidentally found the shoutengai of Kita-Senju,  wandering in through a wedge between buildings.
The sheltered sounds of karaoke cavorting come from local snack bars just off the shoutengai, and you come in with this distant sound in your ears. Its like walking into the night time world of Spirited Away, and not because of the sounds of feverish night time slobbering. 
It's owing, again, to the magical Tokyo lights at night.
Whether it's the wooden storefronts of もんじゃ通り monja-doori under Tsukishima's titanic high-rises, or the hodge podge of hipster niches in Shimokitazawa, the better shoutengai share a common trait. This feature hangs unseen above the awnings and below the electrical wiring during the day.
 These shoutengai streetlamps keep vigil over their neighborhoods past nightfall.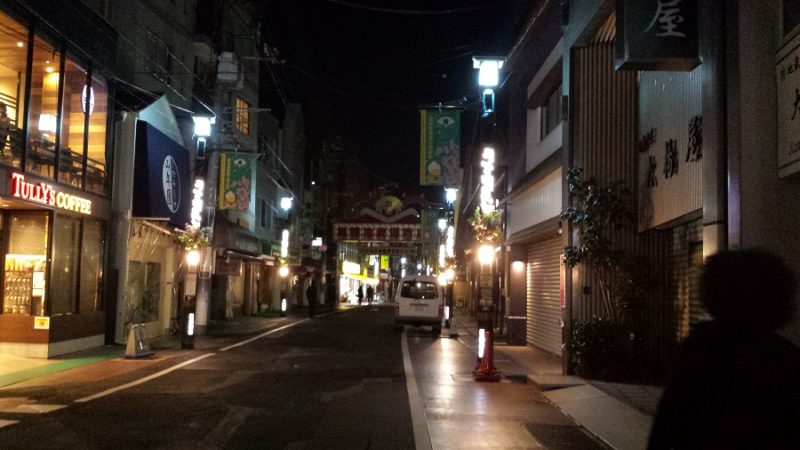 These streetlamps make as tiny a shoutengai as 勝運商店街 kachiun shoutengai in Kameido a timeless place by the night time hour. Illuminating the occasionally anachronistic shoutengai, these streetlamps resemble traditional 灯籠 tourou lighting. 
Whether enjoying them from a second story window in a cozy restaurant or walking past closed shutters, they give a sleepy glow to the hectic city.
Tokyo Lights at the Night Sites for Reticent Roadworkers
While streetlights of the shoutengai intercede sleepy neighborhoods, some side streets still buzz with flashy signs of work. And these reds and oranges aren't those of the red light district.  These are the flashing hazards of night time road works.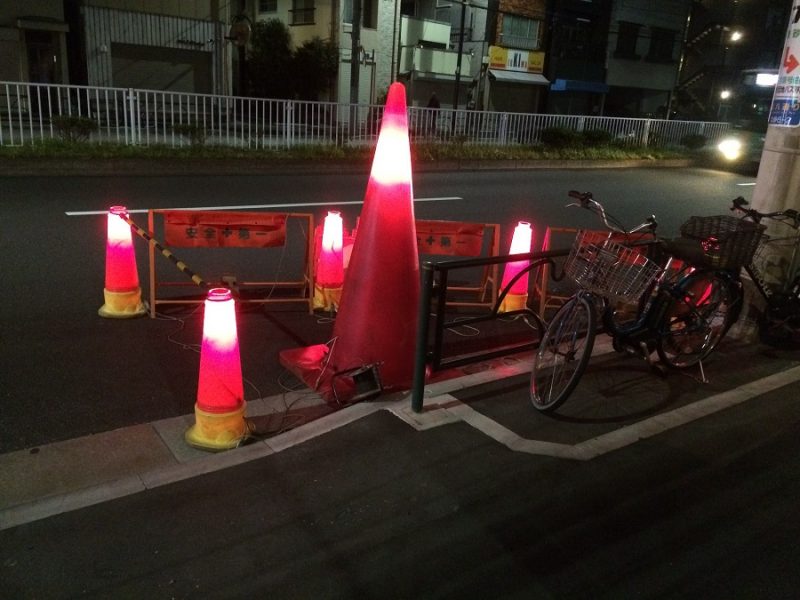 The reds and oranges color cordoning the repair areas include traffic cones and are accompanied by a bright lamp. The cones are interconnected by poles and capped with flashing lights.
 Whatever length of road, though, the number of light-tipped cones seems inordinately more than necessary. The number of cones results in a strobing sequence of flashing lights.
The strobe light sensation is enjoyed and exacerbated by the equally numerous workers. Though they rarely say much under the Tokyo lights at night, these road workers all carry disruptive pulses of light.
Each worker is equipped with a flashing baton that resembles an orange glow stick. Waving their batons over the traffic cones, what could be a mundane day job becomes flash mob rave construction.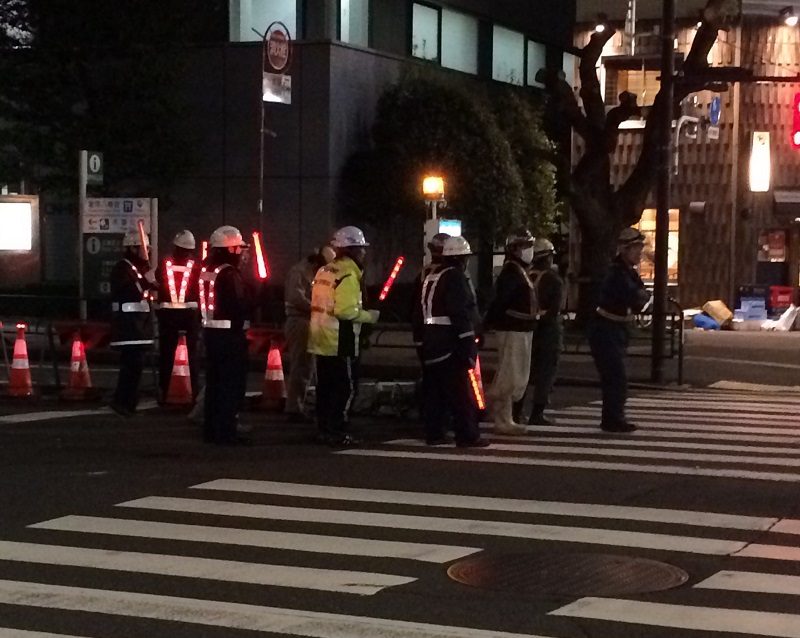 Parking Spaces of Tokyo: Lights at Night in Green and Red
Sidling outside of shoutengai and past the roadwork raves, there's another electrified commonality to Tokyo. On an avenue or in an alleyway, it's a soft green or white between the lurid reds and oranges. If you find a sign marked 空, you have found these spaces.
You have found an empty parking lot in Tokyo, and it's a pedestrian treat that mesmerizes a mind addled by a ramble in the night.
These lots bubble out from between thin and low buildings. They're often as small as the neighboring lots, and in more cozy neighborhoods like Mejiro or Sasazuka, they might only hold enough space for one or two cars. It's implausible for parking, but easy on the eyes.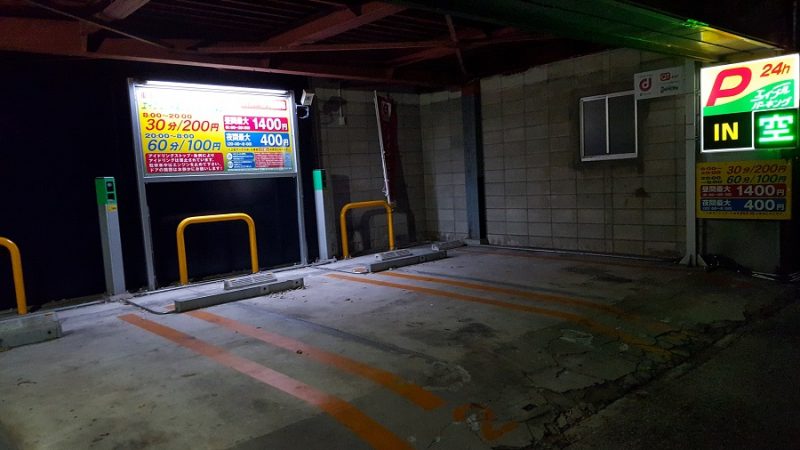 The smaller space under a green (sometimes white) sign (or  満if they're full) is a luminescent lapse among the endless rise of residences, a color on the grey of the neighbors. When the green shines on the whole of a small empty parking lot, there's space for a breath away from all the foot traffic
These lots add a special splash of color to the Tokyo lights at night against the muted monochrome.
On Old Edo Junctions and Rivers Lit by Tokyo Lights at Night 
The dark colors of Tokyo aren't all muted monochrome, though. While the night above envelopes the world in a special soporific sphere, the dark rivers coil and shine under the lights of the city. On a night stroll, they reflect all the scattered bits of brightness and reform them in weird currents of thought.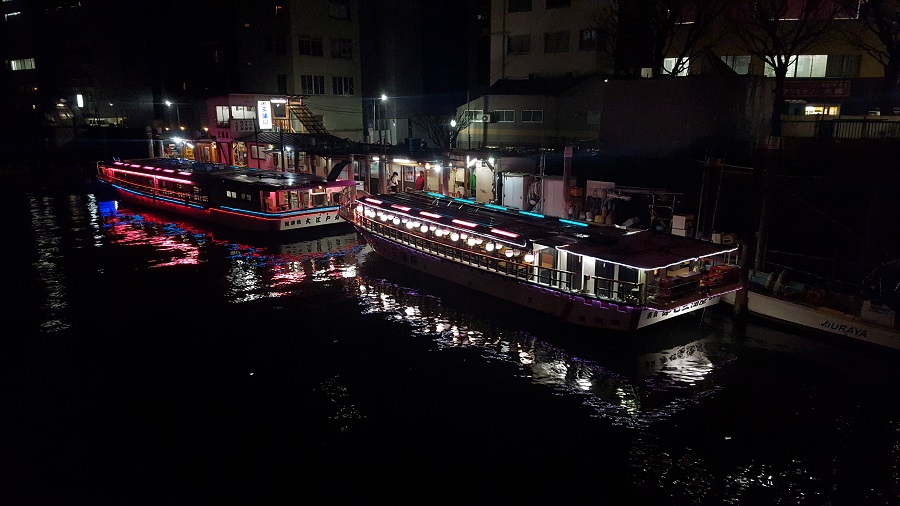 Weird currents are a natural part of Sumida river – a tidal river that runs both back and forth. In total, it shimmers under the light of twenty-something bridges. Whichever way it coasts, the backdrop stands still with steady reds.
Near Asakusa, logos of everything from beer to toy companies flash above the river. It's a cozy eye-catcher next to the coasting strip of 吾妻通りAzuma doori leading into Asakusa. More billboards and logos shine out of other neighborhoods over the water by Ryogokubashi and Shinoohashi.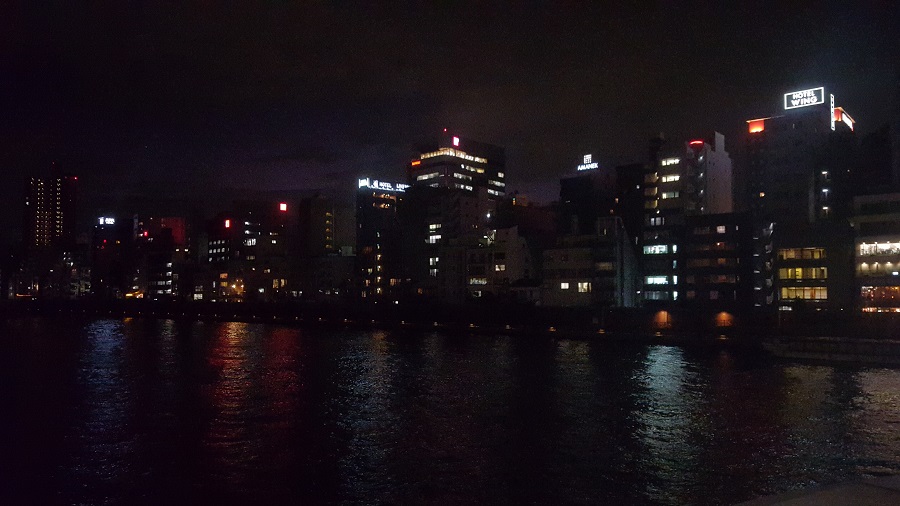 The billboard lights and brand names along the Sumida instill some retro chill to the night. The understated skyline of Tokyo's financial districts completes an anime vision straight out of City Hunter, and it's worth seeing these Tokyo lights at night at least once.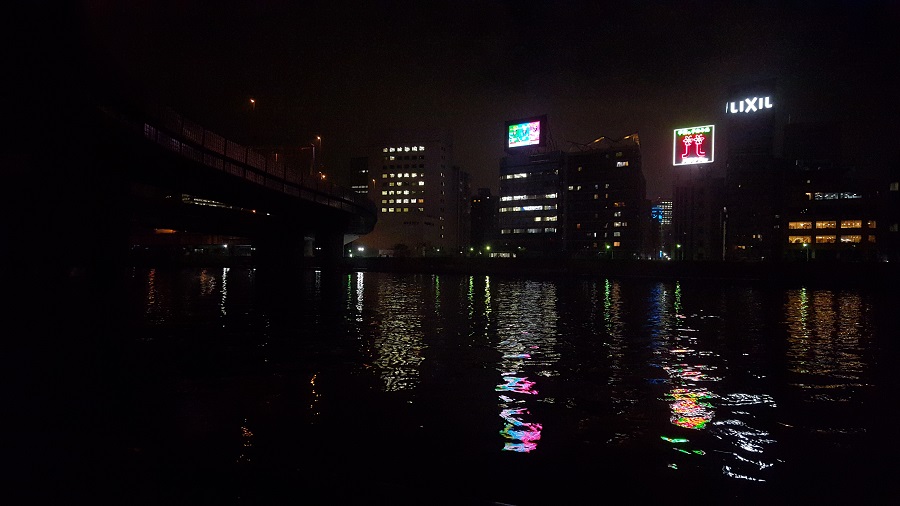 Tokyo Lights at Night Beyond the Night Life
Cool, young, and full of bright ideas. When evening comes to Tokyo, whichever instant of your experience, step into the night. The lights pulse on a live wire, and are sure to inspire. 
Buildings are branded with bright logos of industry leaders, and flashy night lights of great variety color neighborhoods from the streets to the skies. Whether stepping into a love hotel district or just past roadwork, the night lights are a pleasure to the eyes, the same as the pastel and neon of anime worlds.
Author: Ethan Cookman