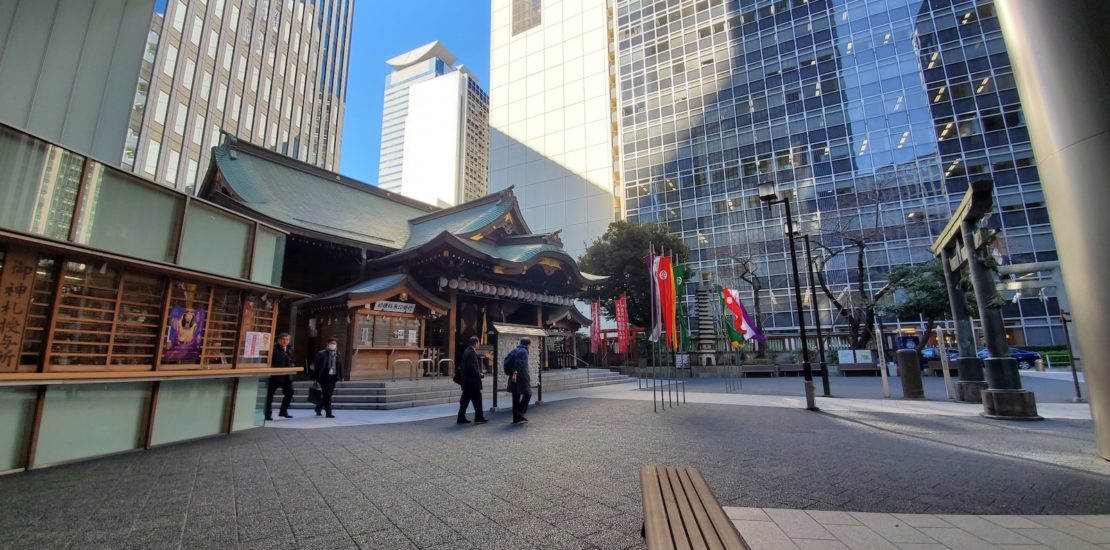 The Shrine That Was Swallowed By The City
Toranomon Kotohiragu Shrine is a unique and colorful Shinto getaway, thoughtfully nestled in the middle of Tokyo's in Minato City.
I have a soft spot for Japan's inherent ability to seamlessly blend old and new together to create an atmosphere that feels like ancient comfort with a modern twist. It makes for an exciting time discovering history peeking out from all of the nooks and crannies in the electric towns buzzing with commerce and contemporary life.
As exciting as the city is, we undoubtedly need a minor break here and there to recenter and recharge. That's why Toranomon Kotohiragu Shrine felt like exactly what I needed one hectic, late-January afternoon. Like many others that day, I was in Minato City to take care of my immigration and marriage documents at the US Embassy while the pandemic was beginning to take hold, and I had no idea how things were going to pan out. While I don't consider myself a religious person by any means, I do dabble in spirituality, and I felt a silent moment to express gratitude or even just bring my attention to the present was needed. This was when I stumbled upon Toranomon Kotohiragu Shrine on my way to my appointment.
The first thing I noticed was the way the shrine grounds shared space with the surrounding buildings that towered over it. They aren't merely in close proximity of one another as neighbors. They share the same space as one coherent site with a building that was constructed directly above the torii that welcomes the shrine's visitors. Torii gates act as a passage way between the world as we know it and the world of that which is sacred, and the architecture here reminded me that you don't have to go far, to experience the best of both of those worlds.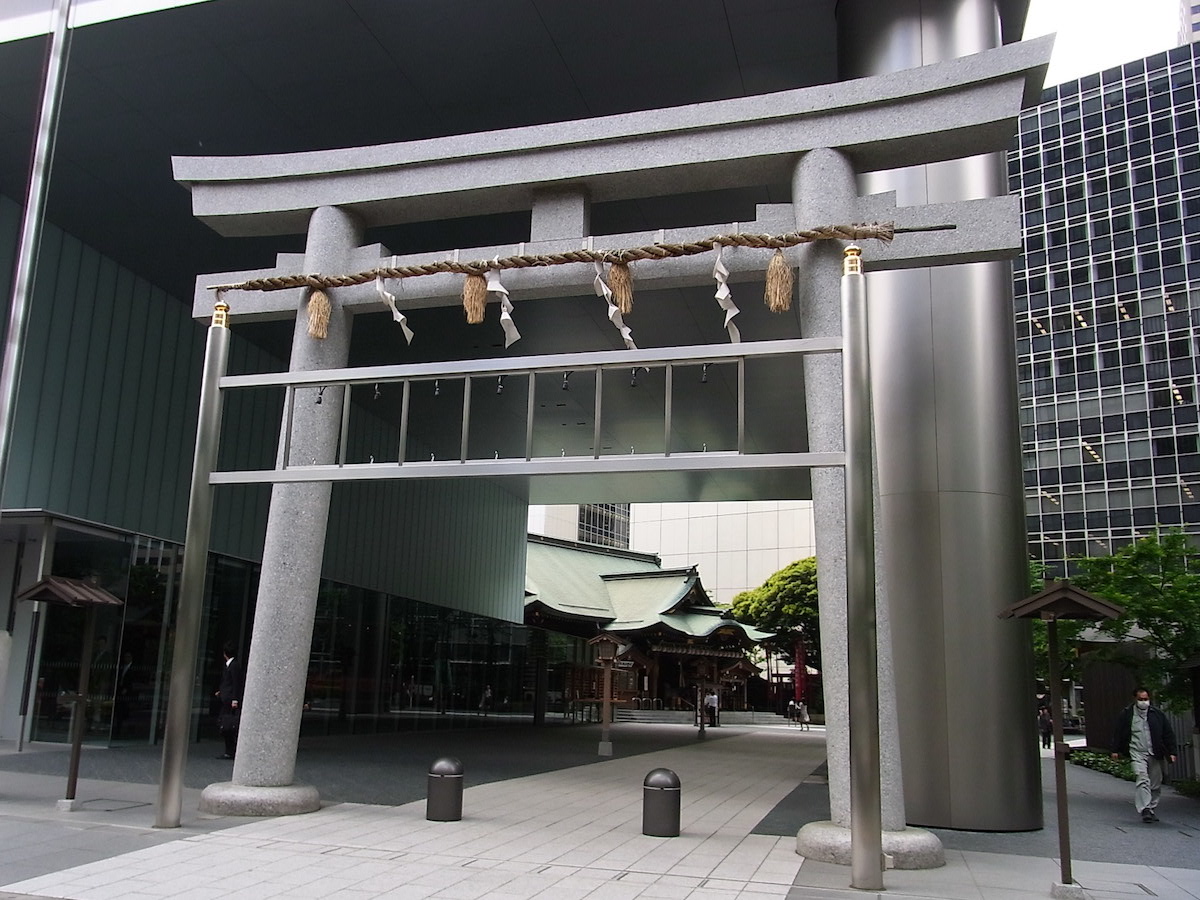 After bowing my way through the first torii, my eyes immediately went to the colorful flags that flanked the walkway leading up to the main shrine area, as well as the colorful fabric that draped down for worshippers to tug on to ring the bell to command the shrine god's attention. Being that Toranomon Kotohiragu is located amongst a concrete jungle, it was refreshing to see lively colors billowing about in the wind near another torii that was crawling with beautiful sculptures of creatures including a dragon and a tortoise. It gave me the feeling that this was a place of sacred life to be appreciated, and that my wishes would be heard.
I washed my hands at the stone hand washing station guarded by a beautiful metal dragon. I then approached the shrine and placed my offering in the box, rang the bell, and sent my prayer that things would go well with my paperwork. I felt a sense of relief. I was able to put my worries aside for the time being and enjoy having a sacred space in the middle of all the urban chaos. Although many of the giant buildings that populate Minato city are new, the shrine is not.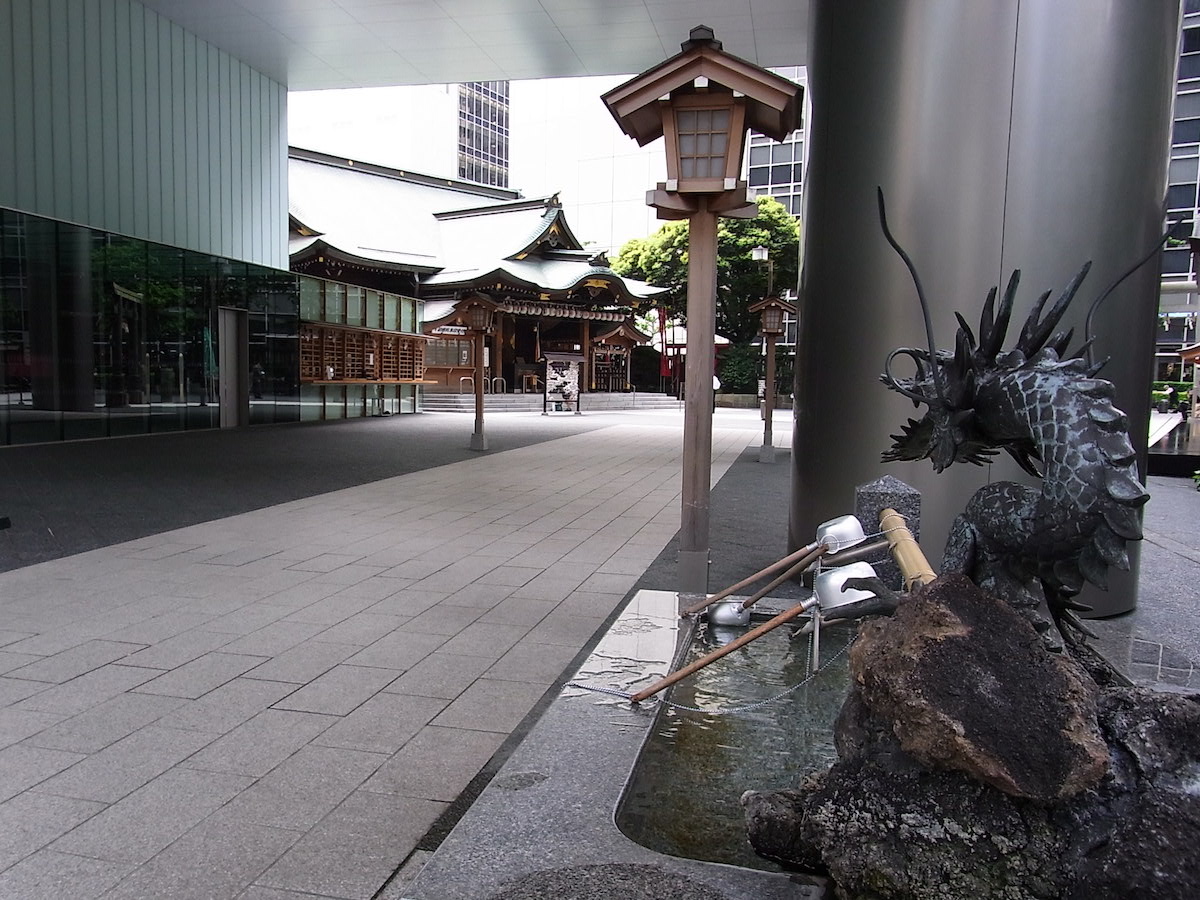 Toranomon Kotohiragu Shrine is home to nearly 400 years of Shinto history that continues to live on today. It was originally called Kinpira Daigongen from its birth in 1660, but it underwent a name change and even a move from Shiba, Mita to Minato City. It is a popular spot to pay respects and ask for assistance from the Shinto god Omononushi no kami. The shrine and the protections it offers through the Shinto gods go hand-in-hand with the life of the area. It serves as a place of prayer for those looking for good luck in their business endeavors, singles longing to meet their match, families who wish to prosper, and sailors who seek safety and abundance while at sea.

Those living in the area or who visit frequently can experience the treat of several monthly festivals at the shrine, including the many events that take place throughout the year. This shrine is well-known for its ancient Satokagura dance performances, and if you can't make it to any of the performances, you can always keep a piece of the shrine and its spirit with you through one of the many omamori amulets for sale. Goshuin collectors like myself will also be delighted with the beautiful goshuin offered here. There is even a special matchmaking prayer set made for women that entails a ritual of tying a red string to lure love in.
While I may not have been at the shrine to pray for fish or nab some extra luck to secure that big business deal, it gave me an impromptu place to reflect and be present while I was on my way to the embassy to deal with icky paperwork. For those who are in Minato City on a more permanent basis, Toranomon Kotohiragu Shrine's location makes it the perfect place to stop by for a quick prayer or quiet moment on the way to work or home. 


Toranomon Kotohiragu Shrine is easily accessible from the Tokyo Metro Ginza Line (Toranomon Station exit 2A), Hibiya Line (Toranomon Hills Station exit A1/A2), and Marunouchi Line/Chiyoda Line (Kasumigaseki Station exit A13).



Related Articles