In this week's blog, let's tune into our blogger Diogo's recent turn of events during his Okinawa Travel. Unluckily, Diogo was caught over a typhoon that ruined his perfect plan of enjoying the sun and the beach. However, he has his own way to "enjoy" the typhoon. This Okinawa Travel Blog will surely be useful because you never know if one day you come to Okinawa and it rains unexpectedly!
Nature is something we can't control, but we can always find a way out.
Excitement before Okinawa
We are in August, the holiday month par excellence. Like in many places around the world, in Japan some people take their days off from work (if they can, it is not easy to go on holidays in a Japanese company) and get ready to relax under the blazing sun and heat that cross the Southernmost islands of the country.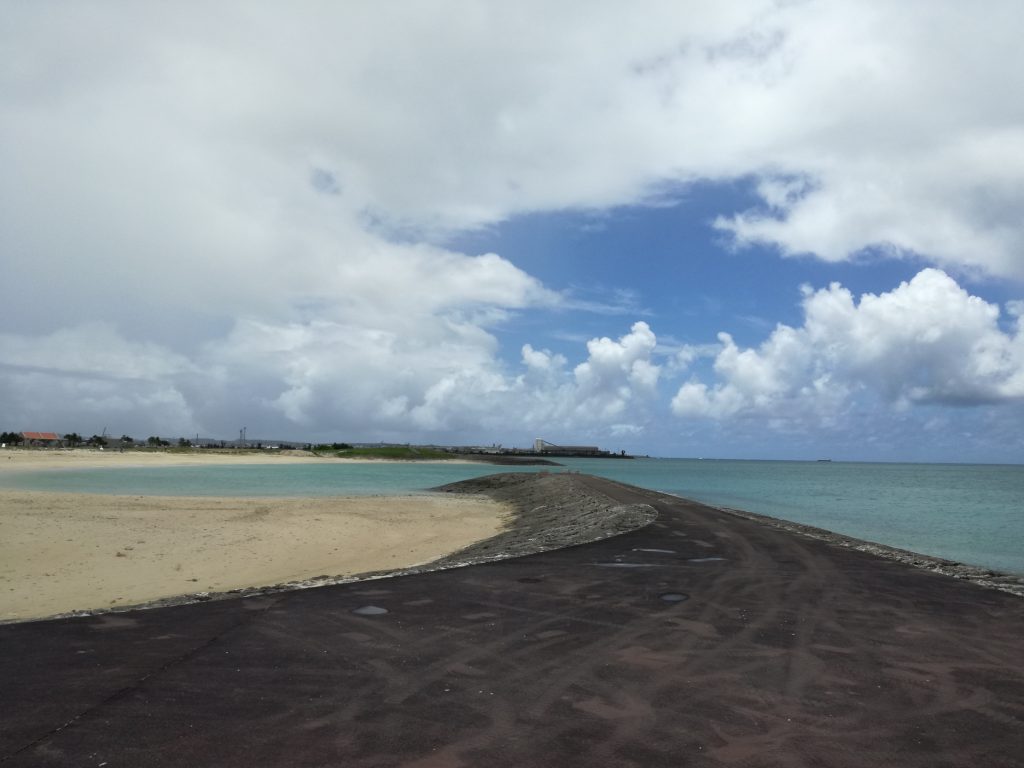 August is the peak season in Okinawa, therefore the affluence of Japanese and foreigners is much bigger this time of the year. Regardless, I decided to go with the flow and book my flights to Naha, the capital of the Okinawa Prefecture; Miyakojima, one of the most beautiful islands in Japan and Ishigaki. In total, I would have two weeks of pure relaxation and delight with dreamlike sceneries at every corner of the eye. I was really excited about this and to experience the warm waters of the Pacific.
Personal Tip: Getting a bike in Okinawa
Hop to the plane and here we go! I got to my first hostel after carrying some heavy luggage. I decided to buy a bicycle in Kyoto that I wanted to bring to Okinawa because I heard that public transportation here wasn't either good or cheap. A bicycle gives you freedom of movement and a sense of connection with the world around you that you don't get with any other means of transportation.
One of my purposes this Okinawa Travel was also to escape the stress and confusion of a big city and try to feel one with the nature encircling me, the bicycle would be my best companion for the trip. 
Okinawa Food: Gōyā chanpurū
I was eager to try some local cuisine. Believe me, the first thing I did on my first day was to find a local restaurant and order the famous Gōyā chanpurū.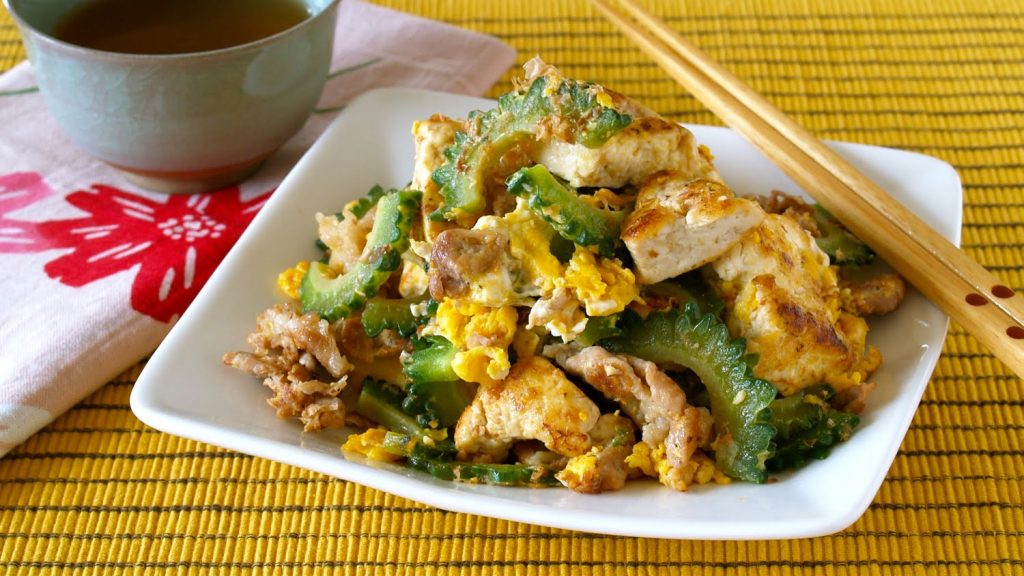 This is a stir-fry dish that consists of bitter melon, tofu, egg, and pork belly. The bitter melon was something I wanted to try for a long time. It is very well-known for its nutritious value and its numerous benefits in our overall health such as: lowering cholesterol, maintaining our blood sugar levels or preventing cancer. Reasonably, people don't like its bitter taste, but actually, I loved it as it brings some exoticism to the plate and the mouth. I was really happy that this was my first meal in Okinawa and I thought this was the beginning of some perfect holidays. 
Until the typhoon came two days later...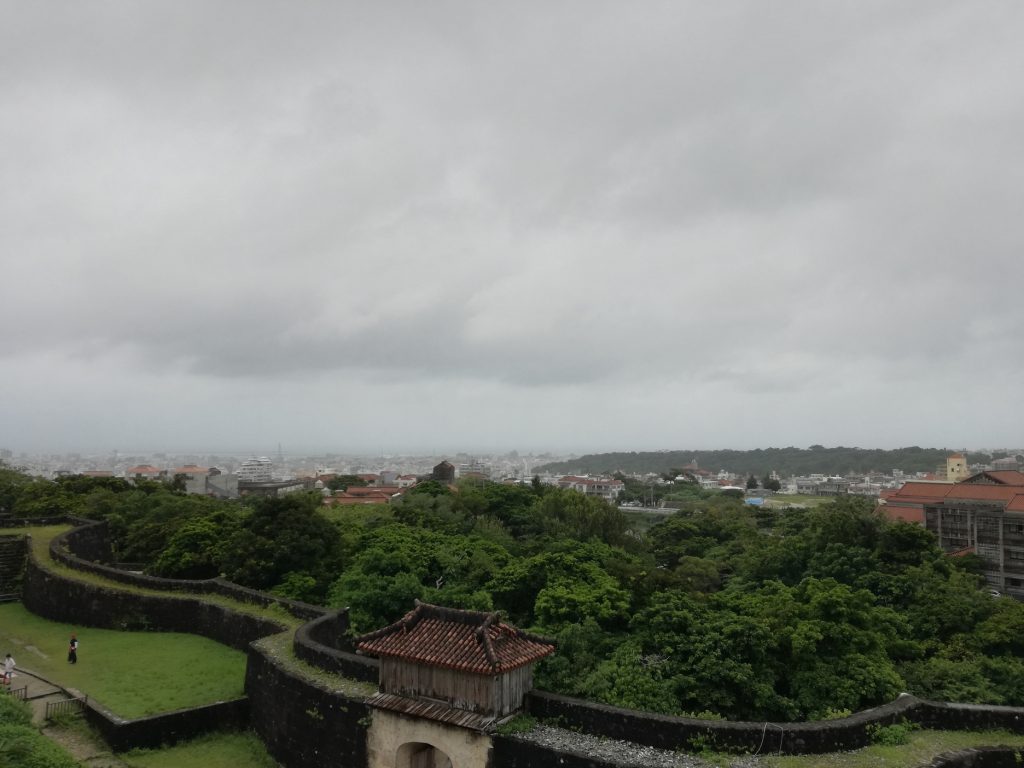 I was on the beach and the rain started falling heavily out of nowhere. This was the first sign of what was yet to come. On the following days, I didn't even see the sun in the sky, there was only an infinite, neverending mist above us. The rain persisted for days on end.
On top of this, I had food poisoning. I also didn't go to Miyakojima, because due to the typhoon my flight was canceled, and therefore I didn't go to Ishigaki either. Everything that could go wrong had gone wrong, my holidays had been ruined by the weather so it seemed. 
But I am not a complainer. I think that things are always the way they should be, so I easily adapted to this new reality and accepted it. I was going to stay in Naha for the entire holiday, and although Naha is surely not one of the most beautiful places in Japan, with all its random construction and uninteresting buildings, I enjoyed staying there in the end.
Unexpected highlight: Underground Film Club Event
I was browsing Couchsurfing one day and I saw an interesting event of an underground film club, which I decided to join. I have a big passion for movies, namely arthouse cinema and I thought this would be a good opportunity to meet like-minded people.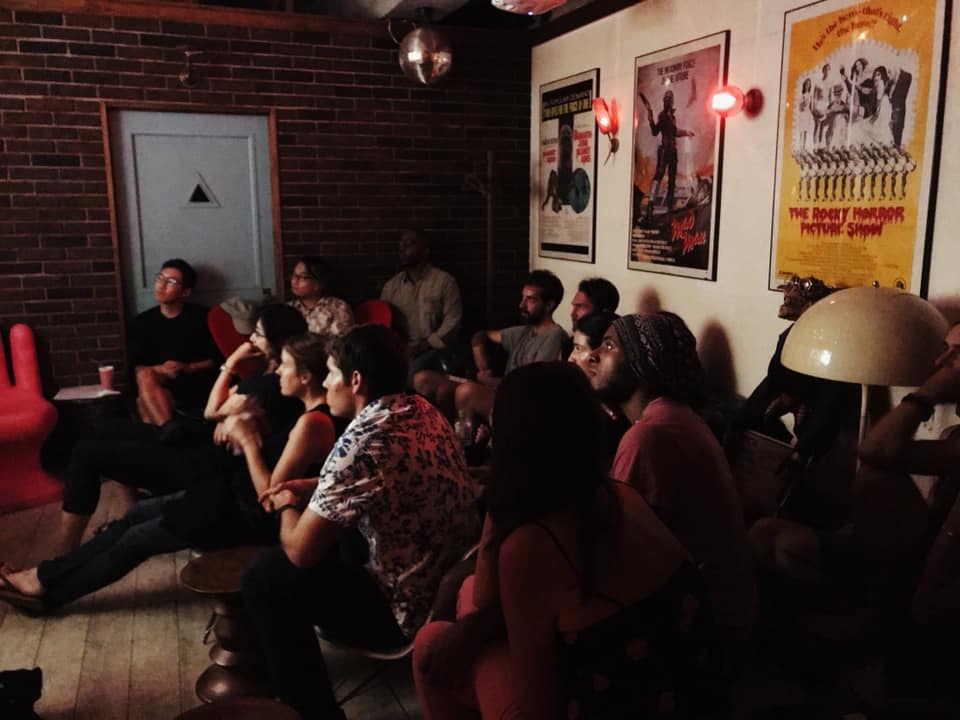 The movie screened was The Lobster, by Yorgos Lanthimos, a modern satire about love and other things, the club was organized by a Russian who lived in Naha for a few years already. Honestly, it was funny that a Russian living in Okinawa was organizing a film club. It was something totally unexpected because of the image I have of Okinawa is that of a beach resort where people go to lie on the sand and welcome the sun in their bodies. I would never have thought of it as a place where one could have philosophical discussions about films and art. But apparently both are possible. And all the more interesting in such a surprising place like Naha. It was like a contradiction to the surrounding reality what we were doing there.
At the end of the movie, the discussion became really lively and people were throwing their theories about what they had just seen, everyone was engaged and interested in sharing their thoughts. It was one of the best nights of my trip and it wouldn't have happened if the typhoon hadn't come.
A Happy Ending
Looking back at my Okinawa Travel, I am happy that the typhoon came. I know it's a cliché, but there is always something good coming out of something bad, if we just keep looking with a positive attitude towards things, we will see the good. 
For the remaining days of my Okinawa Travel I explored a lot of new places on the main island, I went to the ruins of the Katsuren castle, that has an incredible view over Naha, I almost went to a beach cave, but the tide was too high to really get inside, still just watching the sea and its unique shade of blue was already enough of a reward. I found out that there are many beautiful things to do on the main island outside of the main city Naha and I can't wait to get back here and keep exploring until I can feel the place in me.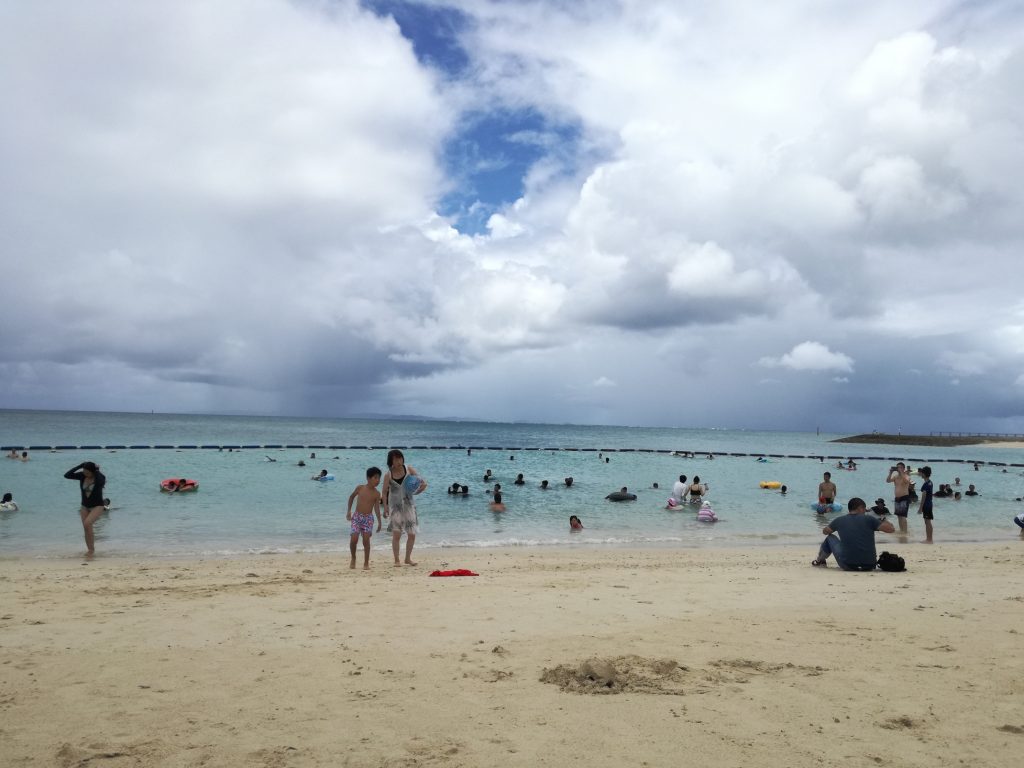 Thank you for reading this week's blog!
If you are having trouble finding a place in Tokyo, please feel free to contact us and have a look at our properties at tokyoroomfinder.com. We will connect you with your desired house at no cost!
Written by Diogo TELLECHEA