It wasn't a good sign when my wife came home, to our flat in London, and broke down in tears. Having lived for ten years in the UK her company had offered her a new job in Tokyo, and she wanted to take it. That she was pregnant at the time complicated matters. However, we worked it out with her company that she would start work at her new job in Tokyo four months after the baby was born, and that I would become a house husband. Having never lived in Japan, always been in work since university and this being our first baby, I really didn't know what to expect.
Finding our new home
We arrived in Japan and had a hectic two weeks looking for a flat that was convenient for her workplace; contrary to general opinion it is possible to get a large flat in Tokyo though obviously the further out it is from the center the cheaper the rent is. In the end, we chose an old okay-sized flat close to Asakusa station over a bigger, and brand new, flat in Shibamata. As much as a new and big flat was appealing, my wife wanted a short commute and I thought that the Asakusa flat was in a good location.
At first it was quite difficult because my wife was soon at work and so we didn't have time to sort out all the furniture, for example the sofas we did see we weren't sure on so for a while I had no sofa. I can't say how much of a relief it was to finally get a sofa; it is such a basic thing but try living without one. Also as my wife had started work I was forced to face the realities of life with my son. In Japan. It wasn't easy. By moving to Japan we had basically lost our support networks, my family, old friends, new friends we had made who had kids around the same age as us, they were all gone. My wife's parents lived in another part of Japan, and although we had some friends in Tokyo they all worked.
Creating a routine as a parent with a baby in Tokyo
As a parent with a baby you get into a routine and this included going for walks, and although we went to different places a lot of the daily interactions with Japanese people were quite similar. On the way out I would chat with the building caretaker, normally about the weather, and sort out our rubbish. Although there are different days for different kinds of rubbish, in most apartment buildings there is a refuse room so it doesn't matter when you take your various kinds of rubbish down. On our walks we went to different shops, but really going into one supermarket or convenience store is like going into any other store and communication is quite limited. It is more interesting if you can find a proper local tofu place or vegetable place, then you will invariably end up chatting with the shop owner. I quite enjoyed these kinds of interactions because otherwise, I could go all day without talking to anyone!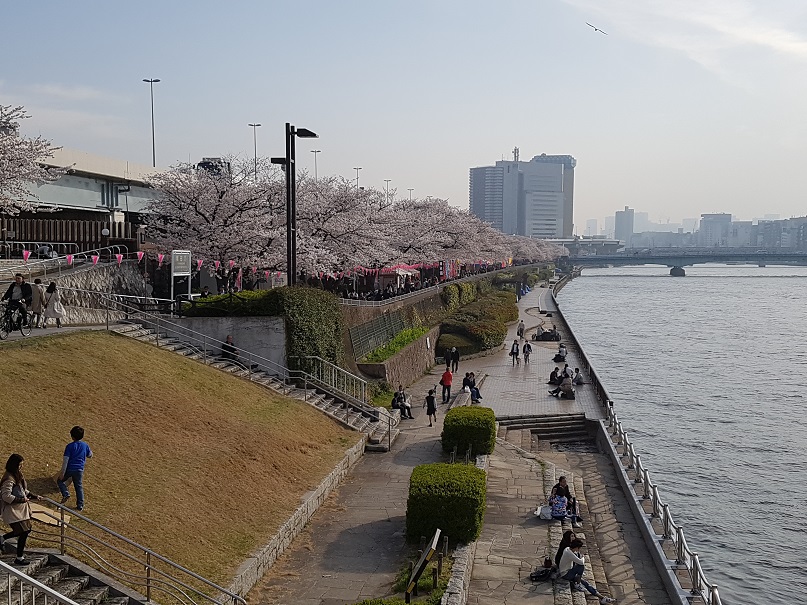 Getting used to Japanese TV and earthquakes
However, I always had to balance what was possible with my son with going out, on days when he was difficult for one reason or another then we had to stay home. I quickly got used to the different kinds of TV programs that were on and were the most interesting throughout the day (children's programs in the morning, news around midday and dramas in the afternoon), unfortunately, there is a fair amount of boring TV such as commercial-like programs thinly disguised as talk shows, etc. Being home a lot also meant that I become quite sensitive to earthquakes; in general there is one that you can feel every month but in the scheme of things they have all been very small. There is something quite weird about suddenly the building swaying; all you can do is just wait and see if it stops or not. Something else I had never thought about, but I guess is obvious if you really think about it, is that you need to have emergency supplies at home. In the UK it would never occur to me to ever have emergency supplies like hard hats, rations, and water, but in Japan, you can't have them.
Doctor appointments in Japan with a baby
For parents with babies, there is one situation you will need to get used to, doctor appointments. With a baby, you will frequently have to go to the doctor for vaccinations and basically for anything that seems wrong, no matter how minor. You will also need to go to a health center at least once for a general health check. If you don't speak Japanese then you will absolutely have to find a doctor who speaks your language, however at the health center you will have no choice. At the health center, there are different stages with a different nurse in charge of each one, for me it meant that I was constantly being hesitantly approached by nurses and asked if I speak Japanese. As the only man amongst all the mothers, it also meant I was constantly getting all kinds of looks from the other mothers – mainly curiosity! Generally, you don't see a man with a baby on weekdays. It took me awhile to understand how appointments with the doctor worked, originally I would be told my son's vaccination would be at 2 pm so I would arrive at 2pm but slowly I worked out 2 pm was the time that vaccinations start and that to get your child in first you had to pop by at least 30 minutes in advance and put your child's health book and insurance card on the counter. They then saw people in order of who had done this first! It was the same for getting an appointment on the same day; I had to go there 30-40 minutes before the official opening time for examinations and write my son's name on a waiting list. Just turning up when they were open meant a long wait.

Exploring Asakusa and Sumida-ku with my baby
Originally we chose Asakusa without knowing anything really about the local area, technically we are across the river from Asakusa and this makes a really big difference. On our side there are hardly any people, cross the bridge and suddenly there are a lot of people. Not wanting to wade my way through crowds of people with a pram I ended up exploring a lot of Sumida-ku, the ward we live in. There are many small businesses, small quiet streets and little restaurants, it blew my mind a bit as this area was the opposite of my impression of Japan as being crowded and busy, especially as we are so close to Asakusa and the center of Tokyo. I tend to think that we live in a square with Asakusa, Tokyo Skytree, Kinshicho and Ryogoku anchoring the corners.
Around Asakusa, we can find the crowds, but also enjoy Sensoji Temple and the old stores nearby, and around Tokyo Skytree is great for shopping and eating. Kinshicho feels like a local Japanese town with many watering holes for salarymen and a lot of shops which you might not find elsewhere. There is also a big baby store there so it is very popular for parents like me. Meanwhile, down towards Ryogoku you will see sumo on the streets, the Ryogoku Sumo Hall and oddly enough, I am not sure why, but a lot of fairly new and modern cafes. Between Asakusa and Ryogoku there is Sumida River, this is a really interesting river with lovely riverside cafes, beautiful views and of course in April many cherry blossom trees. On the west bank by Asakusa it is really busy with people doing ohanami (cherry blossom viewing), but on the east bank, we found it was much more manageable and there were great makeshift stalls selling beer, yakitori and more. I think my son and I went for hanami three days in a row. Sometimes I have taken my son to other places, including Yokohama and one longer trip to Nikko, but with a young baby, it is simply easier to go for a walk nearby. Month after month I discovered new things, whether that was a new café, or a Japanese garden near Ryogoku, or even the recently opened Sumida Hokusai Museum. Across the river, I also discovered Ueno isn't far away with its massive park, Children's Library and also Ueno Zoo. One great thing for me, as a movie buff, was that a cinema in Ueno has a mama club (open to fathers too), so I could sometimes go see a movie with my son.
It has been an interesting six months so far, there were things I didn't know to expect, and there have been hard times as well as good times, but I think it has been the most fulfilling six months of my life.