Journey to the moon
« Hi Nessim, it's funny because I was 24 too the first time I came to Japan. You can come and study at my ceramic workshop if you want. »
This is how I knew that my story with Japan had just started. When James Erasmus, an English potter living in Japan replied to me with a mail that started as such. This is how I could finally dig into one of my two Japanese passions : the Japanese ceramic. The other one is the Japanese Tea ceremony. I shall dig on this one another time.
I was only three years old when I first loved a Japanese item. It was a moon-shaped hanging vase. I would see it everyday in a showcase, as I walked away from the kindergarten. My mother bought it for me, saying that you cannot have the occasion to buy the moon for your son everyday. I still have this moon.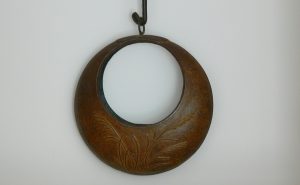 Japanese culture followed me as I grew up through animes, manga and, scattered here and there, some documentaries and books about more traditional culture. Considering all this, you might think that I actually loved Japanese ceramic immediately. You would be wrong. When I was about 21, I was confronted with Japanese ceramics in Guimet, the National Museum of Asian Arts in Paris. The pieces were rough, uneven, thick. I thought at the time that a prehistoric man could have done the same. I did not know that this was, somehow, the intent of the craftsmen. Looking at the sophisticated Chinese porcelain next to it I thought : « these Japanese are just bad at ceramic ». In some cases, it take a long time to truly apprehend an experience. This was one of these cases. Over the course of several months, as I was going back to the museum, I would start to appreciate these ceramics more and more. Or, rather, I was simply admitting that these pieces were made willingly in such a crude and irregular way. I did not like them at the time.
When I was 22, I could finally go to Japan. Two months in Kyoto, an artistic residency. I was looking so much forward to it that I had the worst trip of my life. Quite literally. Have you heard of the Paris syndrome ? Japanese people romanticize Paris so much that they fall into depression as they see what the city actually is. Having lived all my life in Paris at the time, I could understand their disappointment. Well, almost the same thing happened when I came to Japan. My whole body went sick on arrival and I faced so many health issue and stress that I don't even know how I did not come back earlier than expected.
A festival of ceramics
Only two experiences stood out from this trip. The first one was my visit to
Robert Yeillin's gallery
. Robert is an American who dedicated his whole life to promoting Japanese ceramics. Even today, I don't know a better gallery in Kyoto for modern ceramics. Already at that time, I was starting to have some « spacing out » while looking at some pieces. Mesmerized by the clay, attracted by the soil-like or moss-like texture of some ceramics, I had an oddly strong admiration for some pieces. Today, I can literally stay more than
an hour in front of a ceramic
.
The second one was the Ceramic festival, in the beginning of August, in front of the temple of Kyomizu. Four days. These four days changed my life. I went there everyday. And everyday I would discover myself a new taste for new pieces. And I came back from Japan with more than 12kg of ceramics (all carried in cabin).
When I was 23, I was doing a consulting job that I did not like and started to study the Japanese Tea ceremony. As my contract was around its end, I thought that I needed a break from Paris. I needed to make something that I would truly appreciate. At my home, I still had one ceramic made by a potter I met at the festival. The ceramic was in the Bizen style. Still one of my favorite styles today. Somehow, I found
the website of James Erasmus
and wrote to him. I just asked if I could come and experience his daily life as a potter.
My passion for Japanese ceramic had grew progressively. I cannot exactly pin-point a certain day when I knew I would want to work with ceramists, but this is how I came back to Japan, more than one year after my first trip and with a specific yet blurry purpose : to learn more about Japanese ceramic.
I bought tickets. I would stay three months. The maximum time without a Visa for a French. I would spend one month and half visiting various pottery places and then the rest at Mr Erasmus's workshop.
Dirt on my hands
James Erasmus is certainly one of the nicest man I have ever met. He told me right up front in his second mail : I was going to do exactly the same thing as him and it would not be pretty. And I certainly underestimated the meaning of his words : he meant to cut wood for two weeks, around new year, in the snow, then, for three weeks, heat up the workshop every morning with the same wood — from 1°C to 22°C, work by myself, in my own space, with the clay, and finally go back on my bicycle to the room I was renting. Did I forget to mention ? James lives in Tamba city — more like « valley » — in the middle of nowhere, 30 minutes by car away from the closest convenience store. And I had a bicycle.
How come that Mr. Erasmus accepted my very bold (and random) demand ? I still don't know. I did not even speak Japanese at the time. Later on, I would have another « internship » with a Japanese potter thanks to an introduction through a mutual friend. In Japan, without a proper introduction, it is really difficult to meet people, especially people related to traditional crafts. This is partly why I understand now, more than before, how generous Mr. Erasmus was.
I made a lot of ceramics during that internship. They are rough, clumsy and surprising. I love all of them and the moments I took to make them. There was something magical to live everyday during that one and half month period — from the soft sunny light stretching its rays above the dewy mountains in the morning, to the warmth of a tea cup drank on the terrasse of the workshop, looking at the snow fall on the rice fields.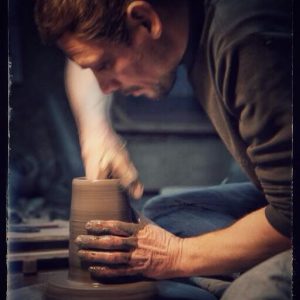 I lived in a shared house, and was welcomed home every night by a bunch of funny Japanese oddballs who took me as their little brother. Truly, the region of Tamba is, to this day, one of the most charming I have ever seen — and I have known it in every season now.
How can I forget also, the sweet smell of the wood fire in the workshop , the comforting Biwa tea and hot pots served at night, and the amazement, everyday, in front of Erasmus' ceramics ? On new year, at 6 am, we went up the highest mountain and I made a tea ceremony there. The clouds in the valley faded as we drank and the sun rose on my new and ephemeral life. Somehow, more than a year after leaving Japan in disarray, I was making tea on top of a mountain and creating my own tea items.
As the end of the trip approached. We joked with James : I had to come back eventually. Because James fires his pots the old way : with a wood kiln, two times a year. My pots would never be fired when I was still there. That motivated me to make up more reasons to come back. Soon enough, I had found a second internship.
That second internship is another story, more closely related to the Japanese tea ceremony, and I might tell it some time later. All there is to say from it here is that it helped me find a job in a new business venture on Awaji island and this is where I work now as a designer, tea artist, and young specialist of Japanese crafts. I still remain very close to Mr. Erasmus but also to Mr. Yeilin and to my last ceramic master, Sasaki-sensei. The latter encouraged me to open my own blog and that blog helped me get hired.
As I look back, I think I can still follow my passion more. Perhaps some will have understood by now that I do not intend to become a ceramist. But, I want to work to promote Japanese ceramists and the art of Tea. And I needed a first hand experience. Promoting and advancing the Japanese culture is what I am trying to do now and, since I started, Japan has opened its arms tome fully.