Jason Halayko, action sports photographer and 15 year resident of Japan has some great advice for young people starting a life in Japan. He says, consider everything you do as baby steps. "Imagine the you that didn't do anything is in that same spot [where you started]. You don't notice the transitions", he says. He reflects on the change he has experienced over his many years of shooting snowboarders, BMX riders and break dancers. "I look through my old websites. At the time I thought were amazing." But with each step your perception and skill set grows if you just keep going. He has seen a gradual build up of little steps to what is now an amazing trip, and as he observes, "Every time the camera shutter goes down, that's another baby step."
He's made a lot of baby steps since he started photography in high school in his home town of Victoria, Canada. His life behind the lens started when a classmate asked him if he wanted to take a photography class with him. "I really enjoyed working in the darkroom and making my own photos with film and paper. After graduating I kept doing photography as a hobby, slowly but surely getting better. And as I did it I was getting more paid jobs." He's got a realistic perspective on the hobby that became his profession, saying, "I've been doing this for 25 years. I've taken 10 million bad photos." But through long experience and hard work, he's built a portfolio that captures the lives and passions of athletes and artists at their and his best.
I've met many foreign residents here in Japan who made the jump from home country to Japan through the Japan Exchange and Teaching Program, with a spouse who has relocated for work, or through English school recruiters. But Jason is one of the few I have encountered who came as a student and transitioned to working life.
Until this year, foreign students who graduated from Japanese universities were only allowed to work in fields related to their studies. This tight constraint meant that only a third of foreign graduates went on to entry level jobs in Japan. However, the rules are about to change in favor of young job market hopefuls. From spring 2019, under new Ministry of Justice rules, foreigners who achieve an undergraduate degree will be able to work in any field regardless of their major studies as long as their income is ?3 million a year or more. Vocational school graduates will also be able to hold jobs after graduation as long as their employment reflects the specialty they studied.
Jason managed to be one of those few successful scholars who got a foothold in Japan after graduation. Jason started as a student at Camosun College in Victoria, Canada. Camosun and other colleges in Canada grant two-year Associates of Arts degrees, and allow students to transfer their credits to universities where they complete their Bachelor of Arts studies. At Camosun, Jason participated in the Asian Studies program which offers Japanese language training, and later finished his studies at the University of British Columbia in Vancouver, Canada.
Through an international exchange program administered by Camosun, he was placed at Morioka University, in Takizawa City, Iwate Prefecture. A university professor tapped him and another student to go on the study exchange, so Jason would have company. But as luck would have it, a month before departure, the other student declined. He was on his own, the only foreign student at the school for a year.
But everything worked out. He says on arrival at the private university, he received a warm welcome. "As soon as I arrived there was a group of students at the school dedicated to helping my everyday living so life at the school was full of friendly faces from day one."
Morioka and surrounding towns are known for Koiwai Farm, a 120 year project of reforestation and dairy farming that rose from volcanic ash. In winter, the farm hosts one of Tohoku region's great snow festivals with massive sculptures lit up at night. And of course, it is a major skiing and snowboarding destination.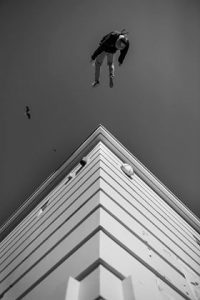 For Jason, that made the lifestyle adjust to. "Morioka is surrounded by lots of mountains and ski resorts, and as I am a snowboarder, it was great to have so many local mountains around to hit up with friends. It was quite rural so no big clubs, electronic stores and all that stuff so shopping was kind of left to my trips to Tokyo."
The conversation with Jason touched on Japanese language acquisition. He told me about the moment he had become accustomed to the standard language after study at school and settling into life in Japan. " One pivotal experience I still remember well is one night I was talking with a friend in Japanese for a long time, just naturally chatting, and not really thinking about anything, and after 30 minutes or so my friend stopped and said to me 'You know you have been speaking nothing but Japanese for like that last hour. That's the first time you have done that!'".
Many language learners have these moments after years of effort and not feeling that they can speak for themselves. It takes a great deal of input before the spoken language comes easily. But then, there is a context and a pressing need to express yourself when suddenly, the language flows. "And I was so happy for myself, and happy that my friend was so excited for me as well. It made me feel like 'I can do this. I can live in just Japanese if I need'".
Japan is supposedly a monolithic country with a single language, but anyone you talk to who has lived outside of major centers will tell you, regional accents and dialects, and dare I say languages, vary greatly and decrease in mutual intelligibility as you get farther from Tokyo. In some places far from the capital, you won't hear anyone who sounds remotely like the NHK broadcast standard. I asked Jason about the language issues he faced.
Jason tells me this language difference was one of the surprises when he got settled in Morioka. "I didn't expect the variety of accents and dialects. At my second home stay, it was straight up Morioka-ben." When his Japanese teacher, who was from Gifu, visited him at his Morioka home stay, he had to translate from dialect to standard Japanese for his professor on meeting his home stay mother.
He made lasting connections with people in this northern town who were also pivotal in his development as a photographer. One day, he says, a fellow student, Ryuta, got his attention. A tap on the shoulder at the campus shop, and led to a trip to the local ski slope. Five of Ryuta's friends went along, and Ryuta drove him home. They're friends to this day. Jason says, "If I hadn't met him, I wouldn't have done the things I have done in the last 15 years. It was a major turning point. I met someone doing freestyle motocross, which hooked me up with Red Bull, and everything."
Following his Morioka experience, Jason worked for a few years off and on at Ritsumeikan where he was a leader in the exchange program and sometime translator and website manager and for a manufacturing company where he did similar work. But this isn't what he was built for. He talks about the transition from regular employment to launching himself as a professional photographer. He says, "When I first made the jump and quit my day job, I remember sitting in my living room thinking this is so weird. I should be at work. I was looking at the calendar, and the anxiety came. I needed to pay rent."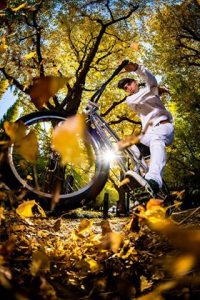 Among Jason's big clients is Red Bull, a drink company that uses an interesting market strategy of promoting its products through extreme sports. Red Bull sponsors sports teams and events showcasing BMX, motocross, skateboarding and surfing, among others. He's also done shoots for G-Shock, the line of watches built to withstand rigorous outdoors activities. Other clients he has worked for are electronics and camera manufacturers. Perhaps the most dynamic sport he has shot is parkour, an acrobatic discipline that involves precision running a course and vaulting over obstacles. Jason has captured many of these exciting and challenging sports.
When I asked him about his approach to shooting photos at events by these clients, Jason says it's all about building confidence. At a Red Bull event he was told to "shoot what you think is cool." His team members on wrap up said thank you, and they noticed that his shots were more skillful than before, and that builds confidence.
We talked about the pursuit of mastery in your field, and he says a big part of becoming more proficient is to spend time practicing. As he explains, "If you're just shooting for work, you're missing out. You need to be experimental. That's where you learn. You bring it back to your work." He says you can take risks when you are shooting for fun, learn something in the process, and apply that new insight to your day job.
One of the things that stays with me from our conversations is Jason's attitude about shooting sports stars, and comes from a comment about working with a para-athlete. He says, "Just shoot him as a cool person." Jason connects with his subjects in a way that shows the talent and heart of both the subject, and the respect and admiration with which the photographer sees them.
————————————————————————————————————————————————————————————————————————————
I asked Jason for a sample of his work and for some of his comments and back story. You can see his photos in the galleries on his website. His portraits draw out the character of his subjects, catching them in a moment of repose from exhilarating action. Others catch the athlete or dancer in mid-motion. Many of the photos are shot in iconic Japanese landscapes and urban backdrops. The viewer gets a sense of the person and the place from Jason's photos.
The first is flatland BMX rider Tsutomu Kitayama at a location near Meiji Jingu Shrine. In the autumn, this location can become densely crowded with visitors enjoying the autumn colors. It's challenging for anyone to get a good shot there. "We got there at 7 a.m., but with all the tourists there we had to change plans and try something I wasn't planning for. This was the last shot of the day!"
Next is a street portrait in front of Tokyo Station of Spanish BMX rider Alberto Moya. "Usually I don't like having random people in my photos, but there were so many people walking through our shot that I decided to try capturing one of them. I like how this turned out. The added touch of the taxi is nice, too."
A man may appear to be falling off a rooftop, but that is Kenichi Sato who specializes in parkour and freerunning. "Parkour is amazing to shoot and you can get really creative. It was fun hearing people watching us get excited each time he jumped, too."
The wistful-looking man with the long locks is American surfer Rob Machado. On a visit to Japan, Jason served as interpreter for Rob. "I really wanted to get even just one photo of him."
The last photo is an action shot of B-Boy Taisuke. For a special project with FujiFilm, Jason and Taisuke did the shoot on the rooftop of a Tokyo building. "Rooftops and B-boys are magical combinations."
You can see Jason Halayko's galleries and read his blog at https://www.jason-halayko.com/