Japan. The Land of the Rising Sun has been Rachel's dream for many years and she is delighted to be there on a Working Holiday Visa which allows her to spend a year in this beautiful country. Also, She will be celebrating her 30th this July so what an exciting place to celebrate it.
Introduction to Japan
As a child, I watched quite a lot of cartoons growing up and the first anime that I watched (yes I am an anime fan) was CardCaptors (American Dub). It was a program that was on after school on CITV and it was one of my favorite shows. I learned the opening theme which I still know and I would dance along as well.
Over the years, I watched various different anime like Gundam Wing, Dragonball Z, and Naruto just to name a few however my biggest inspiration was in 2005 when the film Memoirs of a Geisha was released.
Before watching the film, I being a book worm read the book Memoirs of a Geisha and was written by Arthur Golden. I loved the book and found it eye-opening not only about Japan but also about its culture, history and daily life.
The story, which details how Maiko (apprentice Geisha) Geisha are trained, and how their world changed in World War Two. I am a history geek and this shows how the war affected the civilians and how they had to adapt to help with the war effort as well as how they had to rebuild after the war.
I found the story unique as the young girl, who struggled through training and the war got a happy ending in the end.
The movie itself was a good adaptation (in my opinion) and showed me a beautiful country that I wanted to see for myself. With its various different regions, Onsen and culture. I was hooked.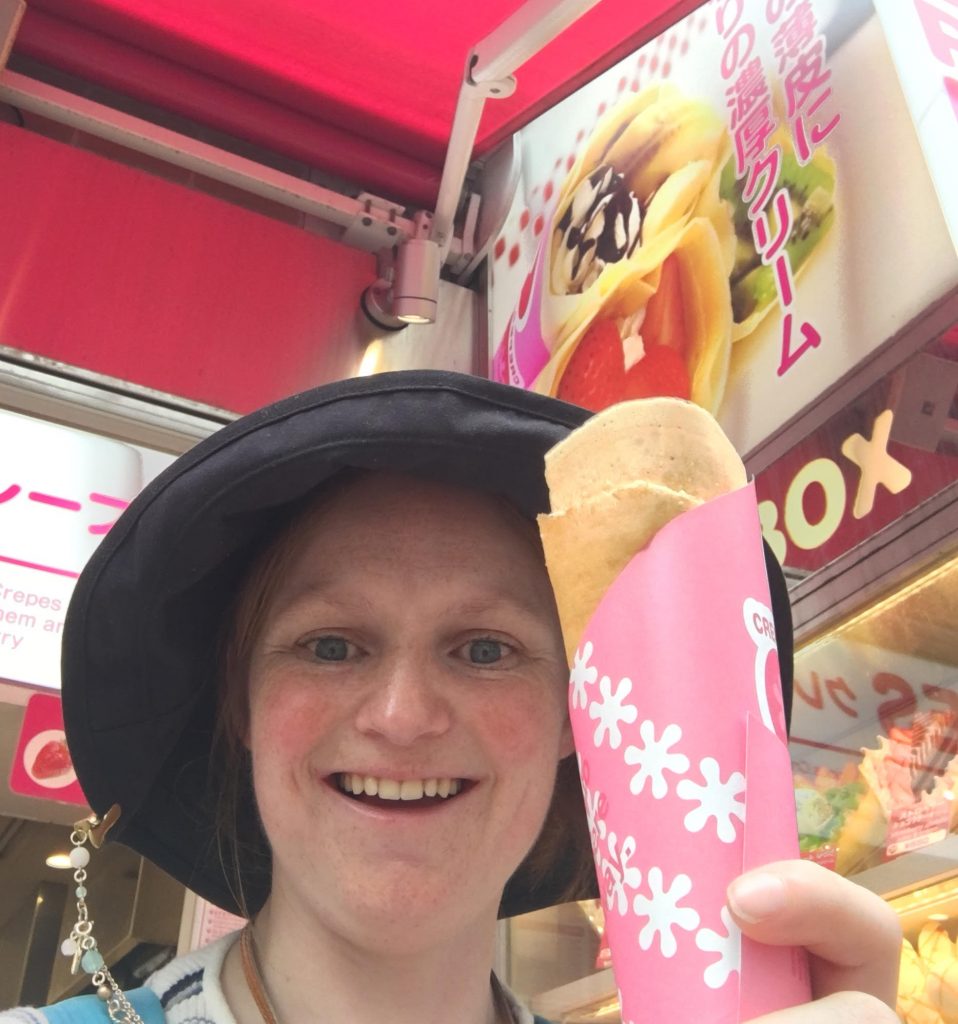 Now, I have been to Japan for over a month and I am enjoying my time here. I have been to a few places, mainly Tokyo, and I went to an onsen a few days ago and found it very relaxing and I am going back.
I went to the Saya-No-Yudokoro Onsen which is on the Tozai Mita line and offers indoor and outdoor bathing, massages, Sauna, Japanese garden, restaurant and a relaxing area where you can chill out and even take a nap. Please note they also have massage chairs which are super. I was falling asleep.
Since the 10th June – 5th July 2019, I have been enrolled at Kudan Institute of Japanese Language to learn Hiragana and Katakana for 4 weeks. The course was fun with a good bunch of people from different countries, Germany, Thailand and the Philippines, just to name a few. It is something I highly recommend as the Sensei are wonderful and friendly. It also helps you to learn the basics of the Japanese language that will assist you on your trip to Japan.
My visa
As mentioned before, I am here on a Working Holiday Visa. This visa is for 18-30-year-olds and allows the person to reside in the country for a year. It also allows the holder of this visa to work to help them finance their extended holiday.
A year stay will give me the opportunity to travel around the different regions that make up Japan as well as attend festivals and experience the history and culture that this wonderful country has to offer.
Future Plans
My goal for this year is to meet with Japanese locals, work on my Japanese and explore Japan. I am based in Tokyo but I am hoping to be able to travel between days off from work.
I am going to attend the festival at Yasukuni Shrine that runs from the 13th to the 16th of July. I will be attending on the 16th of July and I will be wearing a Yukata. I am very excited about this as the Yukata/Kimono is part of Japanese culture and history that is unique. As a child, I loved dressing up in costumes and playing so this is right up my street.
About Yukata
Yukata are made up of cotton and worn during summer and at festivals. They are also worn at Ryokan's
(Japanese inns) to get to and from the onsen and around the Ryokan. They are more casual and affordable. There are various different designs and colors.
I have chosen a dark purple Yukata with light pink Sakura blossoms. The obi is also light pink and my Kazasai (hairpin) is a mix of purple and white in the shape of a Sakura blossom.
Obi is the belt worn around to fasten the Yukata/Kimono. Kazasai is worn by women and like the Yukata/Kimono have various different colors and designs. Kimonos are more elaborate and made of silk. They can cost thousands and are often worn for special occasions such as the coming of age celebrating those that turn 20.
Disney Sea
I am also going to Tokyo Disney Sea for my birthday on the 24th of July to mark my 30th. Disney Sea has been on my to-do list as it is unique to Japan as well as I will never grow out of Disney. I have already bought a ticket. It is also only about half an hour away from where I currently live, Koto-Ku so I thought why not.
My plans do not just include Tokyo through. I would like to visit Sapporo, especially the Snow Festival in February on Hokkaido. Kyoto, the former capital of Japan. Mt Fuji or Fuji-San. I would like to visit Hiroshima and Nagasaki.
I am hoping to make the most of my time in Japan and I hope that my journey will help inspire others to apply for a Working Holiday Visa. Japan has so much to offer and I am extremely grateful to have this opportunity.
Thank you for reading this week's blog!
If you are having trouble finding a place in Tokyo, please feel free to contact us and have a look at our properties at tokyoroomfinder.com. We will connect you with your desired house at no cost!