On the 2nd and 3rd days of December every year Chichibu hold their annual winter matsuri with the main event being on the 3rd. Chichibu is a city located northwest of Tokyo in Saitama prefecture and takes around one and a half hours direct by train to arrive there from Tokyo. The Chichibu Yomatsuri is a rare opportunity outside of summer to witness hanabi (fireworks) and experience one of Japan's three main float festivals (the others being Gion Festival Kyoto and Takayama ). As I was staying in Tokyo at this time, I thought it might be nice to take a scenic train ride up to the mountains, so I started to plan my day trip.
Being vegan out of the big cities
As I follow a strict vegan diet planning any journey out of a city for me starts with food. I first looked to see what food choices there was in Chichibu itself and found there was a vegan sweet shop selling a selection of cakes and drinks. However, I didn't think this would be enough for a day trip out. My options could of been to either pick up a vegan bento for the train journey or make some kind of packed lunch from various konbini finds, which is quite a possible thing to do and is definitely worth considering if you have nothing else . I had one of the vegan bentos when I went to visit the snow monkeys at Jigokudani and I must say I was pleasantly surprised with how tasty it was.
However, on looking at the train route I found there was a place I could visit on the way for lunch that served vegan and vegetarian food. So, my day was planned. Start in Tokyo and take the Seibu Ikebukuro line to Koma, get off for lunch then get back on the train to arrive at Chichibu station for afternoon tea, before exploring the town and staying for the high light of the day The Chichibu Yomatsuri.
Stopping off for lunch at Koma
On arriving at Koma station in Hidaka,Saitama prefecture you are first greeted by two red wooden totem poles. These are called Jangseung totems, one is male and one is female. The Jangseung are Korean in origin and are said to ward off evil.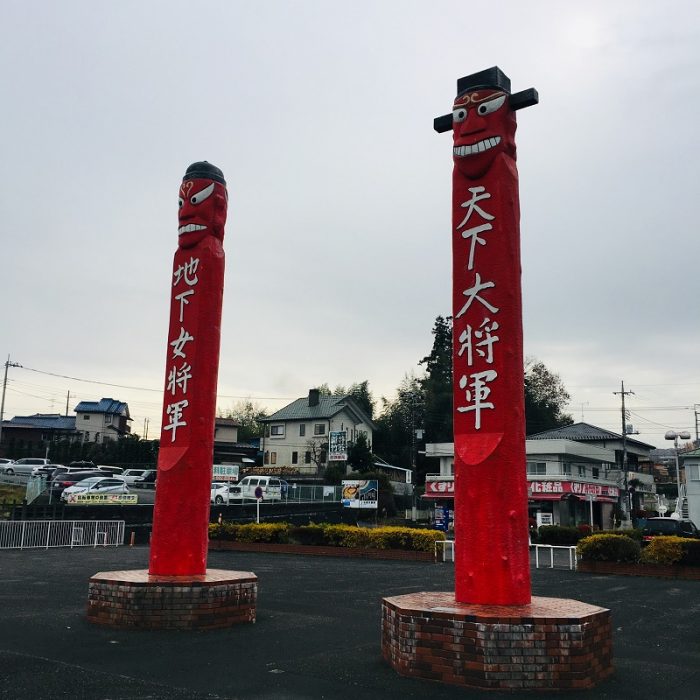 If you decide to come here in early autumn Koma is home to the popular red spider lily festival so if you wished to visit here and see them at that time it would be a nice thing to do  for another trip. That is the thing about visiting Japan no matter what season you're in there is always something wonderful to see be it in nature or festivals.
Walking towards our lunch in this quiet sleepy town past locally made tofu shops and unmanned stalls of farm produce on the side of the road where you pay via an honesty box, we finally reached Alishan Organic centre.
A distinctive American style red barn nestled in the foothills by the Koma river.
Alishan opened in 2001 and has a cafe with a small shop selling their organic food and fresh produce. The place also hosts market days and community events, classes and workshops. Being pretty much in the middle of nowhere I was surprised with how busy it was many mothers with children and people with their dogs had come to have lunch, maybe to relax and meet up with friends.
We had definitely built up an appetite by this point and I chose the Alishan mixed vegetable bowl, with miso flavoured bean meat, Hijiki and seasonal vegetables. Other options available were a veggie burger, bean curry, roasted vegetable pizza or bagel sandwich. All the food made here is organic and from local farmers, they also have a selection of handmade natural sweets, but I was saving myself for my afternoon tea. The cafe has a very relaxing atmosphere being made of all wood and I would expect it is beautiful there in the summer when you can sit outside by the river on the wood deck surrounded by mountains, but this was December so we stayed inside in fact as we were there it did start to snow a little. Satisfied by our lunch we made our way back to Koma station to carry on to our destination.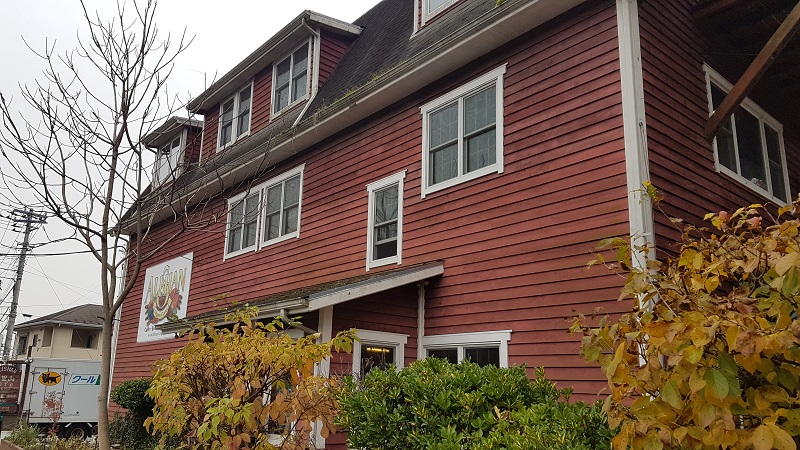 Afternoon tea at Chichibu
Stepping off the train at Chichibu station we were greeted by a chaos of people we soon realised that at that point we had to book a ticket for our journey home in the evening as they were quickly running out. After booking our ticket we found that next to the station was Matsuri no Yu a public bath hot spring facility which was newly built in 2017, we had not come for that but was delighted to find a variety of souvenir shops there selling local made produce and items as well as places to eat (nothing vegan but there was a sake tasting bar which might be nice for a winter warmer later.)
Many people had already started to gather in the town for the Chichibu Yomatsuri and I'm sure the locals make it a full day's celebration. At the front of the station was entertainment of singing dancing and taiko drumming as well as some food stalls starting to cook up street food from yaki soba to all kinds of things sold on sticks.
If you're into Japanese street food, it would be amazing to try out different dishes but being vegan there was nothing for me, but it all added to the atmosphere.
It was getting a little colder, so we decided it was time to stop of for dessert.
Ametutimanimani is a 151-year-old traditional Japanese house that has been converted into a vegan Cafe selling baked goods seasonal cakes and desserts with a selection of drinks.
They also sell a range of fair-trade chocolate and green teas to takeaway. You can distinguish the house with the sign outside which means sweet.
On sliding back the door and entering the house an Aladdin stove warms the genkan and you feel right at home. We took off our shoes and left them in the slots provided and made our selection from the seasonal cakes made with chichibu fruits that tempt you at the entrance. Then sat down at the low-level traditional tables on the floor cushions to wait for our dessert. I chose a matcha cake with a chai tea. Little did I know the owner would be in the kitchen grinding and infusing all the spices to make my tea to order. The tea and cake felt so special and were all homemade they were like nothing I had ever had before. Speaking to the owner she explained the name of the shop to me Ametuti means rainy and soil Mani mani means to leave things to take their own course, so the name implies to leave yourself in the hands of nature and let each day take its own path. I thought this a wonderful sentiment and wanted to share that with you. The time had come to say our goodbyes to this cosy cafe and step back out into what was now twilight outside.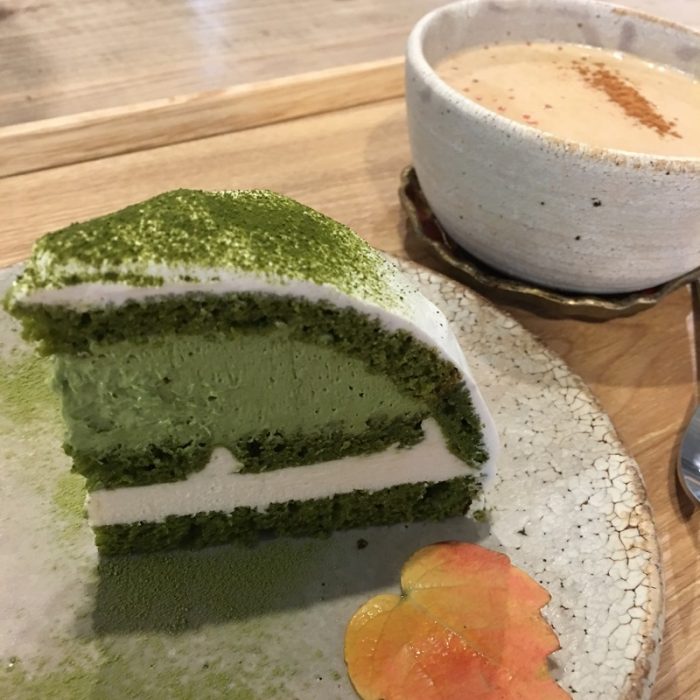 The Main Event
As we walked back towards to the Main Street, we could hear the sound of drums flute music and people chanting, it was one of the floats.
The Chichibu Yomatsuri consists of six floats in all which are pulled around the town before coming together to be dragged up the hill known as Dangozaka for the peak of the evening's fireworks at the city hall plaza. The floats are extremely heavy apparently weighing up to twenty tons each. We joined the procession following the float being pulled with thick ropes by people from the town.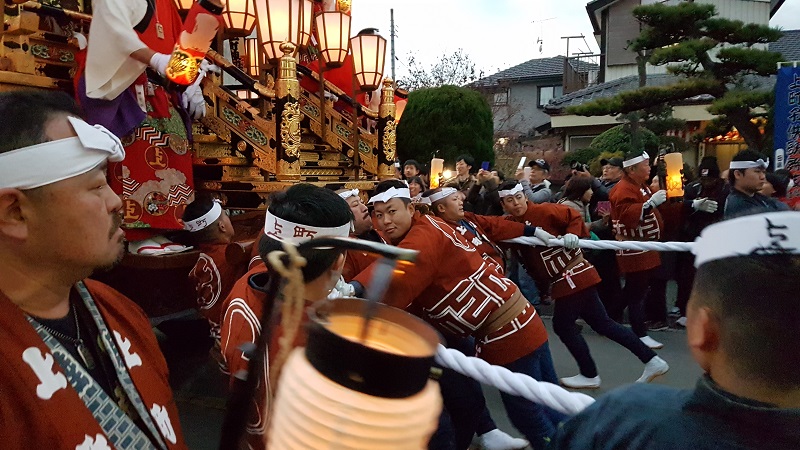 As the light was dimming the paper lanterns were lit on the floats it was truly enchanting to see. Each float is ornately carved and have brightly coloured tapestries.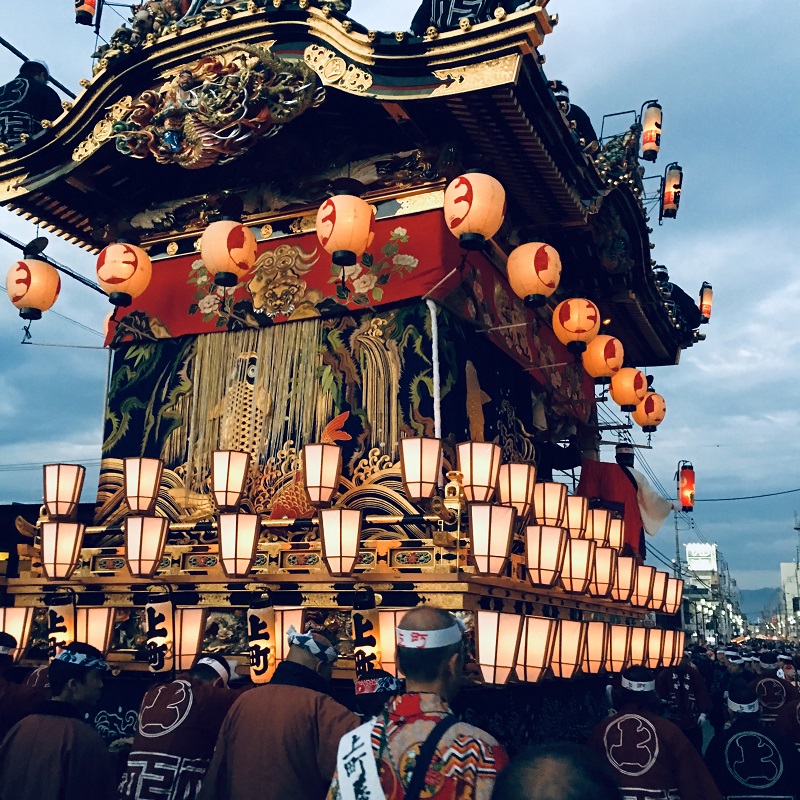 Following the procession of shouting and whistle blowing was like something I had never experienced before and I really felt part of the festivities.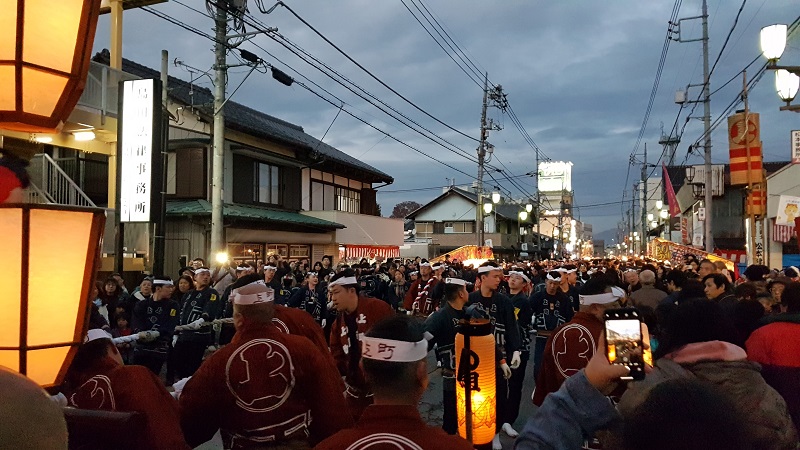 Then we saw another float!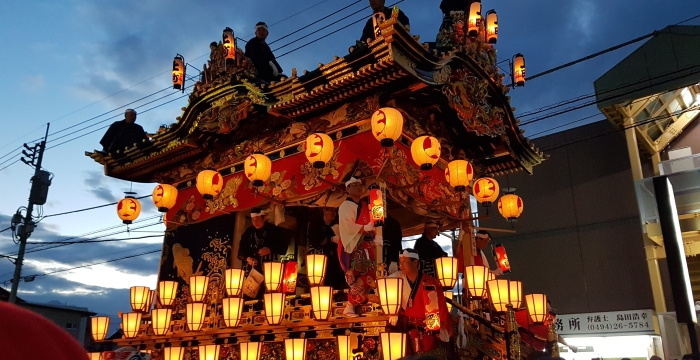 It ended up turning into a float battle with who had the skill and strength to pull them around the corners of the streets. Then the fireworks started they in fact go on for the whole evening some of them I had never seen so big they exploded into the sky in big balls and the sound they made was just as big. The street food stalls were really underway now and the smell from the food and sounds all added to the memory of the event. The Chichibu Yomatsuri was registered as a cultural heritage event by UNESCO in 2016 and quite rightly so.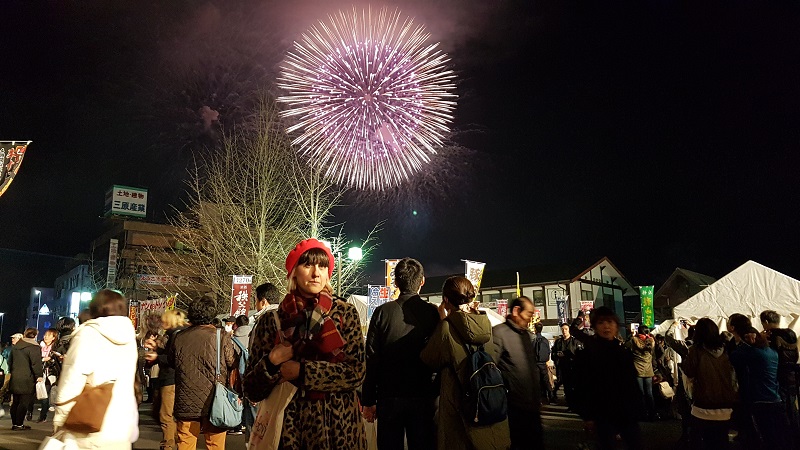 We left crowds of people all enjoying the floats and fireworks and headed back into the Matsuri no Yu to pick up some souvenirs, we bought some biscuits that had the pictures of the floats on them for family relatives and I bought some Umeshu plum wine and umeboshi plums to take home. It was now nearing our train time, so we headed back out to view just a few more of the spectacular fireworks. Boarding the train back to Tokyo we left Chichibu but could still hear the explosions of fireworks and music I expect they would entertain the locals for many more hours into the early morning.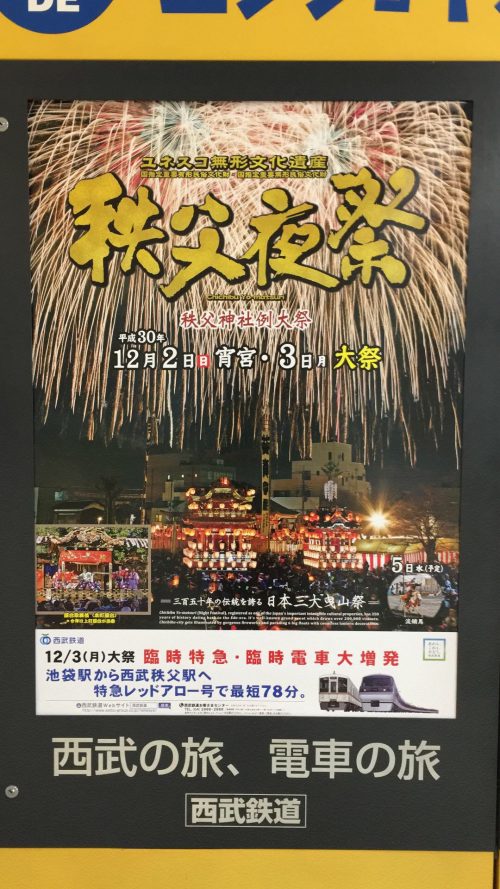 Author: Justine Sherratt